In India, 51 per cent organisations are using AI or robotics at work.
Companies are embedding AI and machine learning to guide leaders, managers and employees on having a meaningful and performance driven careers.
Sangeeta Tanwar/Business Standard reports.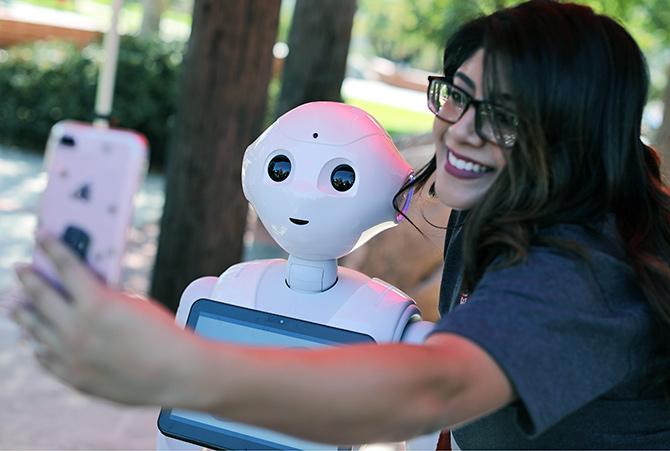 The intersection of artificial intelligence (AI) and human resource (HR) is fast transforming the workplaces as we know them today.
From leveraging AI to search and recruit, HR leaders are turning to AI to promote employee training, coaching and mentoring.
The objective is to make learning a more focused, user-friendly, personalised and outcome-driven process.
AI-enriched learning systems or assistants are helping employees assess their career options, identify relevant skills to be acquired, decide on the study content and choose learning style. AI-enriched software programmes are offering them the added advantage of acquiring new skills at their own pace.
Marico is among a handful of corporation that have taken the lead to offer AI powered solutions to personalise the employees' learning processes and improve connect.
The company considers AI as a powerful technology which in future can act as a personal assistant for all its members (employees).
Marico uses AI at various employee life cycle stages -- right from connecting with prospective employees to on boarding new members, developing and engaging with current employees.
Take Amber, the CEO's (chief executive officer) personal digital assistant which focuses on connecting new members with the CEO. Amber is a critical part of the company's integrated approach for ensuring smooth on-boarding and settling-in of new members. Amber connects with the new members at Marico at predefined milestones through their first two years at the firm.
Within a few weeks of its launch, Amber interacted with more than 70 per cent of the new members at Marico across different countries. Amber has provided an additional platform for members to voice their opinion and share their suggestions.
"We are still at a nascent stage in experimentation with AI and our initial efforts focus on leveraging AI to simplifying processes and managing tedious and routine tasks," says Amit Prakash, executive vice-president and head of HR, Marico. "Our eventual aspiration is to leverage AI for complicated and sophisticated applications and predictive analytics that will facilitate agile decision making."
According to Global Human Capital Trends report 2018, globally, 52 per cent of the organisations are using AI and robotics at work, but 49 per cent of them do not have a plan to cultivate human skills required.
In India, similar to the global trend about 51 per cent of the organisations are using AI or robotics at work, but 67 per cent of the organisations have a plan in place for cultivating the human skills required.
"The role of AI today spans coaching on performance, learning, engagement and career growth. Boutique start-ups as well as leading tech and human capital management platforms are embedding AI and machine learning to guide leaders, managers and employees on having a meaningful and performance driven careers," says Anand Shankar, director, Deloitte India.
For example, AI enables and recommends courses that one needs to take in their role, guides managers and leaders on how and when and what to discuss in reviews (performance or otherwise).
With the advent of AI -- organisations are going to be able to start mentoring people early on in their careers. Performance plans can and are being broken down into key moments of impact based measurements and managers can have real time relevant conversations thanks to data being instantly and holistically available.
This means no more waiting for an annual or quarterly review. This is real time, fluid and specific data driven intelligence helping make an organisation and the manager direct and drive effort and performance.
It also can make an individual more aware of the effort versus result equation and remove the vagueness and subjective nature of performance measurement to a large extent. Now, a field sales person can get accurate information on best plans, history, customer behaviour, recovery, cycle time etc vis-a-vis her effort and along with the manager benchmark productivity and other key metrics.
An innovative experiment is on at Pune City Connect and Social Venture Partners, which aims to promote skill development among rural and underprivileged youth to make them job ready.
In a column for Business Standard, Pune City Connect Chairman Ganesh Natarajan wrote, "As part of the project, each individual will be assigned an AI 'dost' from the time each trainee enters the centre. The AI assistant will play the role of companion for blended learning during the skills acquisition process and be available even after the person gets on the job to search and schedule mentors and provide remedial learning on the job. This is a unique example of value addition at workplace by AI bots."
Says Natarajan, "In the social sector, we need to apply common technology to give uncommon experiences. AI can be a great tool to promote inclusivity in sectors such as education."
It can help impart skills to underprivileged youth by being a friend and mentor to them."
The AI bot at Pune City Connect project also offers young learners a pool of mentors who can be reached out with the help of the bot itself. For example, if a young trainee needs guidance related to health, she can reach out to mentors from the health sector that are available to her on the network through the bot.
Executive search and recruitment firm, Korn Ferry uses AI-powered solutions internally to coach its employees as well as clients how to write a job description, determine salary levels for different industries and positions. The company's AI platform is populated with billions of data pieces and equipped with learning modules (videos) to help assist employees in offering the right candidate and HR-solutions to clients to meet their diverse business needs.
According to Kunal Sen, managing director, Korn Ferry Futurestep India, "AI platforms offer recruitment and HR consultancy firms an opportunity to meet clients' expectations in terms of optimising cost, time and speed while catering to their talent needs."
Virtual is real
The role of AI spans coaching, performance, learning, engagement and career growth.
Leveraging AI, companies are breaking down performance plans into key moments-of-impact-based measures.
With continuous data flow, feedback can be shared real-time. Leaders can benchmark productivity continuously.