With the rupee slipping to nearly Rs 70 per dollar on Tuesday, most parents with children in the US will feel the pinch.
Vinay Umarji and Sanjay Kumar Singh/Business Standard report.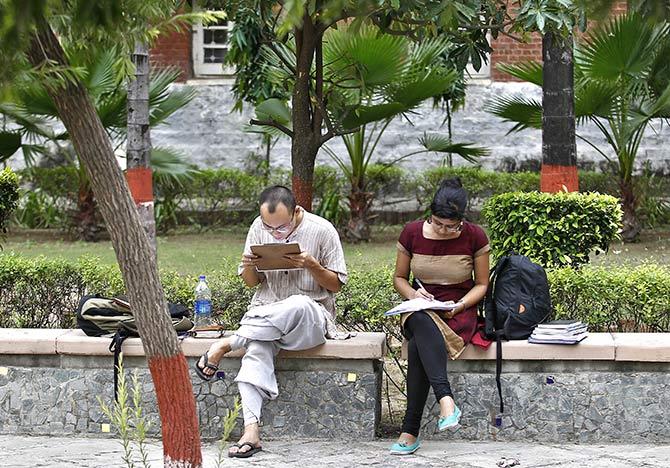 Photograph*: Anindito Mukherjee/Reuters
Sudha Pai, whose daughter is a second-year computer engineering student at Oklahoma University, has been distressed with the sharp fall in the rupee in the past year.
"The decline has dealt a heavy blow to parents as the cost of educating a child has gone up by 10 per cent since last year. Parents, who have taken education loans are facing the brunt more expensive foreign exchange," said Pai.

With the rupee slipping to nearly Rs 70 per dollar on Tuesday, most parents with children in the US will feel the pinch. Tuition costs are up between seven and nine per cent -- almost in line with the rupee's fall of 7.29 per cent since January -- since admission at the US varsities began.

"Costs of education and living expenses have gone up. Those who had not considered the rate of Rs 70 while finalising admissions in March-April, will now have to rework their finances. Most of the households had budgeted overseas education expenses in the US against Rs65/dollar," Anindya Mallick, advisory partner, Deloitte India told Business Standard.

Now, these families will have to additionally shell out anywhere between Rs 200,000 and Rs 400,000, depending on tuition fees and campus location. Annually, over 170,000 Indian students join US varsities for overseas education.
What aggravates Indian households' predicament further is that the rupee has fallen just when final tuition fee payments for the year are being made by parents. Students will fly off to the US for the new academic season that begins from next month.

To put things in perspective, students apply to US varsities in two rounds -- one in September and another in January. By March-May, US universities revert with admission confirmation, followed by the closure for summer in June-July.
It is, therefore, by July-August that final fees are paid.
On an average, a graduate or post-graduate pays between $30,000 and $50,000 as annual tuition fees.
And there are other costs such as buying books and laptops as well as living costs such as booking flights, dormitories and others -- an additional expense of $4,000-$8000, depending on location and university campus.
While education is a necessity and many parents will bite the bullet, what will get hit more is travel.
Those who are looking to travel to an international destination in the near future should check the movement of the rupee against that country's currency.

"Destinations such as the US, Europe, UK, Hong Kong, China, and Singapore will become more expensive. It has been flat against currencies of New Zealand, Australia and Indonesia, and it has appreciated against those of Sri Lanka, Turkey and Russia," says Sharat Dhall, COO-B2C, Yatra.
"If you are still in the planning stage, benefit from the current fluctuation by visiting a country against whose currency the rupee has appreciated. The other alternative is to shift from a costlier destination such as Europe to a less expensive one like Southeast Asia. "Book in advance and get better deals. If you book now for a holiday in October, you could get a discount of 10 to 15 per cent," says Karan Anand, head-relationships, Cox & Kings.

Those who have already made their bookings may have to enhance their budget by 5 to 10 per cent. But you can cut costs as well.

"Reduce the length of your trip by a day or two. You may also downgrade your hotel from five-star to three-star, or shift from a hotel in the city centre to one in a more peripheral location," says Manmeet Ahluwalia, head of marketing, Brand Expedia in India.

Today, a wide variety of quality accommodation are available at different price points, and it is easy to figure out good ones through reviews and rating apps and websites.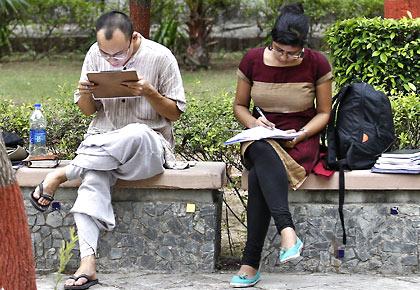 *Lead image used for representational purposes only.