Test takers, find out what the new changes mean to you.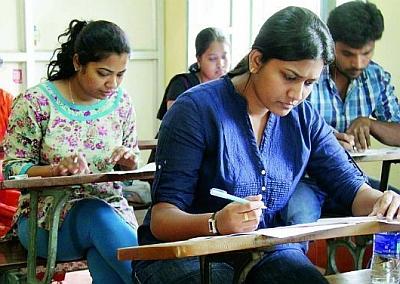 The much-awaited application form of National Eligibility cum Entrance Test (NEET) 2018 has been released by Central Board of Secondary Education (CBSE) on February 8, 2018 with age limit of 25 years making a comeback for the national-level exam this year.
Other new features for NEET this year include a bar on NIOS students.
The application form of NEET 2018 will remain open till 11:50 PM on March 9, 2018.
This year, the examination centres of NEET have been increased from 140 to 150 indicating the expectant rise in the number of aspirants likely to appear for the exam.
Last year, more than 11 lakh candidates had registered for the exam.
Furthermore, CBSE, the exam conducting authority of NEET 2018, has introduced some other major changes to the eligibility criteria of the exam.
NEET 2018 is the sole entry point for admission to MBBS/BDS courses in medical/dental colleges across the country, except for the institutions established by AIIMS New Delhi and JIPMER Puducherry.
What's new in NEET 2018?
The changes introduced in NEET 2018 are harbingers of both good and bad news for students.
The good elements being the inclusion of Urdu as a language option, joining of Andhra Pradesh & Telangana to the All India Quota (AIQ) scheme and removal of the cap on the number of attempts.
Some changes which might come as a disappointment to many include the re-introduction of upper age limit and barring of open school students. Given below is a quick glimpse of all the changes introduced in NEET 2018.
Reintroduction of upper age limit - The controversial upper age limit which was had been overturned last year by the Supreme Court has been reintroduced this year. Candidates who will complete or have completed 25 years of age (30 years for reserved categories) as on May 6, 2018, will not be eligible for appearing in NEET 2018.
NIOS and open school students not eligible - Another anticipated change has become a reality with release of NEET 2018 admission notification. Candidates who have passed their Class 12 from open school or as private candidates will not be eligible for NEET 2018.
Biology as a compulsory subject in Class 12 - Candidates who studied Biology/Biotechnology only as an additional subject in Class 10+2 (Class 12) have been rendered ineligible for NEET 2018.
Joining of Andhra Pradesh and Telangana in AIQ scheme - Coming as a positive, the NEET 2018 admission notification reveals that the states of Andhra Pradesh and Telangana have decided to join the All India Quota (AIQ) scheme, which means that from this year, the two states will also be contributing 15 per cent of their MBBS/BDS seats in government medical or dental colleges towards AIQ admissions. For candidates belonging to these states, it means they will no longer be required to fill the self-declaration form while filling the NEET application form. Jammu & Kashmir (J&K) is now the only state in India which continues to remain out of the AIQ scheme.
Urdu added as a language option - Candidates will now be able to opt for Urdu as the desired language and medium of question paper. With the addition of Urdu, NEET 2018 will now be conducted in as many as 11 languages, including Hindi, English and 9 regional languages.
Removal of the cap on the number of attempts – Previous cap of three attempts has been removed from this year. Now candidates can appear for NEET any number of times, given that other eligibility conditions are fulfilled.
Important dates of NEET 2018
Application Dates: February 8 to March 9, 2018
Date of Exam: May 6, 2018 (Sunday, from 10:00 am to 1:00 pm)
Result Declaration: June 5, 2018
Eligibility
Age: Candidate must complete 17 years of age on or before December 31, 2018, and should not be above 25 years of age (30 years for SC/ST/OBC/Differently abled category candidates) as on the date of examination, ie. May 6, 2018.
Qualifying Examination: Candidates must have passed in Physics, Chemistry, Biology/Biotechnology and English individually and must have scored at least 50 per cent (40 per cent for SC/ST/OBC) in aggregate in Physics, Chemistry and Biology.
Besides that, candidates must have studied Biology as a compulsory/core subject in Class 12 and they should have studied the combination of Physics, Chemistry and Biology for two years in continuation, i.e. in Class 11 and 12 both.
Candidates who have completed their Class 12 from open School or as private candidates are not eligible for appearing in NEET 2018.
How to apply for NEET 2018?
Candidates can apply for NEET 2018 through online mode only.
Candidates are advised to keep digital documents ready and check the eligibility criteria before filling the application form of NEET 2018.
Candidates can follow the steps below to fill NEET application form:
Go to the official website of CBSE NEET and select the option of 'Apply Online'.
Then register for NEET 2018 by providing basic details, Aadhaar card number and a valid mobile number and Email ID. Note down the provisional registration number.
Thereafter, fill NEET application form after logging in using the provisional registration number and password.
Next, upload the digital images of photograph and signature.
Make the payment. General and OBC category candidates are required to pay the fee of INR 1,400/- and those belonging to SC/ST/PH category are required to pay INR 750/- towards application fee.
Finally, take a printout of the confirmation page. Generation of confirmation page at end of the application process will be a sign of successful submission of NEET application and remittance of the fee.
Admit Card
The admit card of NEET 2018 will be released in the second week of April 2018. Admit card will bear candidate's name, category, allotted exam centre and its address, etc. It is mandatory for candidates to carry the admit card and a passport size photograph affixed in the space provided on admit card, to the exam centre. Besides these two, no stationery or other items will be allowed inside the examination centre.
How to prepare for NEET 2018?
With less than three months remaining for the exam, candidates should first get familiar with the exam pattern of NEET.
Besides that, aspirants should cover the syllabus of NEET from NCERT books thoroughly since it is the MCI (Medical Council of India) prescribed syllabus. After that, while candidates can refer to other reference material, they are advised to take a lot of mock tests. Regular practice through mock tests and previous year papers is vital for strengthening the concepts, learning time-management skills for exam day and getting into exam preparation mode.
Furthermore, given that every wrong response will attract a negative mark of 'one', it is important to be able to decide which questions to attempt and which not to, on the exam day. Practicing mock tests and sample papers will help develop that level of judgement.
Result
The result of NEET will be declared on June 5, 2018 on the official website of CBSE NEET. Prior to the result declaration, CBSE will also release the OMR response sheet and NEET answer key, which will be put open to challenge by candidates.
Qualifying criteria
Candidates will need to score a minimum of 50th percentile (40th percentile for SC/ST/OBC and 45th percentile for General PH category) in the NEET exam in order to be considered for further counselling and admission process.
Those who will score below this percentile threshold will not be declared qualified and will not be included in the All India merit list.
What after NEET result?
After the declaration of result, the NEET counselling process will ensue. All India Ranks (AIR) of the candidates who will qualify the exam will be given to the respective counselling authorities. Candidates will need to register separately to participate in different counselling of NEET.
The counselling for 15 per cent AIQ seats offered by government medical and dental colleges will be conducted by the Directorate General of Health Services (DGHS) on behalf of the Medical Council Committee (MCC).
AIQ counselling will be conducted in two rounds. Alongside AIQ counselling, MCC will also conduct counselling for 100 per cent MBBS/BDS seats in Deemed and Central Universities.
The vacant AIQ seats will be transferred to the state counselling authorities who will be conducting their respective state counselling for admission to 85 per cent state quota seats and seats in state private/self-financing medical and dental colleges.
Lead image used for representational purposes only.