This roadmap will benefit nearly 13 lakh students who have registered for the medical entrance exam this year.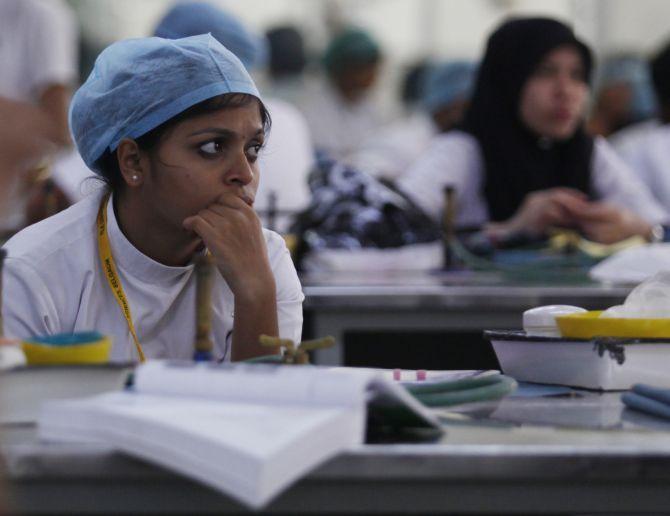 Photograph: Danish Siddique/ Reuters
With focus shifting from entrance test to the next stages of admission after May 6 NEET exam, cracking the codes of cut-off and a comprehensive understanding of national and state-level counselling processes become keys to securing MBBS or BDS admissions for aspirants.
Here we present a roadmap of MBBS/BDS admissions post the national level entrance test.
But first, let us look at the significance of this exam and understand why National Eligibility-cum-Entrance Test (NEET) is so important.
Why is NEET important?
The national-level medical entrance examination – NEET, is the gateway to undergraduate MBBS and BDS programmes in government and private medical institutes of India with exceptions of AIIMS entrance and JIPMER entrance tests.
In 2016, the NEET replaced all medical exams like AIPMT and all individual MBBS exams conducted by different states and universities. The exam is conducted by Central Board of Secondary Education (CBSE).
For 2018 admission year, more than 13 lakh aspirants have registered for NEET 2018 for admissions to approximately 90,000 MBBS and BDS seats altogether.
What's new in NEET 2018?
Interestingly, NEET 2018 consists of a wide range of new features. The limit on the number of attempts has been removed this year.
Also, Urdu language has been added along with 8 other regional languages as option for aspirants taking the test. With English and Hindi the two popular language options, the total number of language in NEET is now 11.
Further, the entry of Andhra Pradesh & Telangana to the national counselling scheme, the number of seats in All India Quota (AIQ) stands increased now.
Estimate NEET Score with NEET Answer Key
Once the exam is over, students will need to understand their exam performance by matching their responses to the answer keys released by experts. The official NEET answer key will be released by CBSE in online mode tentatively in the first week of June.
This will help candidates compare their own responses against the answer key and estimate their score. However, estimating the rank will still be shrouded in mystery till the NEET results are declared.
What after NEET result?
NEET results are declared by CBSE in online mode by first or second week of June. The results will reveal the score cards containing a candidate's subject-wise score, NEET All India Rank, NEET state Rank and other details.
After the NEET results, the counselling process will ensue. The Medical Counselling Committee or MCC and various state counselling authorities will take up counselling process separately. Candidates will need to register separately for All India counselling and the state-level counselling authorities in order to participate in both the counselling processes.
It must be noted that candidates are eligible for counselling only if they score the minimum qualifying percentile in NEET entrance.
NEET Cut-off
The NEET result reveals the cut-off score, which is equivalent to NEET qualifying percentile and will also mention category-wise cut-off scores of AIQ. The table below gives an idea of the minimum qualifying percentile required in NEET 2018.
NEET Qualifying Score
| | |
| --- | --- |
| Category | Minimum Qualifying Percentile |
| General | 50th Percentile |
| SC/ST/OBC | 40th Percentile |
| General-PH | 45th Percentile |
Candidates who score below this percentile threshold will not be considered as qualified and will not be included in the All India merit list.
NEET 2017 Cut-off (for participation in counselling process)
| | | |
| --- | --- | --- |
| Category | No of candidates | Marks range |
| GEN | 5,43,473 | 697-131 |
| OBC | 47,382 | 130- 107 |
| SC | 14,599 | 130- 107 |
| ST | 6018 | 130- 107 |
| GEN & PH | 67 | 130-118 |
| OBC & PH | 152 | 130- 107 |
| SC & PH | 38 | 130-107 |
| ST & PH | 10 | 130-107 |
Eligibility for 15 per cent All India Quota
Under the AIQ scheme, students from any part of the country can apply for the 15 per cent seats which are reserved under the quota in all government colleges, except AIIMS and JIPMER, across the country.
Candidates who score equal to or more than the marks equivalent to the Cut off of NEET (except candidates from Jammu & Kashmir) will be eligible for AIQ admissions, the merit list of which shall be prepared by CBSE.
The table below indicates the category-wise number of qualified candidates and their marks range in last year NEET
NEET Counselling 2018: Who will conduct it and when?
All India Counselling
At this stage, the Directorate General of Health Services (DGHS), on behalf of the Medical Counselling Committee (MCC), will intervene to conduct the NEET counselling for the following categories:
1. 15 per cent All India Quota (AIQ) seats in Government medical and dental colleges across all states (except J&K).
2. 100 per cent seats in Deemed and Central universities,
3. Seats reserved for Wards of Insured Persons (IP quota) in Employees' State Insurance Corporation (ESIC) medical colleges
4. Seats at the Armed Forces Medical College (AFMC), Pune.
Additionally, the number of available seats before each round of counselling will be declared by MCC.
For all India quota seats, there will be only two round of counselling for state government colleges while three rounds of counselling will be held for deemed and central universities.
Counselling Procedure for 15 per cent AIQ Seats
The first round of AIQ counselling of NEET will be conducted attentively from June 12 to June 24, 2018, and second AIQ counselling round will be conducted during July 6 to July 22, 2018.
The seats remaining vacant after the two round of counselling in state government colleges are reverted to the respective college and the admission to those seats are conducted through state counselling authorities.
Counselling by State Authorities
For the remaining 85 per cent seats under state quota (100 per cent in case of J&K) in Government medical and dental institutes as well as seats in the private and self-financing institutions, NEET counselling will be conducted by the respective state counselling authorities.
Keeping this in mind, it is important to track the entire series of counselling rounds. The NEET counselling for AIQ and Deemed/Central universities is likely to begin by the second week of June 12, 2018, and might go on until the last week of August.
Counselling for state quota seats will be conducted by the different state counselling authorities during the same period.
Documents Required for NEET Counselling
Candidates will need to bring following documents at the time of reporting to the college after AIQ counselling of NEET.
NEET Admit Card
NEET Rank Letter or AIQ Rank Letter
Class 10 and 12 Certificate and Marksheet
ID Proof with eight passport size photographs
Provisional allotment letter generated online after allotment.
Community Certificate (if applicable).
AIQ NEET Cut off ranks of top 10 Medical Colleges
| | | |
| --- | --- | --- |
| Name of Medical Colleges | 2017 NEET Closing Rank | 2016 NEET Closing Rank |
| Maulana Azad Medical College, New Delhi | 49 | 44 |
| VMMC & Safdarjung Hospital, New Delhi | 82 | 106 |
| University College of Medical Sciences, New Delhi | 185 | 128 |
| Lady Hardinge Medical College, New Delhi | 369 | 263 |
| Government Medical College, Chandigarh | 278 | 162 |
| Seth G.S. Medical College, Mumbai | 297 | 408 |
| King George's Medical University, Lucknow | 725 | 506 |
Based on NEET merit, the students will be allotted seats to different medical colleges across the country.