Overseas education consultant NNS Chandra shares advice on entrance examinations, admission procedures at international universities.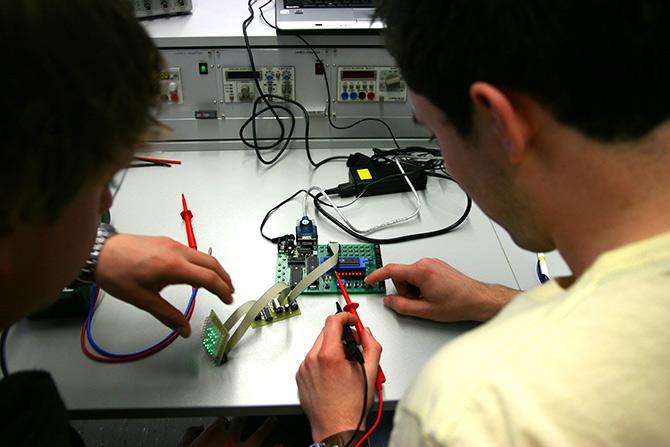 In an online chat with readers every Friday, overseas education consultant NNS Chandra offers advice on how to pick the right course and career abroad.
For those who missed the chat on April 28, here's the unedited transcript:
---
Sundaram: How can I get professional engineer designation?
NNS Chandra: You must be at least 18 years old, be of good character, meet PEO's stipulated for license (hold an undergraduate engineering degree). And fulfill the engineering (demonstrate months of verifiable, acceptable engineering experience). And complete the required exam.
---
Pallavi Karun: Sir, I had send questions for my daughter. She started her application for us colleges.
I am writing for my daughter. She wanted to study abroad. My daughter wants help in essay and application. Can you guide her?
NNS Chandra: Absolutely yes. Please ask her to send the essay draft to me. She seems to be getting ready early, which is really good.
---
Saraswathy: Respected NNS Sir,I am working as a school counselor with a IB school in Delhi NCR region. I have finished MPhil in counseling, I want to learn more about college admission counseling and get a certification. What courses should I take?
NNS Chandra: Wow Saraswathy. Appreciate your interest in counselling. Depending on your education, experience and interest, there are several paths you can choose in pursuing a counselling licensing.
For example, take my case I follow NACAC licensing and best practices route. And hold accreditation as an independent counselor. Also with ASCA and American Counselors Association I am certified and pursuing advanced licenses with the board.
As college admissions counselor. Please email me your specific interest, your education and experience I should be able to guide you.
---
Vishnu Sankaran: Dear Sir, My daughter studied abroad till 9th IGCSE and we continued IGCSE in India.
After 10th, she did CIE from Cambridge and now completed 12th also. She is interested in studying abroad and want to go for medicine.
Since she completed her plus two from Cambridge, is there any place we can get admission for medicine in UK or any European or American universities? kindly advice.
NNS Chandra: Dear Vishnu,For most US Universities, in order to pursue a career in practice of Medicine, one must do a life sciences/health sciences or a premed program for their under grad degree. I would encourage her to start working for it.
UK/European med schools do have an entrance exam opening she must start preparing for it right now. I could guide her on preparing her SOP for med school application.
---
rakesh patel: My son is doing Btech 1st year in aerospace engineering. He wants to study in US, the same course after graduation. please guide me
NNS Chandra: Hi Rakesh, Your son wants to study aero space for masters, right? Great idea.
Maintaining his grades (GPA) and preparing for GRE is he must do now. And be engaged academically (conferences, paper presentations, IEEE etc). Extending his activities beyond academics is a good idea as American universities are always interested in well rounded candidates.
---
girishK: Hello Sir, my daughter has a passion for maths, which is best university & country to grow her in the mathematics field?
NNS Chandra: Hi Girish, Impressive. What is your daughter doing? What is she studying for, now? As the regional head for American Math Association I could do several things for her. Please ask her to e-mail me.
---
Mathew: Dear Sir, my daughter is studying for PHARMD 4th year.She would like to work abroad after completing the course. Can you advise me the details of the available chances in abroad.
NNS Chandra: Dear Mathew,Getting a licence to practice would be a challenge for her. Doing a masters in te country she wants ti practice would give her more possibilities, Opportunities are a lot in North America for trained and accredited pharmacists.
---
mathew stephen: Dear Sir, I have got an offer to work in Canada. I need to pay Rs 10,600 as Embassy fees for processing work permit.
Can I confirm this deal? The job is for a farm worker at Amvescap fruits farm in Qubec region,Canada. How can I check the reality of the offer from the said company?
NNS Chandra: Dear Mathew,I am no expert in these maters. Be careful. There are a lot of ways to check authenticity of offer including checking with CIC, I suppose.
---
joyal_fiery07@rediffmail.com: Hello Chandra, A friend of mine who is an engineer (2 years) wants to switch. He wants to pursue a managerial role.
What are the various options for him to advance in his career. Will he have to go back to school to get some management degree?
NNS Chandra: Hi Joyal, Your friend finished formal training in engineering and now practicing as one, right?
I would recommend to take few short term courses in university level and some online course work in management to begin with. May be it might be a good idea to pursue a designation - like PMP or CBAP. If he is sure of what he is doing then commit to a more systematic & formal management course (MBA)
---
Lead image used for representational purposes only. Image: delphinmedia/Pixabay.com

Have questions for NNS Chandra? Post them here!