Recruiters are not interested in your fancy CV or degree.
They want to know if you can express your ideas clearly, confidently in a group, solve problems and take decisions.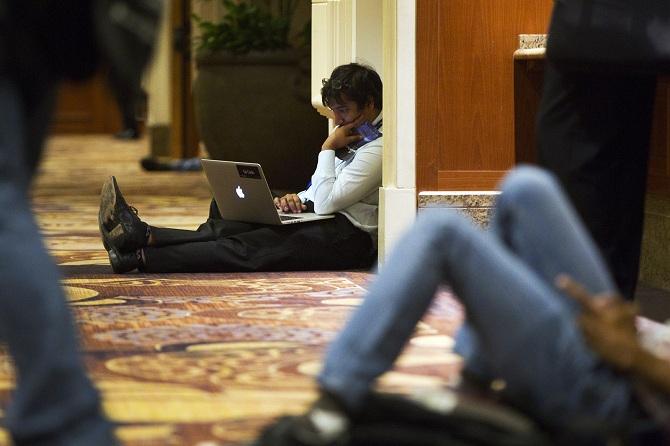 It's a hot summer afternoon. Drops of sweat trickle down an anxious Rohan's forehead.
Waiting at the reception to go in for his make-or-break interview, he focuses on looking good, sounding mature and appearing confident. After all, the trials of being in the rat-race to crack the engineering entrance, acing the exams, sacrificing his love for football and devoting all time for studies, has finally culminated to this day.
With three soft knocks, he enters the interview room, head tilted at the right angle with a slight smile (just as he was taught by the 'mock interview specialists').
Hiding his nervousness, he walks the seemingly endless steps towards the interview panel. Giving his most confident smile, he sits prepared to talk about his credentials, when he is thrown off-guard by a question: Cite an example where you controlled your aggression and converted it into something positive.
A startled Rohan had two questions racing through in his mind: How did his aggressive nature come across so clearly? Why were they even asking this when he, clearly, had so many academic accolades and achievements under his belt?
Rohan lost his focus from the question and could utter a mere 'sorry'.
He saw that the interviewers had become disinterested thereafter.
He did not wait for the results, but walked out with the realisation that a person is hired not just for his/her academic accomplishments, but for who s/he is holistically; and this includes soft skills and behaviour.
Research conducted by Harvard University, the Carnegie Foundation and Stanford Research Center have all concluded that 85 per cent of job success comes from having well‐developed soft and people skills, and only 15 per cent of job success comes from technical skills and knowledge (hard skills).
These statistics were extrapolated from a study published in 1918 by the Carnegie Foundation. For almost 100 years, we learned that soft skills are critical to the success of any organization.
Based on a number of surveys on the skills required by graduates undertaken by Microsoft, Target Jobs, the BBC, Prospects, NACE and AGR and other organisations, the skills which are deemed most important are:
Ability to express ideas clearly and confidently in speech
Work confidently within a group
Understand the commercial realities affecting the organisation
Gather information systematically to establish facts and principles for problem solving
Ability to take initiative, identify opportunities and being proactive in putting forward ideas and solutions
Determination to get things done, make things happen and constantly look for better ways of doing things
Ability to express thoughts and ideas clearly in writing
Ability to plan and execute effectively
Adapt successfully to changing situations and environments
Manage time effectively, prioritise tasks and work to deadlines
To be able to be adept with soft skills is not an easy task, even if it may seem like it is.
Most of the employees fail to even understand where they are even lacking, leave alone working on improvising them. These skills are useful not only not only when working with peers but also come handy when the management is looking for next level leaders or successors.
Take the example of the announcement of Tata's new chairman, N Chandrasekaran. He was chosen 45 days ahead of the deadline the company had set for itself to find a successor.
Chandrasekaran's role as a peacemaker, in the midst of the series of legal battles, was one of the most crucial skills that the shaken company was looking for. His soft skills, which included managing people effectively and his ability to remain calm while facing challenges head-on was extremely handy in the ongoing war of words that were leaked daily through letters and press releases.
Exhibiting these skills bring out the best results for the organization as well as the employee during unforeseen situation. Most importantly, these skills can be learned and honed.
Emotional Intelligence
The ability to introspect, reflect on one's own habits and actions will go a big way in understanding others point of view
Think Win-win
The most celebrated and famous 4th habit of "Stephen Covey's Seven Habits of Highly effective people" forms the basis of all fruitful associations.
The ability to think not just about yourself; but the other's victory too.
Awareness
Keep updated on the current trends, news, technology – this will help you become confident and win respect.
Be a good listener
It is said that half of the misunderstandings would be resolved if people start listening to each other.
Become a good listener and you would see how your relations with your team goes to another level.

Be active and fit
Most ignored, but one of the most important qualities that one must possess.
A healthy mind resides in a healthy body. It is the only thing which remains with you till you are alive.
Engage in, at least, 30 minutes of any physical activity daily. Train the mind, too, if it is to function properly.
You can read, solve puzzles, meditate, watch documentaries, seek truth, learn something new every year and aim to gain a mastery over it, etc.
Human beings have come a long way in developing the technology and surroundings that we live in.
It is high time that people realize the importance of soft skills as a critical job function and start making sincere efforts on improving them.
The author Manisha Sachdev is head of training, ITM Skills Academy
Lead image used for representational purposes only. Image: Steve Marcus/Reuters