Leadership was displayed at many levels during the operations.
It's not easy to make 10,000 volunteers work in sync or select the right teams with relevant skills.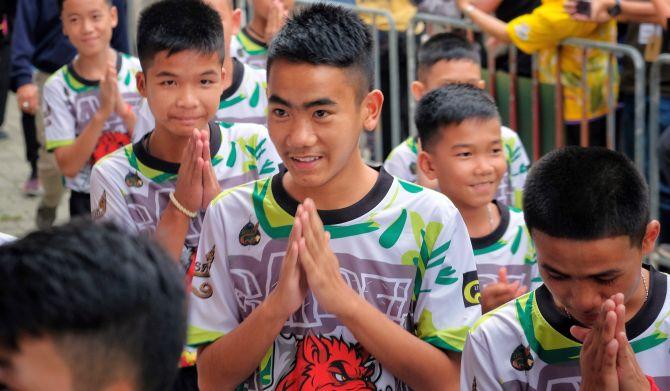 The recent operation to rescue 12 teenage boys and their football coach from inside Tham Luang Cave in Thailand was, in many ways, an unprecedented challenge that required meticulous planning, innovative solutions and quick action.
The effort of 10,000 individuals under the leadership of Narongsak Osatanakorn, a former provincial governor, ensured a sweet end for a mission the world was closely watching.
Shubhomoy Sikdar spoke to experts from different spheres to glean leadership lessons from the episode
'Balance risks with rewards': Arundhati Bhattacharya, former chairman, State Bank of India
What was most amazing was that there was never a question of giving up as initially mooted plans included one where they even considered keeping the boys inside till the abatement of the monsoon.
The operation went on to amply display that at times, we have to go with a strategy that may not be the safest but that balances risk with rewards.
The rescuers chose one that appeared to be the most practical.
There were heavy risks because (some of the) boys did not know how to swim and they would have had to be taken through a narrow underwater passage with sharp bends which even a specially designed submarine from Elon Musk could not have negotiated.
The second lesson was to get help from whoever is willing so that you have as many options as possible.
'Be calm and patient': R R Bhatnagar, director-general, Central Reserve Police Force
I would say the leadership was displayed at many levels during the operations.
The coach Ekapol Chanthawong risked the same fate as the boys but he exhibited exemplary calmness and patience.
The takeaway from the onsite leader Osantanakorn's actions were hope and optimism against heavy odds and great coordination capabilities.
It's not easy to make 10,000 volunteers work in sync or select the right teams with relevant skills.
He was polite but firm while announcing decisions.
The Thailand government, for its part, ensured that there was delegation with authority, minimal bureaucratic interference and that resources were never a handicap.
We must also acknowledge the role of locals who were ready to make sacrifices and the media as well.
'Keep emotion at bay': P R Sreejesh, Indian men's hockey team captain
A key lesson was when you are readying a team, what determines the quality of the leader is how well he or she understands the quality of his/her team members and finds the slots where each one fits.
Are they working together to achieve the target and what could you do to help?
The best thing that the kids did inside the cave was trusting themselves, perhaps because of the coach who had been a monk before and knew the basics of meditation.
This shows mental strength and that is very important in every aspect of leadership.
I might even say that mental toughness is more important than physical strength for success.
The kids inside spent days without food and were not aware of what was going outside but they held up remarkably well.
They managed to keep every emotion, mainly fear, in check and focused on one thing -- that the rescue will happen.
'Collaboration is key': R Gopalakrishnan, corporate advisor and distinguished professor of IIT Kharagpur
I have summarised my takeaways in three 'Cs'.
The first C is collaboration.
In the rescue operation, anybody who could help was included in the rescue effort.
It didn't matter whether the person was from within Thailand or outside the country.
The second C was creativity as many unconventional methods were used during the operation.
They steered clear of this won't work, that won't work sort of debates.
This is akin to the jugaad that we talk about a lot in India. Try out everything that works.
The third C was crisis management.
What we saw was that there was a sense of urgency but not panic.
If parallels are to be drawn in the Indian context, one can cite the example of many oil and gas fires or the Tsunami or Bhopal gas tragedies. But while those were all disastrous, this one had a happy ending.