Students seek transparency!
Want to know the real reason for the revision in the results of the final ICAI-conducted CA exam.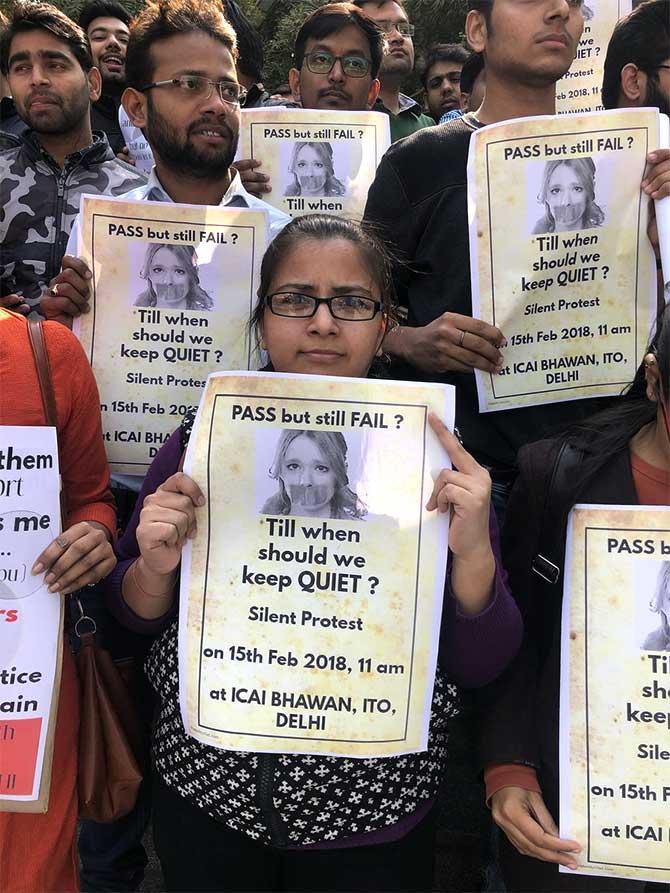 Students observe silent protest outside ICAI Bhawan, Delhi on February 15, 2018.
Photograph: Kind courtesy Kunal Sehrawat DUSU/Twitter
The results of the chartered accountancy final exams held in November 2017 were released on January 18. Around 24,000 students were declared passed.
Later, the Institute of Chartered Accountancy India, after declaration of results, reduced the number to around 19,000.
Thousands of students have received another mark sheet claiming they have failed the exam.
The ICAI, national professional accounting body of India, clarified, "Some mismatches had occurred in the file attached to the branches. Realising this mismatch, the department had immediately sent the corrected version to branches and regional councils."
On February 7, banker Dr Suneel Maggo was invited to speak at the 68th ICAI annual function at Vigyan Bhawan, New Delhi. He raised this issue (Click here to listen to Dr Maggo's speech).
"As far as students are concerned, you come up with a result on 17th of January. The result is decodified from 24,000 to 19,000. Those 5,000 plus students have already celebrated (passing). What right(s) have you got? You owe an explanation," Dr Maggo fumed in his two-minute-plus speech.
Students have since escalated the fight on Twitter tagging the ICAI and demanding an explanation.
"We wait so long for results. And all we get is injustice. We won't settle for it. #ICAIpleaseExplain," Pareexit Singh wrote on Twitter.
"What type of clerical error is this.. only students getting 190+ marks got failed in 2nd list.. Don't your members know passing criteria is 200. Don't fool us," Humesh Sagar, NSUI National coordinator wrote.
"We need higher authorities to probe into such malpractices. How can such serious issues be overlooked? 5,879 students failed instead of passing the exam. I condemn all the stories cited by ICAI in response to our questions," Shivraj More, general secretary, National Students' Union of India, Karnataka, posted in a series of tweets.
Saimon Farooqui, who manages NSUI's social media, tweeted: "The careers of 5,879 budding CAs is at stake. Such a reputed institute can't afford such typing mistakes. No single spelling mistake in 1,700 page list, 5,178 names were only added by mistake," .
"Technical error, internal communication and devoid of merit are the excuses you give for wasting 6 months of a student's future with no guarantee that the student would pass in the next attempt," Farooqui added.
According to Kunal Sehrawat, vice president, Delhi University Student Union, members of the National Students' Union of India, Delhi, will be joining the CA students to demand justice at ICAI Bhawan on February 15.