The Combined Graduate Level examination is taken by lakhs of students in India. Are you prepared for it?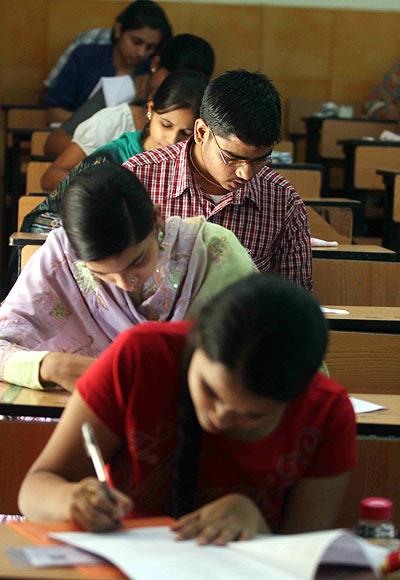 The Staff Selection Commission commonly known as SSC conducts a number of exams throughout the year for recruitment into various government departments.
Some of the exams are:
Combined Graduate Level Examination (SSC CGL for graduate candidates)
Combined Higher Secondary level examination (SSC CHSL for 12th passed candidates)
Sub-Inspector in various para military forces (BSF, CRPF, CISF, ITBP, SSB)
Section Officer (Audit and Commercial)
Junior Engineers Examination (SSC JE for candidates holding an engineering diploma)
Examinations for other organisations like Delhi Police, Prasar Bharti etc.
Out of all these examinations, the most popular and hence the most awaited examination is the SSC CGL Exam.
The number of test takers are increasing at an overwhelming rate.
In 2011, about 6 lakh candidates took the CGL Exam. This number rose to 12 lakh in 2013 and approximately 15 lakh in 2015.
What is SSC CGL?
The SSC CGL (Staff Selection Commission Combined Graduate Level ) examination is one of the biggest government job recruitment exams of India.
Every year the Staff Selection Commission conducts this CGL exam for recruitment in various Central Government Departments like Central Secretariat Service, Central Vigilance Commission, Intelligence Bureau, CBI, Ministry of Railways/ External Affairs /Defence and a few other Ministries.
In the above department they are recruited for various posts like Assistant, Inspector, Sub Inspector, Junior Accountant, Divisional Accountant, Preventive Officer, Statistical Officer, Examiner, Compiler, Tax Assistant etc.
The minimum educational qualification is Graduation from a recognised University.
How to apply
Interested candidates can log on to ssconline2.gov.in to register. The last date to register is March 14, 2016.
Important dates
The SSC CGL Tier 1 exam will be held on May 8 and 22, 2016.
SSC CGL Tier 2:
The SSC CGL Tier 2 exam will be held on August 13 and 14, 2016.
Why the exam is important
Here are a few advantages of clearing this examination:
Job security
Unlike a job in the private sector, which is easily affected by recession and in which layoffs are very common, a job through SSC CGL is secure by its very definition.
Salary and Additional Benefits
All thanks to the 7th Pay Commission, the pay structure of SSC CGL Jobs is now at par with the corporate private sector.
This, coupled with the job security, makes any government job irresistible. The SSC CGl Jobs gives you a number of additional benefits like HRA, DA, TA, Mediclaim, Pension Schemes etc.
Respect in the society
No doubt, the SSC CGL Jobs provide you with immense power and a lot of respect in the society.
Promotions
In the SSC CGL, you will be having timely promotions which means you can go upto the posts of Joint Secretary/ Commissioner.
How to prepare for SSC CGl Exam
Before preparing for any exam, we must know about the scheme and pattern of the exam
The SSC CGL Examination will be conducted in three tiers as indicated below:
SSC CGL Tier -I — Written Examination (Objective Multiple Choice Type)
SSC CGL Tier -II — Written Examination (Objective Multiple Choice Type).
SSC CGL Tier -III — Computer Proficiency Test/ Skill Test (wherever applicable)
Tier –I of the Combined Graduate level Examination will be common for all categories of posts.
Tier-II of the SSC Combined Graduate Level Examination 2016 will be of Objective Type Multiple Choice and will be conducted over a period of two days.
Syllabus of Tier 1
General Intelligence and Reasoning
It would include questions of both verbal and non-verbal type. This component may include questions on analogies, similarities and differences, space visualization, spatial orientation, problem solving, analysis etc
General Awareness
Questions in this component will be aimed at testing the candidates general awareness of the environment around him and its application to society.
Quantitative Aptitude
The questions will be designed to test the ability of appropriate use of numbers and number sense of the candidate.
English Comprehension
Candidates' ability to understand correct English, his basic comprehension and writing ability, etc. would be tested. The questions in Parts A, B, and D will be of a level commensurate with the essential qualification viz. Graduation and questions in Part C will be of 10th standard level.
Syllabus of Tier 2
Paper-I Quantitative Ability
The questions will be designed to test the ability of appropriate use of numbers and number sense of the candidate.
Paper-II : English Language and Comprehension:
Questions in this components will be designed to test the candidate's understanding and knowledge of English Language
Paper III: Statistics for Investigator Grade-II, Ministry of Statistics and Programme Implementation and Compiler in RGI.
Collection Classification and Presentation of Statistical Data

Paper IV: General Studies (Finance and Economics. for the post of Assistant Audit Officer in Indian Audit and Accounts Department under CAG.
Part A: Finance and Accounts
Part B: Economics and Governance
Knowing the syllabus helps you prepare better for the examination and focus on your weak areas.
Try and solve one or two mock tests to evaluate your preparation and readiness for the actual examination.
Remember, the examiners are looking for an all rounder who has expertise on all the subjects.
Lead image used for representational purposes only. Image: Sahil Salvi
This author Amit Chaudhary is an educational consultant at MockBank.com, a Bengaluru based online test preparation company for government/PSUjobs.