Strategic time management is the best way to optimise your percentile in the Common Admission Test this year, says Prof Dr Savitha G R, HR, WeSchool, Bangalore.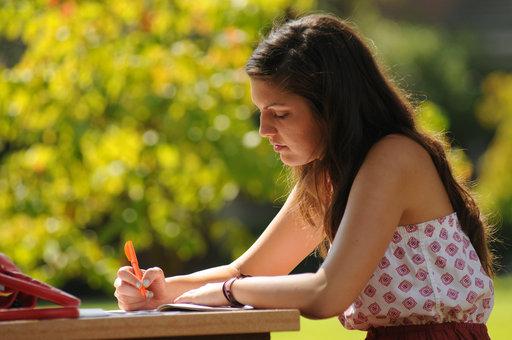 The Common Admission Test (CAT) 2015 is a mandatory entrance examination for flagship post graduate programmes 2016-18 in 19 present Indian Institutes of Management and other top business schools of India, with the IIM Jammu and Kashmir tentatively slated to be added to the list in 2016.
Taking a break from the earlier years, the CAT 2015 has unveiled a number of aspirant-friendly measures, right from the changes in the process of registration, selection of test centre, conduct -- duration and pattern of test, and declaration of result .
Although much has been discussed about the changes, the pattern of the exam will be launched on October 15, 2015.
This will help candidates have better understanding of the procedures to be followed at the time of CAT 2015.
With the number of applicants rising to 2.18 lakhs on the last day of registration, the number of students appearing for the Common Admission Test 2015 is the highest in six years and could be an indicator of the optimism prevailing in the student-parent community about newer opportunities and lucrative placements in sunrise sectors.
The CAT 2015 is scheduled for Sunday, November 29, 2015.
Tackling the unknown
Total duration of the CAT is 180 minutes with exactly 60 minutes to answer each section.
The total number of questions is 100, which is spread across three sections --
Quantitative Aptitude (34 questions)
Data Interpretation and Logical Reasoning (32 questions) and
Verbal and Reading Comprehension (34 questions)
The CAT is a computer based objective type test with a mix of Multiple Choice Questions (MCQs) as well as some non-MCQs.
The answers to the non-MCQs will have to be typed on the keyboard in the space provided.
These questions can be of any number and at any section.
Timely switch over
The CAT 2015 will have a sectional time limit of 60 minutes.
The liberty to attempt any section in any order or switch between the sections has been scrapped.
To adapt to the changed pattern, aspirants are advised to visit the revised mock tests which contain 100 questions and practice to answer them in 180 minutes.
I would advice aspirants to aim to score balanced high sectional percentile than to focus on overall high percentile.
Have time bound practice sessions.
At regular intervals, make a note of how many questions you have solved from each section.
Effective use of time
There is no change in the number of questions, but the duration of the test has marginally been increased by 10 minutes i.e. from 170 minutes to 180 minutes.
This means increase of per question time from 1.7 to 1.8 minutes.
Having said that, aspirants need to manage their time strategically.
Always attempt to solve easy questions first and use around 70 seconds per question for the same so that benefit of the minutes saved by you can be used to answer the remaining questions that may have a higher degree of difficulty.
The freedom to solve more number of questions is always there but aspirants should avoid generous attempts and answer only those questions that s/he is confident of.
Remember, this will also help in bringing down negative marking.
How to tackle verbal ability
The number of Non-MCQs in each section varies and are not disclosed by the officials.
Please don't lose faith in the hard work and practice that you have put in so far.
Continue to practice by reading newspapers and articles regularly and mark difficult words and learn meaning from the dictionary.
Read the editorials in the dailies not only to improve your reading speed but also to learn to make a summary of the paragraph and check whether any point is missing.
Extra push to study hours
With a countdown of around 160 days for the CAT 2015 exam, you might be busy breezing through your notes, which you would have compiled for the preparation purpose.
It's very common that at this point of time, excitement, anxiety and hope might fill your hearts and overcome you.
Don't start revising all the chapters all over again, because if you haven't done that throughout the year, then a few weeks of last minute rush into revision won't yield anything good.
Apart from the regular practice, take at least a couple of past CAT papers and solve them without any break.
Relax, relate and rejuvenate
Plan your study cycle and take proper breaks after long and arduous periods of study as it becomes boring and your concentration will start to waver.
Take a break from studies for recreation; simple things like listening to music, gardening, taking the dog for a walk, knitting, sketching, cooking etc are really useful.
Be cool and keep to a healthy lifestyle with simple diet, drink lot of water and basic exercise -- swimming, jogging, walking, cycling etc.
Yoga, tai chi, meditation will certainly add value.
Visualisation techniques help relax the mind and body.
Remember, your body as well as brain needs energy and rest. Please don't go into a shell and get stressed out.
Keeping in touch with MBA aspirants in the neighbourhood is a good idea as well, as one of them may just push or provide you with an easy solution to a seemingly impossible problem.
A day before CAT is only meant to relax.
Try to keep yourself calm and stable as you need to be fresh on the next day.
And last but not the least, remain confident and have belief in your preparation.
Lead image used for representational purposes only. Image: University of Central Arkansas/Wikimedia Commons
ALSO SEE: CAT 2015: What these student-friendly changes mean to you