The key to smart corporate dressing is to wear comfy, well-fitted clothes.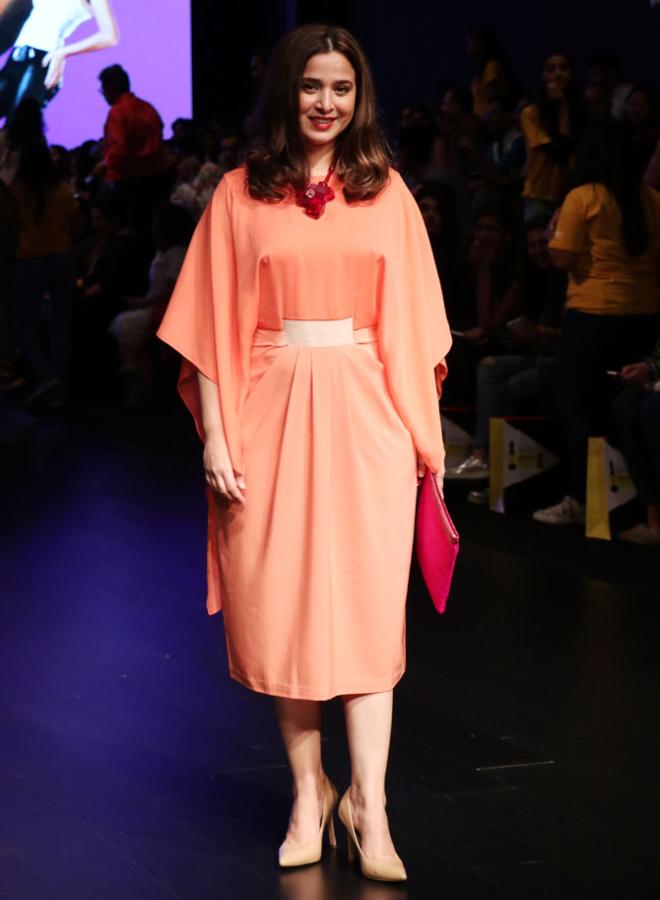 IMAGE: Opt for monochrome as it makes you look slimmer. Photograph: Hitesh Harisinghani/Rediff.com
Making strategic choices in clothing, dressing as per your specific body shape and wearing the right fit clothes are the secrets of well-dressed women.
Try and always dress according to your body type. You must know which body part needs to be accentuated and which needs to be camouflaged.
Avoid wearing oversized or undersized clothes, as they are sole reason for you looking heavier.
Oversized clothes can make you look bulky and undersize clothes can cling to your wanted bulges.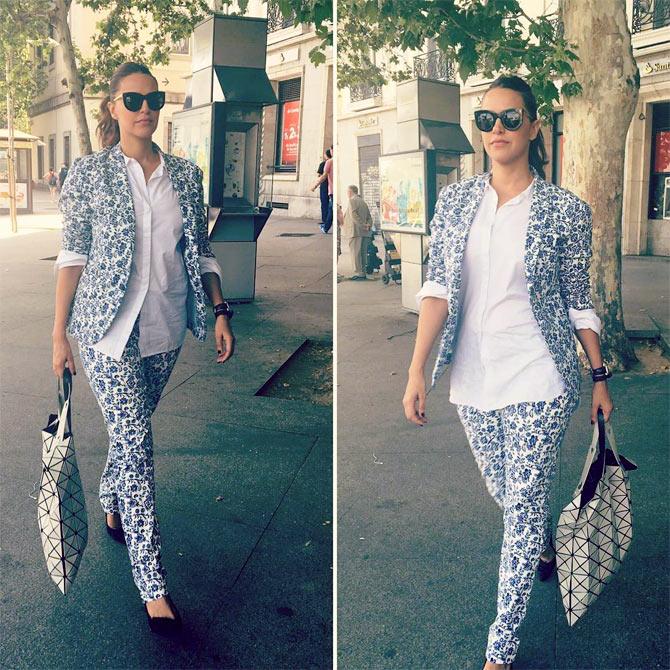 IMAGE: Straight cuts and well fitted pants make you look taller and slimmer. Photograph: Kind courtesy Neha Dhupia/Instagram
Indian clothing is always a great option for corporate wear for plus size women.
You can opt for A-line kurtas, or straight kurtas with cigarette or straight fit pants for a more slender look. Wear straight fit pants as they appear to elongate your body and make you look slimmer.
V neckline suits more than the round neckline when it comes to curvy woman. Always go for tailor or well fit clothes that would enhance your personality.
Women, especially curvy women, often overlook the significance of choosing the right undergarments for their body type.
Being the first layer for all your garments, they are the foundation, and responsible for how it may look on you. Thus, the added responsibility of them being supporting and well fitted with full coverage. You may also invest in good quality shape wear to smoothen out those stubborn bubbles or bulges.
Dress up from head to toe in one tonal colour.
A curvy woman should always prefer monochromatic colour that will give a slimmer look.
Don't shy away from colour, but avoid very bright colours around your curvy areas. Darker colours with the likes of black, dark blue or dark red to aubergine, gives the illusion of a slimmer figure because dark colours grasp light.
A strict no-no to stretchy fabrics, these cling to all the wrong places. Opt for semi-fitted fabrics that softly follow off your curves. Layering is another option. You can layer with light-weight fabric, which will hide those love handles. As for silhouettes, opt for wrap dresses or sheaths, belted shirt dresses and full circle skirts.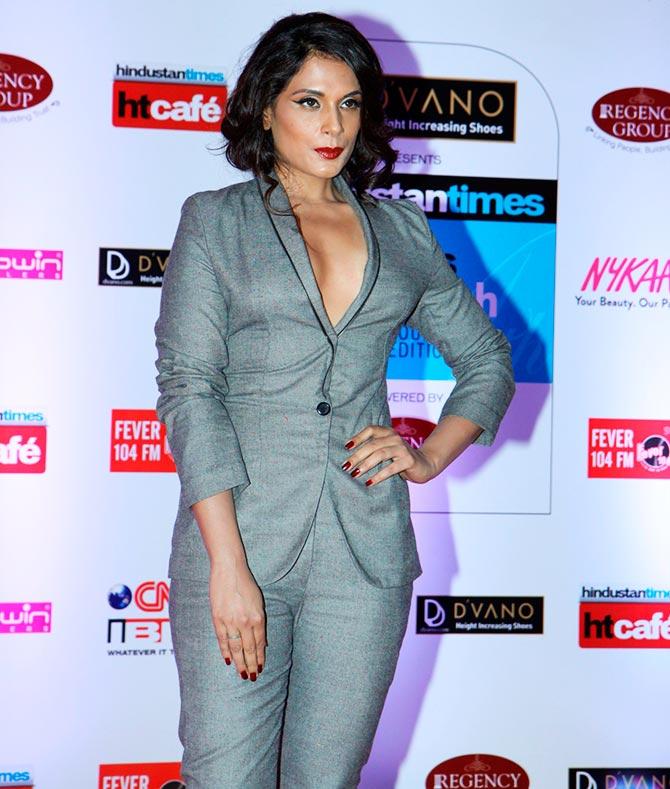 IMAGE: Curvy women should opt for V neck tops or fitted jackets. Photograph: Pradeep Bandekar
When it comes to curvy women, statement jewellery looks great on them, whereas tiny pieces of jewellery can get lost. Try to wear cuff bracelets, stacked bangles, cocktail rings, large pendant necklaces, and long necklaces, which will draw attention towards your face.
Accessorize as per your body scale and let them do the rest. Dangling earrings are another piece of jewellery that goes well for curvy women, provided your neck is long enough to compliment them.
If you have a broader waist, you can either wear a three-inch-wide belt or a one-inch-wide skinny belt, like obi belts. Find a consequential fabric, like leather, that wraps around and ties securely in the back for adjustable comfort and a tailored fit.
Embellished belts jewel-coated sash belts or ones with detail design in the front create a focal point.
As for skinny belts, wearing two of the same colour in different shades looks good. Women who have maximum weight in the middle may not find that cinching belt right at the waistline attractive. Slinging a belt around the hips gives more of a bohemian look.
IMAGE: A dash of statement jewellery will up your glam quotient. Photograph:

Hitesh Harisinghani/

Rediff.com
A plus size woman should always go for a lean silhouette more than round-toe styles. It gives them an elongated look.
Nothing beats the power of a slenderise heel; it makes the legs look leaner and elongated, which means that even a short stacked heel or kitten heel will do magic for plus size women.
Avoid T-straps and ankle straps if you have wide ankles, or fuller calves; they will hinder the look of the leg-line and make legs appear wider and broader.
Go for more open sling-backs and peeking styles that flatter the feet without covering it too much rather than shoes with ankle strap. And if comfort is crucial, look for shoes that offer support to your heel as well as the ball of your feet, like wedges. Nothing kills an outfit quite like the ineptitude to walk in your shoes.
In the end anything you wear must fit your body; even a little hem can work wonders for an overall fit.
Feel beautiful and confident in whatever you wear. And you are sure to make heads turn for all the right reasons.
The author Meha Bhargava is the founder and CEO of Styl Inc Image Consultants.