Saurabh Sarda holds the All India Rank 3 for GATE 2014 in Computer Science Engineering.
The young achiever who is currently pursuing his MTech at the IIT Bombay, shares his study secrets. Read on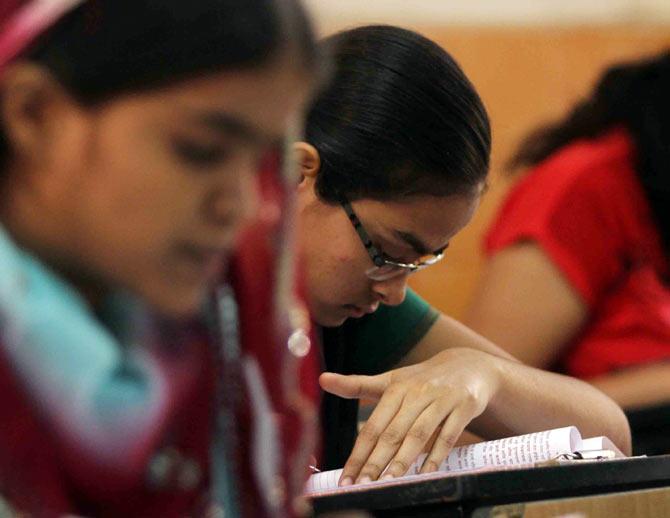 For those looking to pursue their masters in engineering, the Graduate Aptitude Test in Engineering is crucial for admission in top engineering and science colleges in the country.
Every year, only a select few make it through the competitive entrance exam.
Saurabh Sarda is among those who cracked the online exam last year.
Sarda is an engineering graduate from the Visvesvaraya National Institute of Technology (VNIT) -- also known as the NIT Nagpur.
After completing his graduation in 2012, he worked as a system software engineer at Nvidia Graphics in Pune for 15 months.
In October 2013, he quit his job to prepare for the Graduate Aptitude Test in Engineering (GATE) 2014.
He scored an All India Rank 3 in Computer Science Engineering.
Sarda, who is currently pursuing his MTech at the Indian Institute of Technology Bombay tells us how he prepared for the exam and how he cracked it.
What inspired you to appear for the GATE? Why did you quit your job to prepare?
I started working after graduation to just see what life would be like.
A year later, I realised that I wanted to do MTech.
It would be good for my career and I was interested in it. So, I got down to prepare for the GATE.
I realised that working and studying was really going to be a problem if I wanted a good GATE score.
I quit my job to concentrate entirely on the GATE preparation.

How did you prepare for the exam?
I started my preparation in 2013.
I had no fixed schedule while I was working. But after I quit, I put in a maximum of eight to ten hours.
It is highly difficult to put more than that I feel.
The mind and brain can only take so much.
If you seriously put the effort, then this kind of a daily schedule should get you good marks.

Do you think final year students can prepare for the GATE along with their engineering studies?
If they are serious about their preparation, yes they can.
Actually I would advise that one should work for an year so that one can know how the industry works and then decide.
Final year of engineering is quite hectic -- one has to complete a lot of projects too -- so it might be difficult to find time for studies.
Having said that, there are many who have done it.

What strategies helped you crack the exam?
By July 2013, I realised that I had no contact with books for the past year while I was working.
So I joined GATEForum for their weekend classes.
I joined the classes to recollect and refresh the engineering concepts that I had learnt during my engineering days.
The mock tests that I did there were useful to me in improving my speed during the exam.
Your concepts have to be strong.
Read them, know them and then start with tests.
Make sure to solve the previous years' papers.

Please suggest some important topics that you feel are a must read for any student attempting GATE for CS
Computer Science is all based on Mathematics so if you are strong in Mathematics, you can crack the GATE exam.
Computer Science is about logic and reasoning which is why having a strong mathematical background will ease the path.
Questions for Engineering Mathematics are very easy. If you have prepared well for the Joint Entrance Exam, you can do these questions well.
I don't know why but this section is pretty simple.

How important are mock tests?
With the pattern change in 2013 and now the online tests, the GATE exam has changed completely.
I attempted the GATE in 2012 too after my BTech and now I don't see any similarity between the two and my past experience was no good for me.
Mock Tests are important and students should practice as much as they can.
In fact I finished my concept brushing, reading for GATE by October and then on it was practice, practice for me.
I improved my speed and I really mean that as I completed my GATE 2014 exam within two hours.
Time management is one of the most valuable lesson that is given through the mock tests. Also we can know the strengths and weaknesses so we can improve.

Which books did you follow for GATE preparation?
For Networks, I referred to Operating Systems books by A Tanenbaum and other standard books.
I had the same books during my engineering days so I used them.
The standard books available in the market for GATE preparation for CSE are good.

What was your strategy for numerical questions?
The Multiple Choice Questions have the answers in front of you. You just have to choose so you know if your answer doesn't match, and you can rework the answer.
But for numerical questions, the answer is not given. It is never easy then.
Moreover, the questions are tricky such that they question your grasp of the concepts and the way you apply them.
Here again the mock tests are useful.
Once your concepts are clear you must then do mock tests, previous year papers and know how to apply these concepts.

Your advice to future GATE aspirants
GATE is a devil but a known devil.
Study and be through with your concepts.
Practice is the key for speed improvement and time management.
From November end, I just sat and did the mock tests, previous year papers and nothing else.
Candidates should seriously practice the previous year papers.
If you do well in them, a good score in GATE is assured but to do that, again the concepts have to be in place.
There are no short cuts to this.
Hard work is required along with serious study.
Saurabh Sarda's photo courtesy: GATEFORUM
ALSO SEE: What is new in GATE 2015?