Find out what Steve Jobs, Tim Cook and Deep Kalra did when they received angry, negative feedback from customers.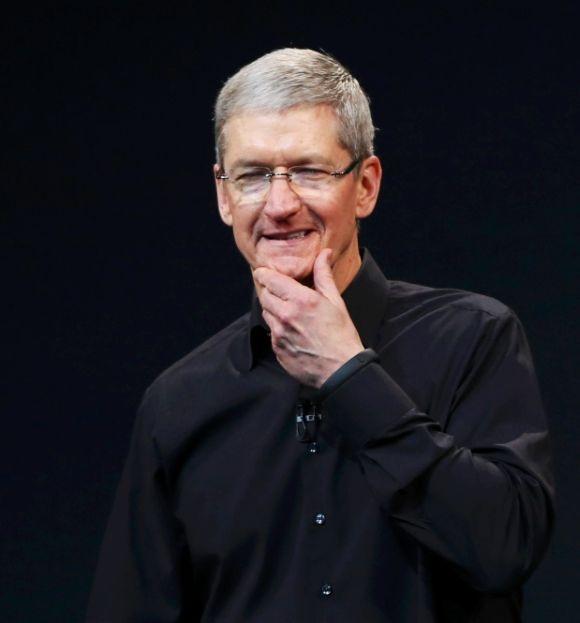 IMAGE: Tim Cook followed Jobs' legacy of making Apple's customers feel heard.
Photograph:

Robert Galbraith/Reuters
We've all pulled a 'can I speak to your manager' card, at some point in our lives.
While this was easier done in restaurants, stores and service stations -- it wasn't always possible to reach the person handling, running or leading the company brand or chain in question.
However, with the influx of social media and its attempt to provide easy and direct access to anyone -- including celebrities, businessmen and politicians -- it has become easier to voice our dissatisfaction to the highest authority in question.
Platforms like Twitter and Facebook, have become a constant source of worry for these famed individuals, considering the fact that it takes a mere post and click to attack a company or individual's reputation -- a PR nightmare for most.
To prevent this powerful individuals and companies have been attempting to be forthcoming and actively responsive to any negative press, using the same social media platforms, and in some cases through direct mail as well.
While it isn't always a fruitful attempt, customers who have cold-emailed the CEOs of the company, have in some cases received responses to the same -- either by a direct reply on the thread, or by instant action taken to counter the problem in hand.
Some of these names may surprise you, greatly.
Steve Jobs, Apple
Nahush Kulkarni spoke about the time when as a young and broke freshman, he had emailed Steve Jobs about a hardware problem in his Macbook Pro.
Without any external cause, the computer screen had suddenly gone blank after two years of diligent care and a few months later conked off for good.
Since Kulkarni, now a software engineer at Apple, had gone past his one-year warranty period, the customer care people refused to help.
Forcing him to buy a new Macbook, pooling in all his (limited) savings, but not before he had sent an official complaint to Jobs, without really expecting a response of any kind.
Within two weeks of sending that e-mail, he got a call from the customer care service. He was asked to ship his temporarily ruined laptop for repair and it was returned to him shortly, as good as new!
Looks like Jobs kept to his promise of serving every customer's need.
Jamie Dimon, JP Morgan Chase
Back in the summer of 2007, a young Eric Gonsenheim was given the opportunity to intern at JP Morgan Chase, something he knew would look great on his resume.
However, he was curious about the inside-design and structure of the company, and wished for an in-depth knowledge about how it was run.
Answers he knew he could only get from Jamie Dimon, the CEO of the company.
However, Dimon wasn't known for spending his valuable time entertaining the curious questions of a young summer-intern.
But Eric decided to give it a go anyway and sent him a mail, requesting him for a possible meeting.
To Eric's surprise, Dimon responded within the same day and scheduled a fifteen-minute meet with him two days later.
Sometimes, courage pays off, and it takes a lot to cold-email someone as important as Dimon.
Deep Kalra, MakeMyTrip
Vishal Jain was extremely frustrated with MakeMyTrip in December, 2012- when he wasn't refunded for the tickets he had booked on the then grounded 'Kingfisher Airlines'.
While the former had officially claimed that it would return money it owed to customers, Jain was tired of the long wait.
He reached out to the customer care at MakeMyTrip on two different occasions, and was given empty assurances. Following which, Jain decided to try cold-mailing the CEO, Deep Kalra.
He expressed his disappointment with the poor service that the latter's company was providing.
Within two days, Jain received a call from one of the company's executives apologising for the delay. He was further offered a travel voucher adding up the original booking amount.
Tim Cook, Apple
Mike Gnitecki, of East Texas Medical Center, spoke about the time his father unknowingly bought a defective Macbook and didn't receive any useful help from customer service.
Frustrated, his father emailed CEO Tim Cook at 5.35 pm regarding the problem, and exactly at 10.56 am the next morning, he got a call from an executive in Cook's office.
Later, the defective laptop was replaced by a new one.
Goes to show that Cook followed Jobs' legacy of making Apple's customers feel heard and to keep them happy.
We ask you, dear readers, have you ever tried cold-mailing a CEO?
Describe your experience in the comments below. We'd love to hear from you.