While data entry and clerical jobs may become obsolete, AI-powered roles may see a surge in the forthcoming months, says Rituparana Chakraborty.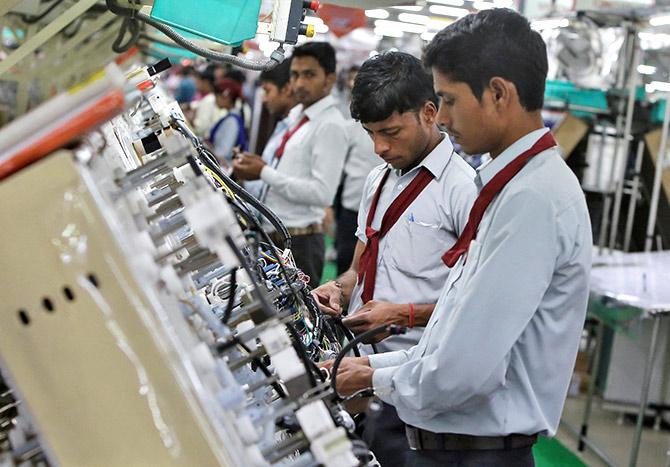 According to a report by staffing and training firm TeamLease, India will see a surge of 11.4 lakh jobs in the next six months.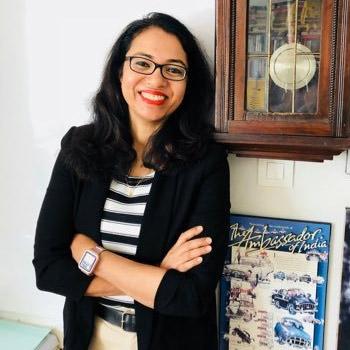 The 2019 report was compiled using survey data from 775 companies in India and 85 employers across the globe to evaluate employment outlook trends.
It states that around 57 percent industries will witness an increase in their net employment outlook.
In an interview with Divya Nair/Rediff.com, Rituparna Chakraborty (pictured left), co-founder and EVP, TeamLease Services explains which sectors will contribute to India's growth story.
Excerpts:
TeamLease's latest report suggests an overall creation of over 11 lakh jobs. What kind of jobs are these? Kindly elaborate.
11,44,286 is the forecast of net new job creation for the next six months.
We estimate that this number of jobs will be created in the economy over the first half year of 2019-20.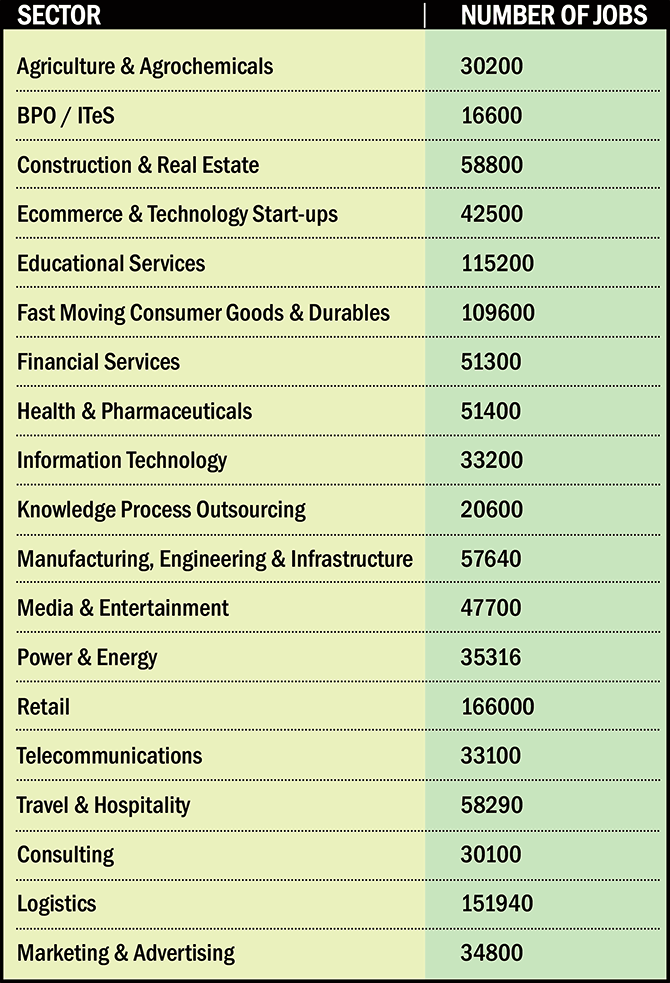 The latest National Employability report suggests that over 80 per cent engineers in India are unfit for employment. Do you see this as an obstacle?
Various findings underline the stark reality of Indian technical education, where clearly, unemployability is a bigger issue than unemployment.
Most engineering graduates exhibit strong technical proficiency and theoretic knowledge but need to amp their problem solving and analytical skills and to some extent communication, presentation and interpersonal skills as well.
In addition in today's rapidly morphing environment -- design thinking, multi-speciality skills and cross-cultural adaptability is clearly in demand.
The industry, academia and policymaker triad must work together for relevant interventions to improve the situation and shift focus to vocational education, apprenticeship and more skill initiatives.
What reasons do you attribute for India's growing unemployment over the last few years?
India's problem is employed poverty.
For the longest time, we have pursued employment as a goal and landed up with low paying jobs with the rhetoric of unemployment rather than the demand for wages.
So how can we fix it?
We must acknowledge that India's real problem is wages not jobs which can only be solved with formalisation, urbanisation, financialisation, industrialisation and human capital.
In addition, we need to also consider our macro framework, productivity and policy interventions.
Do you think there is an impending fear of economic recession? Is there reason to be worried?
We will not be able to comment on the macro-economic situation.
However, our study is reflective of the hiring sentiment of respondents from 775 corporates across 19 sectors and 14 cities; we do believe that the coming months will witness a significant pick up in hiring.
In the wake of Jet crisis where nearly 20,000 skilled employees have lost their jobs, what do you suggest they should do?
Jet staff with core skills (pilots and cabin crew) should focus on taking available options with domestic and international airlines.
It's possible that the pay and benefits may not be at a par with current packages. Non-core staff in support functions should consider other industries.
However, this is only for the short term. We see demand improving as the aviation sector is poised to grow.
The plight of Jet employees is understandable and rather unfortunate.
Within a year, if not earlier, a large part of core skilled and experienced staff shall find alternate employment.
While there could be a seeming setback initially, it shall however play out in favour of employees given the potential of aviation in India.
In your opinion, which are the sectors that will hire more freshers in 2020?
Retail
Educational services
Fast moving consumer goods and durables
E-commerce and technology start-ups
Logistics
What are some of the new and upcoming jobs youngsters need to take note of?
Risk Analytics -- statistical modelling
Interactive designer
3D printing experts
Customer experience leader
Lifestyle strategist
What kind of jobs/job roles will be obsolete in the coming years? Why?
Data entry operator
Clerks
Typists
Customer care/service
Back office executive
Sales/marketing executives
Telemarketers
Skilled agricultural workers
Trade-related professionals
Automation and AI are playing a major role to create the jobs/job roles that will replace the above ones.
It is estimated that 52-69 per cent of repetitive and predictive roles in sectors including IT, financial services, manufacturing, transportation, packaging and shipping face risk of automation in the coming years.
9% of the workforce will be deployed in new jobs that do not exist today
37% will be deployed in jobs that have radically changed skillsets
54% of jobs will fall under unchanged jobs category due to automation
49 % of companies have implemented AI solutions in their businesses
Do you feel that AI and technology will cut down present-day jobs/roles?
AI is not a new phenomenon. It has existed for 6 decades as a distinct branch of science and technology and has evolved through several crest and trough phases.
But today with advancement in computing and internet technology -- it has become a technology whose time has come.
It is the new reality for business, government and mankind. And given that it is the current hype and buzzword -- even in India we are now seeing multiple use cases for AI.
Digital assistants, cab aggregators, biometric recognition, targeted advertisements and online recommendation engines are increasingly becoming commonplace.
Even businesses in India have started realising the productivity improvement, efficiencies and growth opportunities that come with AI led automation of back-end processes, chat-bots for customer services, machine learning for various processes and functions.
Government agencies in India have also started using AI-powered applications such as machine learning, image and speech recognition, robotics in many of their processes.
The fact that a national programme on AI has been envisaged by the government in this year's budgets shows how relevant and important AI has become.
It is estimated that more than 1000 + companies in India including start-ups, software services companies, IT majors, telcos and BFSI companies are working on some form or other of AI.
According to a report by Great Learning, there has been a 30 per cent year-on-year increase in the number of companies setting up dedicated AI teams in India.
So clearly, there is an increase in demand for AI talent. Technology is changing jobs not threatening them.
In your opinion, what can millennials do to stay relevant in their careers?
The world is rapidly evolving and today, human capital is being valued more for their superior cognitive abilities than their ability to exert themselves physically or carry out roles which are repetitive, predictive and scaleable.
In a world of automation, artificial intelligence and robotics, millennials should aim to pursue careers that does not include predictive, mundane, process-led work and spend more time in understanding and building human relationships, in managing others (teams, companies, countries, world, world wide web), in taking responsibilities, in being accountable and incorporating a culture of continuous learning to stay abreast and relevant.
What are some of the mistakes youngsters make when it comes to finding a job?
Instead of chasing the elusive ideal/ dream job, they should pick up one that has potential for professional development and progression.
While they pride themselves as digital natives and most often navigate the virtual world seamlessly, they do need to invest in building relationships with real-life contacts and mentors as well.
Do not overshare. Be mindful of its self-confidence and self-worth over swag and cockiness; the latter can be misinterpreted in a professional environment.
And lastly, you don't always have to pretend that you know it all. If you don't know, it's OK to admit that you don't have all the answers.
What are the skills youngsters need to learn/acquire so they can get a job at the end of their education?
Curiosity is the foundation of building a resilient career in pursuit of their dreams.
It enhances their ability to learn and also helps retain information longer and has a direct correlation between their levels of curiosity and openness to personal growth and development, has immense capacity to quash the stereotypes and helps develop a growth mind-set.
Confidence is key for youngsters in their earlier years when they are faced with difficult situations and decisions and it grows from taking action, speaking aloud without the fear of failure.
Lack of confidence is a breeding ground for low self-esteem. They should hone their positive risk-taking ability that will help them to cope with the unknown successfully and forge ahead.
It is important to make today's youngsters responsible for being happy without seeking external validation or gratification.
Good mental and emotional well-being is a key ingredient for success of our youngsters.
We are entering a new era of automation, today, more than ever before, which will unleash the actual value of human beings at work and further enhance it.
Youngsters should realise that it is our ability to decipher different dynamics of human working relationships, our ability to react and decipher and adapt to the situation is not something machines can do.
And in times like these, skills of an adept manager, leader, mentor, risk taker shall outshine all else.
Automation, AI, Bots might sound threatening to those who lack aspiration. However, it is merely a process of human advancement.
In order to leverage the same, the onus is on us to dedicate ourselves to lifelong learning and skill development and to be able to transform our roles to stay relevant by investing in our cognitive abilities.
Times are changing, so should we.