From dealing with pressure to bouncing back after an injury, the tennis player's latest Grand Slam title has a lot to be inspired from.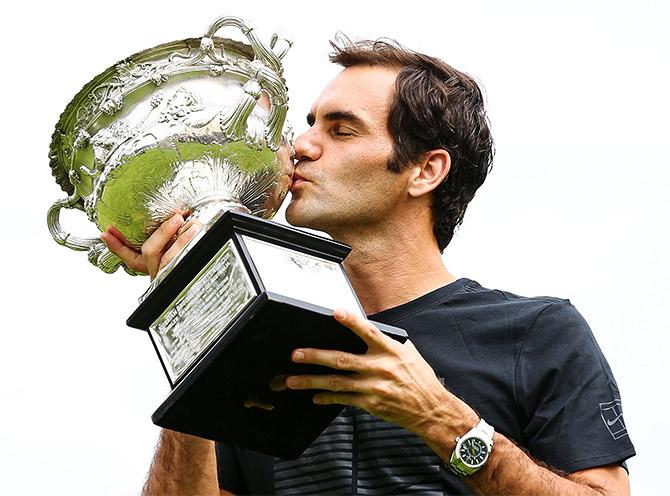 Roger Federer kisses the Norman Brookes Challenge Cup after winning the 2018 Australian Open Men's Singles Final, at Government House on January 29, 2018 in Melbourne, Australia.
Photograph: Michael Dodge/Getty Images
From winning his first Grand Slam in 2003 to holding the maximum number of the same title (20), Federer has proven that there are few like him.
The Swiss icon may not have had a steady winning streak in his career. But his recent victory at the Australian Open is the result of years of consistent practice, discipline and humility.
There is more than one thing to learn from this legendary's sports icon's latest win.
Age is just a number
For those of you who think age and injury as obstacles to growth, Federer's rise to the top after a knee injury is a case in point.
He rested it out, worked on his health and got back on the game.
Federer rose like a phoenix and at 36, claimed his 20th Grand Slam.
What's his secret?
"What I think I've been able to do well over the years is play with pain, play with problems, play in all sorts of conditions," Federer said in 2012.
"When you do something best in life, you don't really want to give that up -- and for me it's tennis".
Dealing with pressure
Once you are a top performer, people expect more from you. You push yourself harder too.
While some may break under pressure, trust Federer to work it cool.
"I try to push myself not to get upset and stay positive, and that's what my biggest improvement is over all those years. Under pressure I can see things very clear," Federer revealed in an interview to The Guardian in 2007.
"Once you find that peace, that place of peace and quiet, harmony and confidence, that's when you start playing your best."
Dealing with failure
Life is not always about sunshine and rainbows. There will be times when your fears and setbacks get the better of you.
How did Federer react when he lost to his rivals, when his rankings slid or when an injury put him out of game?
"I'm a very positive thinker, and I think that is what helps me the most in difficult moments," Federer had said.
"I always believe if you're stuck in a hole and maybe things aren't going well you will come out stronger. Everything in life is this way."
Take a break
In 2009, Federer took a three-week break to spend time with his family and recuperate from his tough schedule.
"I tried to spend as much time as possible with the babies because I know there will be a time when we're travelling, like we are right now, and we're at the tennis, doing interviews and practising, and can't be with them," he'd said.
"Babies or not, I needed that break, mentally and physically, to recuperate from a tough year."
He took a similar family break in the second half of 2016 off to deal with knee and back injuries, only to win more Grand Slams.
Whether you are a celebrity or not, a break is essential so you can bounce back with vigour, just like Federer.