The Indian Institute of Ahmedabad is the only Indian institute to have made it to the top 20 of the Top 100 Financial Times' global masters in management ranking.

The 14th edition of the 2018 Financial Times ranking of masters in management is out.
The top 100 global schools in the rankings includes programmes from 27 countries, mostly in Europe.
For the eighth year, Switzerland's St Gallen's MA in strategy and international management tops the ranking followed by HEC Paris and London Business School.
Ranking methodology
For the ranking, 104 schools and 6,400 alumni participated in the survey.
All participating schools were judged on 17 parameters (seven criteria for alumni and 10 from school) including current average alumni salary, diversity of teaching staff, international mobility etc.
The responses were collected from schools and alumni to arrive at the final rankings.
Alumni responses contributed 58 per cent while data collected from school accounted to 42 per cent of the final score.
Here are the top 10 business schools according to FT Rankings 2018: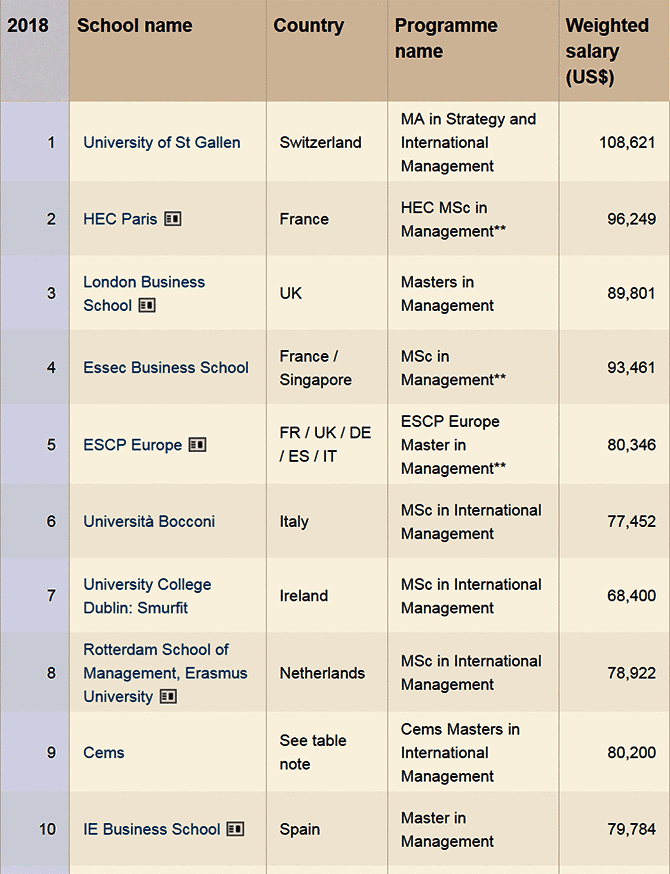 Asia rankings: Where does India stand?
In the Asia rankings, China has outnumbered India with four institutes in the top 10. But India's individual performance is commendable too.
The Indian Institute of Management Ahmedabad which is positioned at number 2 has climbed up two slots to enter the top 20 this year -- it was ranked 21st in 2017 rankings and now stands at 19.
The IIM-Ahmedabad is followed by the Indian Institute of Management Calcutta which jumped up five spots from rank 28 last year and Indian Institute of Management Bangalore which maintained its 26th position globally.
Take a look at the best schools in Asia: