Lay-offs happen.
Best way to do it?
There is none.
But as India faces a downsizing cycle in IT, to ease the pain, employers need to remember to:
~Build trust in face of lay-offs.
~Communicate with employees.
Illustration: Dominic Xavier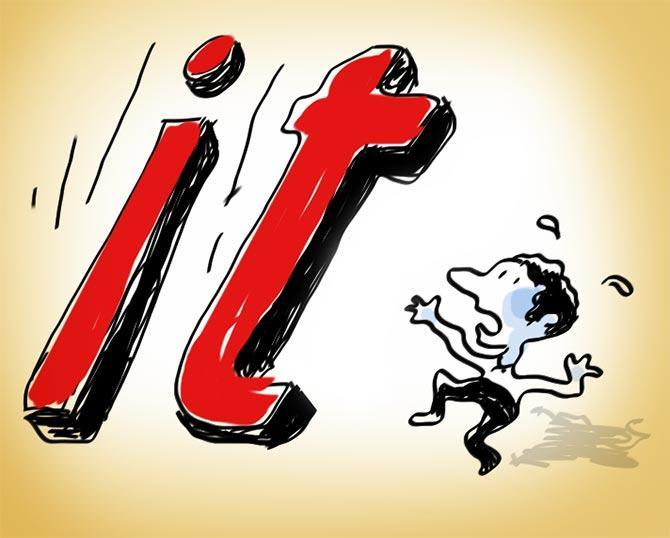 Information technology major Wipro's move to sack as many as 500 people, following what it termed as a routine and annual performance review exercise, has once again put the spotlight on the scourge of mass lay-offs.
Asking an employee to go is never an easy task for an employer, after having promised a fulfilling career not so long ago.

Equally, being asked to go is not an easy experience for Indians as losing a job is still considered a taboo by the society at large. In today's uncertain times, with business exigencies, organisational restructuring or merger and acquisitions, mass lay-offs are becoming the norm rather than an exception.
In such a scenario, it is worth looking at how best can organisations prepare themselves and their employees to face up to the challenge and make mass lay-offs a less traumatic experience for the employee as well as the employer.

If not handled with sensitivity, mass lay-offs have the potential to adversely impact the employer and the employee brand. As organisations are under scrutiny from employees as well as external stakeholders like the media and vendors, any unexpected development or news related to lay-offs is going to lead to anxiety and panic inside as well as outside the company impacting the image and standing of an organisation adversely.

To counter this, it is important for organisations to prepare well in advance once the management decides to go ahead with mass lay-offs.

"Every manager and leader needs to be consistent with his or her communication while telling employees to go. Time it well. Talk to your employees first before the news goes out in public. Prepare the managers with the right message, expected questions and appropriate answers. It is critical to be fair and be seen as one while opting for mass lay-offs across all levels," says Zubin Zack, director and chief recognition strategist, OC Tanner India.

In case of mass lay-offs, the challenge for organisations is to manage reputational risk. It is critical to handle people who are being asked to go in groups sensitively.

Communication is the key. "The reason for letting go must be clearly stated and the strategy that the firm is embarking on must be made amply clear. This will assuage the inevitable pain of people directly affected and also ensure that the remaining employees do not start rushing to send their résumés to headhunters," suggests Ganesh Natarajan, chairman, 5F World.

Prashant Pandey, country manager, Right Management (India), points out that for organisations taking to mass lay-offs there is a lot of stress within the system as to who is going to communicate the news to those who are being laid off. In such situations, line managers and business heads should step up to take the onus of informing their colleagues and teammates that they need to let them go. The immediate superiors and managers should not leave this task to the human resource team alone.

Pandey points out that an equally critical decision pertains to execution of lay-offs. Organisations have to think hard and decide whether it is prudent and practical for them to announce lay-offs in one go or should it be done in phases. Should a company retrench 500 people together or should it first ask 100 people to go followed by another 100 and so on?

All these decisions should be taken on the basis of organisational capacity, expertise and infrastructure to handle such crisis. It is crucial for organisations to see how they are going to handle the transition.

Often, managing lay-offs can be reduced to an administrative function with people handing over their resignations, and the HR being busy spelling out final settlement terms. Organisations need to avoid such a clinical approach. Instead, they need to undertake initiatives that can help engage employees being laid off and ease their pain, trauma and financial loss on losing their employment.

Sujaya Banerjee, chief executive officer, Capstone People Consulting, says organisations should support outgoing employees with outplacement offers, counselling services or mentorship programmes. In times of crisis, it is important for organisations to offer professional résumé writing skills to the outgoing employees, training them to present themselves in a positive light to future employers.

Banerjee adds that organisations undertaking mass lay-offs should consider a few of the cases with empathy. Leaders can identify people who are already facing a personal or family crisis and delay exits of such employees. These efforts will go a long way in helping an organisation earn the trust and goodwill of outgoing employees as well those who are left behind.

In case of mass lay-offs, keeping the trust among the remaining employees is critical to ensure it does not impact their morale and productivity adversely. They should not be left guessing whether they are the next in the line to be relieved. Therefore, it is important to keep the communication lines open and transparent while addressing the remaining staff.

"Organisations need to provide employees who are left behind with all the relevant information and also answer their most important questions: On what grounds the lay-offs were decided? How the people to be laid off were identified? What will happen to their work? To whom will the work be delegated? Will the goals and key performance indicators change?" says Dedeepya Ajith John, senior advisor, knowledge and advisory, SHRM India.

Most importantly, in the midst of a lay-off, there might be instances where people who have done great work may become victims. Organisations need to act with compassion and acknowledge their efforts, and recognise them by appreciating the good work they did.