If you want to get the perfect score, you must take as many mocks as you can before appearing for the test.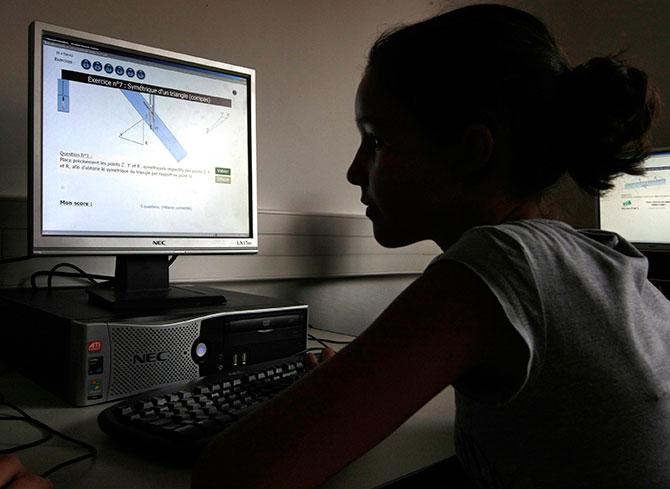 Sohini Deb, a first year IIM Kozhikode student who cracked the CAT 2013 with 98.11 percentile attributes her success to taking mock tests and regular practice.
"I used to give mock exams every weekend as practice is the key to crack this exam."
Before the final show, a mock drill or rehearsal is an important part of preparation.
Same goes with the CAT or any MBA entrance exam preparation.
If you are a serious CAT aspirant, you must have started taking mock tests towards shaping your D-day performance.
If not, this is high time you started.
Change your mock strategy
With a changed pattern of CAT this year, students will also need to change their exam taking strategy.
Sandeep Manudhane, chairman, PT Education feels that the new pattern is much better and more candidate friendly.
"The new pattern is fantastic, only because it allows the freedom to move between sections, as per will. This can prove strategic: you do what you can do, first. Then you do what you are relatively not excellent at. The standard technique of scan -- search -- select -- solve works wonderfully well in this new system."

Not only has the test duration increased by 30 minutes, from 140 minutes to 170 minutes, you will also get opportunity to move between sections.
Earlier, the sections were time bound for 70 minutes each.

The following table shares with you the new pattern of the CAT.

CAT 2014 pattern
The change in CAT pattern should also guide you your mock test strategies.
You can now spend less time on the section you are comfortable with and go for extra minutes on the questions which you find time-consuming.
While taking the mock test, you should also keep tab on making the recent changes to work in your favour.
Why mock tests?
Mock test is the most effective method of evaluating your current preparation level and re- strategise your future preparation plans.
It also makes you familiar to the question types.
As experts suggest, if you solve the past 10 years questions of CAT, you have high chances of cracking the exam.
Also, if you are taking mock test in a proctored environment, which is most likely, you will get used to the exam taking strategy and the time management for the exam day.

Therefore, you must start taking full length mock tests in proctored situation.
When to start taking mock tests
Ideally you should start taking the mock tests around 7 to 5 weeks before the test.
By then, you would have completed your basic preparation as well.
Make sure that you take mock tests from a noted institute which will not only provide you questions on relevant topics and difficulty level but also a proctored environment and the navigation would be in accordance to the latest changes introduced in CAT.
"You should now use mock tests to look at getting advanced level practice on the concepts, along with polishing the strategy," says Manek Daruvala, director, T.I.M.E.

How to best utilise mock tests
According to experts and toppers, your method of taking mock test will determine your performance on the final day. Following points share the test taking methods to apply during your mock tests.

Take at least 3 to 4 mock tests in a week and analyse them whenever you have the time.
Make sure you have at least a day's gap in between two mocks so that you can work on your mistakes and improve them.
"I strategised in such a manner that I solved three mock papers on Saturday and Sunday, each followed by two more during the weekdays. Pre-planning and effective execution of this schedule allowed me to crack the examination," shares Ajinkya Jain, a first year student of JBIMS Mumbai.

Keep 30 minutes buffer time
Try to complete the test within 140 to 150 minutes.
Keep at least 20 to 30 minutes buffer time in hand where you can attempt other questions which might fetch more marks.
"Since you know that you need to reach the end of the paper by the end of 150 minutes, you tend to keep the pace high. Do this by attempting only the easy and do-able questions. Therefore, solve the easiest questions first, make sure that do not get stuck on any question for long and skip the difficult questions," advises Daruvala.
After completion, you can revise the questions to check for silly mistakes. Don't compromise on accuracy for speed.

Attempt the easier section first
By now, you must have recognized your strengths and weaknesses.
It is suggested that you start the test with easy and do-able questions so that you can gain confidence to attempt the tougher and not so comfortable questions.
Sandeep Manudhane states, "The best strategy is to take first what you are best at. Do as much of that as possible, mark all answers accordingly, take a stock of the situation, and having thus completed that preferred section (test area) of yours, move on to the test area you are 'second-best' at."

Allot duration for sections and topics
Since the CAT 2014 would not have sectional demarcation, you are the sole decider of how much time to allot for each section and topic.
With regular mock tests, you would have a clear idea on how much time you require for solving section wise questions.
"Use the mocks to identify the time that will be required for each section at various difficulty levels. You need to understand that the time allocated needs to be increased or decreased based on the difficulty level of the paper," says Daruvala.
Suggesting the strategy, Manudhane shares, "You can break up the entire test into test-areas, and within each test-area, you can have 'rounds of attempts' viz, first, second, and may be third."

Sectional mock tests
You may take sectional mock tests as well to check your sectional preparation or right after completing a particular section among Quantitative Ability and Data Interpretation and Verbal Ability and Logical Reasoning.
"At the end of each period, take a simulated test and check your sectional performance. If your attempt and accuracy is greater than or equal to the benchmarked percentile, you are ready to move to the next stage," suggests Vinayak Kudva, PG Head for Mumbai and India, IMS Learning.

What after taking mocks?
After taking a mock test, take at least 2 to 3 days break before appearing for another one.
In the meanwhile, you need to analyse your performance and prepare accordingly.
If need be, you may change your preparation strategy as well.
Get your mock tests analysed by your mentor or seniors.
Please ensure you do the following:
Analysis is the most important task after taking the mock tests.
Identify your strengths and weaknesses, time taken to solve each section and area and whether your mistakes are a result of lack of focus and concentration or conceptual ambiguity.
"Mock exams provide an insight about your preparations and help you focus on key strategic points like performance, strengths, speed, technique and pattern of questions. A considerable time should be spent in analysing the performances thereafter. Focus on your strengths and decide on a time management strategy," says Soumik Biswas who obtained 99.94 percentile in CAT 2013 and pursuing PGP from IIM Indore.
Don't be bogged down by the fluctuation of scores
Your scores in mock tests are not the exact reflection of your performance or preparation. If you take three mock tests in a week, you may score 3 absolutely different marks.
As Manek Daruvala explains, "This could happen because you have been undertaking unwarranted/not well thought out experiments with your strategy, or have been writing mocks when you are tired or not in a position to concentrate. It is also possible that there were undue disturbances around you while you were giving the mock etc."
Note your error type and change your strategy
If you are observing any particular pattern or mistake in the mock tests, it would be fairly easier for you to rectify it after identifying the cause of the error.
Sharing his strategy, Sourabh Sharma, 99.38 percentiler in the CAT 2013 and a student of TAPMI Manipal shares his experience, "I analysed the paper and checked where I was losing my marks. This technique helped me a lot. If you follow this, you get to know the topics and areas which are your weakness. I followed the same strategy for all the sections, revise, mock tests and finally analyse."
In the last week prior to the CAT, try to take a full length mock test every day.
Treat it as your stage rehearsal before the final show.
You will not only be well prepared with the sections and topics, but you'll be able to sit through 170 minutes straight without losing focus from the questions.
Image: Eric Gaillard / Reuters