Colleges are witnessing more offers, with better salary packages.
Median salary packages offered have improved over last year.
Romita Majumdar and Gireesh Babu report.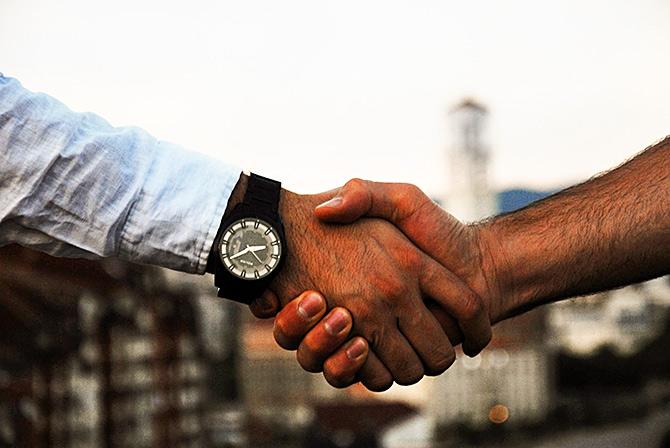 Photograph: viganhajdari/Pixabay.com
Large information technology (IT) companies, as well as new-age start-ups, are making a beeline around engineering colleges to recruit final-year students, after a year of slow hiring.

Not only have some recruiters made a comeback after their abstaining from campuses last year, colleges are also witnessing more offers, with better salary packages.

"The placement season is much better as compared to last year. We have crossed 4,000 offers this placement season, while it was around 2,300 during the same period last year," said V Samuel Rajkumar, director, placement and training, at VIT University in Vellore, Tamil Nadu.
Around 300 companies had participated across VTU's affiliated colleges so far, he said, compared to around 120 last year. The numbers, however, are yet to touch the heydays of 2013-14.


For most colleges, the campus recruitment season starts in the first week of September, with premium and mass recruiters taking the first few days. According to numbers shared by SRM Institute of Science and Technology, the Chennai-based institute saw massive recruitment from Infosys (1,185), TCS (985), Cognizant (648) and Wipro (202).

"Most IT companies have adjusted well to the new circumstances and are making their own strategies to move up the value curves. However, they are now more stringent in their selection process," said Sriram S Padmanabhan, director (career center), SRM University.

Similarly, colleges in Maharashtra have noted higher numbers of offers.
Shitalkumar Rawandale, president, Maharashtra Training and Placement Officers Association and Dean, Industry-Institute Interaction at Pune-based Pimpri Chinchwad Education Trust (PCET), said: "This year has witnessed better response than the past two to three years. Median salary packages offered have improved over last year from around Rs 3,50,000 per annum to Rs 4,15,000 per annum."

Rawandale, who oversees placement for the PCET group of institutes, added that some companies (KPIT, for instance) have also introduced training programmes for selected students that they can complete in the final semester. This ensures less time on training and the new recruits join work at the earliest.
"While IT companies have been staple recruiters, core mechanical and electrical engineering, as well as IT product companies, have also made better offers than the previous few years," he added.

Human Resource analysts feel hiring will pick up as compared to last year, especially in financial technology, e-commerce and start-ups. "Even traditional players and sectors expect to hire 10 to 15 per cent more than last year," said Mayur Saraswat, head of sales and digital at TeamLease.

The big change to campus recruitment this year has been the shift of Tata Consultancy Services (TCS), from their hands-on campus recruitment approach to a national recruitment test, evaluating almost 2,80,000 candidates.
For many of the traditional partner institutes of TCS, this might mean their students won't get easy passage in; however, for colleges in remoter areas, this is an opportunity to compete on equal footing.

Even Cognizant, which kept a very low profile in the campus season last year, is seen recruiting freshers aggressively this time. Microsoft, SAP, Capgemini, Udaan, LTI, DE Shaw, Amazon and Nutanix are among those recruiting in full swing from engineering colleges.
Some analysts caution that with IT companies hiring overseas and experienced candidates, the numbers won't be exceptionally higher this year at the end of the season.
"While the companies have introduced multiple levels for hiring (as in the case of TCS), the level of scrutiny has also gone up.
So, the competitive intensity is much more," said Kris Lakshmikant, managing director at Head Hunters India.