Overseas education consultant NNS Chandra shares advice on how to pick the right international education.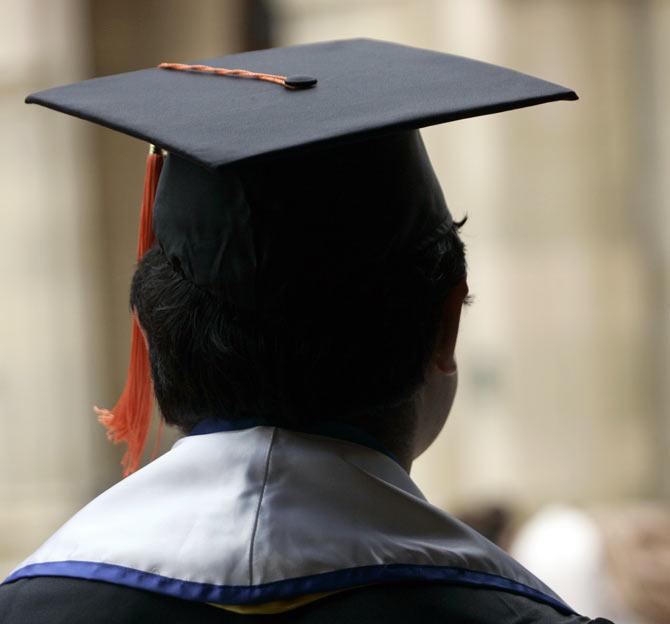 In an online chat with readers every Friday, overseas education consultant NNS Chandra offers advice on how to pick the right course and career abroad.
For those who missed the chat on November 27, here's the unedited transcript:
---
Rahul Singhal: My daughter is studying in 10+1 with Commerce and maths(CBSE). She wants to do graduation from USA/Australia.Kindly guide us.
NNS Chandra: Hi Rahul, I would be glad to provide support. Ask her to write to me.
I would encourage her to take AMC like exams immediately. I can guide her. Where is she studying? Which city? Email me please.
---
Lokho John: Hi Chandra, I am a doctor working in a swiss pharma MNC (been working for 12 years now).
I work in a very specialized function (pricing and market access) with limited mobility in India.
Scope of advancement in this function is faster abroad. I am considering an MBA to improve my chances of being more competitive globally. What would you advice at this stage of my career?
NNS Chandra: I know there are so many new developments and consolidations happening in Pharmaceuticals.
I admit I do not know the full picture. My view is that of an educator, right?
But I am always guided by my personal experience that learning (in campus, or self study or on-line) would bring in new ideas to life and new opportunities in career. Advancements as you call it.
Specific guidance I can provide when I have a detailed resume, SOP etc..
---
VIRENDER Gupta: Pilani pass out. working with MNC bank ( UK Markets ) for last 5 1/2 years+ CFA
NNS Chandra: Can I have your SOP, please?
lovely honey: my son studying in F.Y. B.E with Computer Engineer in Mumbai University. His acadamic record is good. what does he need to do for going to further study in europe or usa after graduation
---
NNS Chandra: Hi Lovely,He must keep his focus and continue to do well in his studies. That is key (GPA) for future admission.
He need to to do some exams like GRE but all that later., Now he can get involved in leadership and engagement projects and build his profile as a good citizen and community worker. That might help on long run.
Hindustani: But does it going to make a significant difference in my profession if I do diploma/degree/certificates etc., I have 10 years of experience
NNS Chandra: It depends on you Hindustani. Learning will give one confidence. And one commitment would give your boss confidence.
New ideas, new reading would definitely bring in confidence. A new confidence would bring an air around you and that would slowly change things around you.
---
Hindustani: I am working as Senior Executive in the Quality Control Lab in Pharmaceutical Company. I have completed my masters degree in chemistry.
What are the important courses or exams or diplomas abroad which I could complete that will help improve the performance or opportunity in my career?
NNS Chandra: Two way to look at this Hindustani. 1) consider an academic route, I mean campus route, like pursing a doctoral degree 2) look at short term professional diplomas/degree/certificates/acreditatons
Both ways would help you to bring additional knowledge to your work.
Second route can be more focused on skill development and effect can be immediate.
Some courses on Chemistry or organic chemistry I can recommend in MIT or Berkeley you can do mostly on-line, yet get full credit.
Another way to look at your challenge is to challenge yourself and take serious course in research methodology and research management. Very rewarding careers when combined with knowledge and experience.
---
Chinmay Patra: I want to know about doing MBBS in Russia? what's your view
NNS Chandra: I have limited info on training one can get in Medicine in Russia, Chinmay.
Russia is and has been a chosen location to study medicine. I know recent years there is a spike in students from India flocking Chinese and Russian medical schools.
I am definitely not a big fan of such rush to do medicine in that way, if that is your question.
Training facility and access to technology and of course access to patients are key in learning the practice of medicine.
Do a comparison with study opportunity in Europe (consider East Europe, Ireland etc), Caribbean. Compare cost. Compare training facility. Teaching capability.
---
Anushka: Hello Sir, This is Anushka.... I completed my B.Tech in Electrical Engg from NIT in 2014....currently working in a Maharatna PSU but I am not satisfied here because growth is slow.
Things are OK but not phenomenal..i m thinking that if I do MBA from US, I can become a high class corporate..can MBA from US change my life? No 1 is to guide me
NNS Chandra: Anushka, interesting question. Can MBA from USA change a life?
I would argue that an MBA cannot change your life. But you can change it. Absolutely.
Deciding and doing an MBA in USA itself is a big change. After securing an MBA you will feel the difference.
I assure you from my personal experience. How you use that positive feeling, energy would bring in the change you are looking for my Friend.
Your drive, your determination and your passion are what will bring you success and satisfaction.
I can be of any help in your life transforming work. Email me your full details, resume and SOP. I would be glad to help.
---
aaditya khare: Sir I am completing my Ph.D. in Electrical Engineering and want to pursue Post Doctorel in Electrical Machines please tell me about the university, country, scholarship, job prospect their. And do i have to take any exams for the admission. Time duration of study and amount required?
NNS Chandra: Aaditya – Congrats for your post grad work and all the best for your finals. Post doc in Elect. Machines. Quite interesting.
I will definitely help. I would encourage you to consider North America, where you have maximum financial assistance and career opportunities are there, in my opinion.
You must do GRE. And most universities might insist TOEFL and probably a RMT.
The duration and cost would depend on in how many years you would require, typical post doc can be from 8 months to 27 months.
Send me details of your PhD work, your grad and under grad work etc. I can get back with more info.
VIRENDER Gupta: BTEch ( Honours ) , CFA all 3 levels cleared. Working with MNC in Finance. GMAT 710. Wants to do Master in Finance . Which are the best Institutes I should apply.
NNS Chandra: Excellent scores, great work so far Gupta. Did you complete your SOP?
Got a brief resume with you ECs? Please send it over that would give me additional info to move closer to a list of universities.
---
atreyabarua: Good afternoon sir. I wanted to know which universities provide good masters programme in Energy Technology/ Energy Management? Also, where can I get full scholarships to study the said course?
NNS Chandra: Atreyabarua - Energy studies is quite a wide topic, almost all top school offer programs in one form or another. Are you looking at studies and courses in conventional energy )like oil and natural gas) or alternate energy studies?
Please let me know. That would determine your next steps, in my opinion. NNS
---
gomathi m: Sir good afternoon. My son is in final year mechanical engg with CGPA 8+. TOEFL score 105.
He wants to do MS in Material Sciences or Industrial engineering. Which is better with respect to career prospects?
NNS Chandra: Dear Gomathi, If you look by numbers and statistic I would lean towards IE as that got maximum opportunities. But when one consider quality of opportunity and a longer term prospects in career MS must be considered.
In my opinion key is not numbers or quality, but to figure out where your son would give his heart out, enjoy and a flourishing career.
What is he good at? What are his interest, passion…. I encourage you to ask those questions and I promise the answers would give you a more clear understanding.
If you love what you are doing and if you are good at what you are doing that is what is career is and success would be. Happiness too.
---
Shailendhirra: Hello sir ,I'm sai I'm an BE ece undergraduate student I am having a CGPA of 6.5 and 7 history of arrears(backlogs) and I wanted to study in USA I am having one year more to finish my graduation what and all I must do nw onwards to improve my self to get visa or is it possible to get an admission in a top us universities I wanna do ms in robotics pls help me out??
NNS Chandra: Shailendhirra, with the scores and your history it might be a tall order to secure a top university admission.
Getting a very high GRE might help a lot. I would encourage you to consider short term courses and some research work to bring the academic strength back. Email me, I will provide additional info.
---
Nazneen Hoque: hello sir, nazneen here. I have completed my masters in english literature. i also have a B.Ed degree.
I hav my graduation,masters and b.ed degree from a university in west bengal.
I want to do my phd in uk.plz suggest me how sud i proceed. suggest me how can i support myself financially there
NNS Chandra: Nazneen, To begin the process please put together an SOP. Statement of purpose would be the starting point of discussions.
If you can send me all the details, SOP and a resume (and also some samples of your writing, I can guide you properly.
---
Lead image used for representational purposes only. Image: Jonathan Alcorn/Reuters
Have questions for NNS Chandra? Post them here!