It is not only about 'what you say' but also about 'how you say it' that matters in order to enhance the impact of what you are saying, says Achin Bhattacharyya.
In today's fast paced world, communication is very different from what it used to be earlier.
Mobile phones have made all of us restless to a point where we prefer one liners or emojis to express ourselves.
In this ever changing fast paced world, how do we work on our communication skills to improve them further?
Here are some tips to help:
1. Be a good listener
When it comes to communication, please remember the fact that it's a two way trafic, most people miss out on the listening part.
Thus they fail to address the core issue and aimlessly beat around the bush as they very often miss the main point or question itself.
Being a patient listener is one of the most important prerequisites to being a great communicator.
2. Develop a reading habit
The quality of your communication very much depends on your exposure in life.
Read good books, see great movies and network with a lot of people to also learn from their experiences.
This will help you in making great conversations as you will not only be able to participate in a variety of discussions but will also be able to contribute to them.
3. Body language is the key
Whenever we communicate, the message that we try to put across is not only conveyed by what we speak but also by HOW we come across.
It is very important to exhibit a positive body language as you speak or communicate to someone.
Also your body movement has to be in sync with what you say as it reflects your self belief on what you are saying.
Even when you are on the phone or speaking over a video call, pay attention to you body language. Do not lean too much or slouch while talking.
Smile. Maintain eye contact. Be keen to listen.
4. Make it engaging
We watch a movie only if we like the trailer, likewise we pay full attention to something only if we find it interesting at the beginning .
Making engaging conversations is the key.
In any profession around the world it is very important to be a good storyteller and start in an interesting way, so as to infuse life into day to day mundane operational activities and to be able to strike a chord with your target audience.
5. Keep it short
Razor sharp editing is a very sought after skill both in verbal as well as written communication.
Try not to be repetitive and put your point across with clarity in a concise manner.
Attention span of the majority of recipients drops drastically in case of long monologues, thus trying to create an impact by being to the point.
6. Keep it simple
Day to day formal or informal communication is not a vocabulary test, thus use easy simple language when you put a point across.
Always remember, the objective is not to demonstrate your knowledge by using tongue twisters but to get the point across quickly without any transmission loss.
7. Be objective
It is important to be objective and never lose track of your sense of purpose.
It happens very often that we tend to get swayed away and deviate from the main track.
Always remember your purpose of initiating the conversation in the first place and do not lose the plot.
8. Enjoy communicating
No one enjoys interacting with people who are always grumpy and look bored.
It helps to smile genuinely while starting a conversation. A good sense of humour also helps lighten the mood.
You could talk about the weather or common experiences that you share with the other person to help you to bond much faster.
Listen carefully. Invest in yourself to get more exposure.
Don't forget to engage and enjoy a conversation.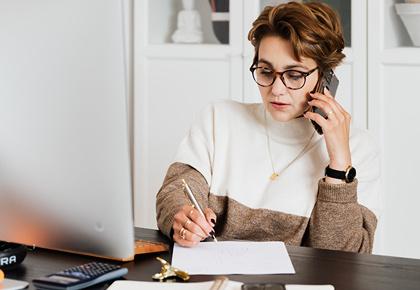 ---
Achin Bhattacharyya is founder and CEO, Notebook, an edtech company. He can be contacted on contacted on ga@rediff-inc.com.
---