Are you self-motivated? Have you lead a team before? Can you deliver under pressure?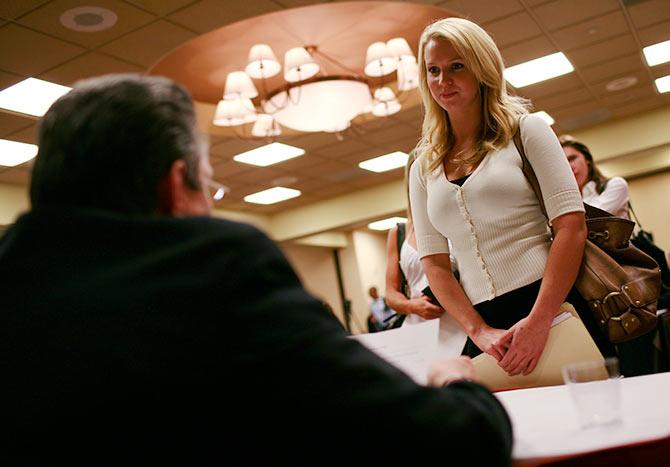 Gone are the days when a well written CV was all you needed to get a plum job.
Contrary to popular belief, recruiters these days are not really looking out for graduates with top ranks and degrees but professionals with transferrable soft skills, disruptive ideas, pleasing behaviour and flexible work standards.
In short, they want young professionals who are 'job ready'.
Divya Nair/Rediff.com spoke to recruiters and career experts to help you understand the importance of soft skills. Read on:
Become an ambivert
It is one thing to be an extrovert and another to be an introvert.
In a corporate set up, you need to be an ambivert because it brings the best of both worlds, says Anjali Fulia, manager-placements, Whistling Woods International.
"Very few aspiring professionals know how to balance their personalities -- knowing when and whom to speak to and when to stay silent is a great skill," notes Fulia.
Ambiverts are assertive and enthusiastic. At the same time, they tend to stay calm and focussed under pressure. They channelise their energy in the right direction at work and do not get stressed at the drop of a hat –- all signs of a thorough professional.
Self-motivation is vital
There is no better trigger for an organisation than having a self-motivated employee in a team.
"Employers get instantly attracted to enthusiastic candidates who are willing to learn, adapt and bring disruptive ideas to the table," says Rahul Shukla, hiring manager, Manpower Consulting.
They come with a lot of energy which is addictive and beneficial for the team, he adds.
Considering that a lot of money is spent in grooming and training freshers, it makes practical and economic sense for organisations to hire candidates who are self-driven.
So is flexibility
Being adaptable -- to people, surroundings and work -- is crucial.
You may come across people with contrasting personalities and work styles. Irrespective of your personal likings and preferences, a successful professional learns to work around differences, says Anjali Fulia.
If the need arises and your job demands it, you must be willing to work beyond your comfort zone.
"You may have to relocate, adapt to a new lifestyle, work with senior or junior colleagues who have different opinions and maybe take on additional responsibilities," warns Fulia.
Networking skills
According to Delhi based career consultant T Mukundan, effective networking is perhaps one of the "most overlooked and under-utilised soft skills."
"Networking is as important to your career as water is to your body," he says, underlining its importance.
"Simply adding new contacts on your social media and LinkedIn will get you nowhere. You have to nurture your network every day -- talk to them, stay connected, stay relevant. You will never be able to guess which contact(s) will lead you to your dream job. Your junior from school might turn out to be your manager some day."
Time management skills
We live in the age of the internet where time is money.
Needless to say, organisations are on the look out for "individuals who are disciplined and can do more in less time", says Jaspal Shakya, CEO, OpportuneJobs.com.
"Recruiters like to know how much time you've spent on a previous project and how well you manage your time. Some organisations require you to appear for an online test as part of the interview process just to see how well you manage and perform under a deadline."
Grooming and presentation
Having interviewed hundreds of candidates across profiles in the last decade, Jaspal Shakya says recruiters also check for personal presentation and grooming skills.
He advises young professionals to "understand the profile they've applied for and dress accordingly for the interview."
A candidate in formal attire with a pleasing personality always attracts positive attention, he says.
It is equally important, he adds, that you shake hands, acknowledge a contradicting opinion and maintain eye contact with the recruiter.
Team management
If you have handled a team before –- in college or in your previous organisation -- highlight that in your resume.
"The ability to lead a group, take initiatives, make decisions, work and inspire a team to meet deadlines, handle crises are all part of team management skills. These soft skills are not taught in college but rather learnt working as a team for college events, group projects and even during internships," says T Mukundan.
Do you know of more soft skills that are important at work? Share your ideas in the message board below.
Lead image used for representational purposes only. Image: Robert Galbraith/Reuters