Knowledge of technical skills along with creativity, social and emotional intelligence is what recruiters are looking for, says Utpal Ghosh.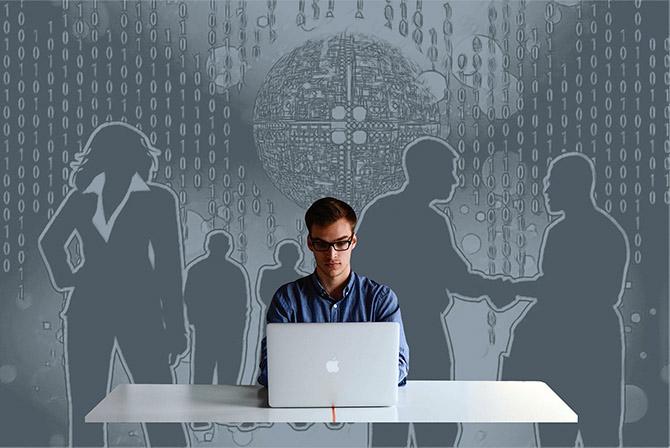 The post-millennial generation (best known as Gen Z) -- individuals now in their teens and early 20s -- has grown up watching one promising technology displace another.
Observing the world through their smartphones, they are now entering workplaces as the Fourth Industrial Revolution (or Industry 4.0) dawns upon us.
The Fourth Industrial Revolution includes developments in fields such as artificial intelligence and machine-learning, robotics, nanotechnology, 3-D printing, genetics and biotechnology.
Gen Z should thus be aware of changing expectations and skills required to navigate through today's corporate world.
Industry leaders say new technologies are somewhat blunting the ability of millennials to maintain strong interpersonal relationships and develop people skills.
Digital natives bring unprecedented levels of technology skills to the workforce.
However, this has impacted development of their cognitive skills like problem solving and critical thinking including intellectual curiosity.
This is creating the risk of skill gaps.
At UPES, hundreds of recruiters come every year for campus placements.
Here are key skills that companies look for apart from domain knowledge and subject matter expertise.
1. Entrepreneurship
This is a skill and a mind-set defined by innovation, creativity, calculated risk-taking and willingness to adapt to diverse situations.
Corporates realise the importance of equipping their employees with these skills.
Recruiters prefer young candidates who think like entrepreneurs. Such skills are applicable in day-to-day functioning as well.
2. Communication
This is more than just talking or behaving in a certain manner.
The art of listening is extremely crucial to be an effective communicator.
Companies look for candidates with good inter-personnel and communications skills. Students must develop a positive attitude and be able to convey effectively.
3. Design thinking
Corporate environments are generally defined by streamlined processes. But there is a gradual percolation of the design thinking, which is an unconventional approach to find solutions that rely on ability to be intuitive, to recognise patterns, to construct ideas that are emotionally meaningful as well as functional.
Design thinking modules can work wonders for educational institutions in allowing their creativity to grow along with the discipline which corporate require.
4. Soft skills
As students, you must develop a positive attitude with constant hunger to learn.
As they say, attitudes decide altitudes. Develop a pleasant personality and an attitude to work within a team.
Employers look for culture fit too while hiring as a person is generally happier and more productive in a community environment.
5. Social skills
According to the World Economic Forum report titled 'The Future of Jobs and Skills,' social skills like persuasion, emotional intelligence and teaching others will be in higher demand across industries than narrow technical skills like programming or equipment operation and control.
Technical skills will thus need to be supplemented with strong social and collaboration skills.
6. Life-long learning
Historic developments are taking place in advanced robotics, autonomous transport, artificial intelligence, machine learning, advanced materials, biotechnology and genomics.
This will disrupt every industry across the world in coming years.
In a way, the date on your degree could be its expiry date.
Technologies and businesses are changing so rapidly that one needs to learn and upgrade skills constantly to stay relevant.
The author Utpal Ghosh is the CEO and president of the University of Petroleum and Energy Studies (UPES), Dehradun.
Lead image used for representational purposes only. Image: geralt/Pixabay.com