We take a look at the major events that affected Indian students the most this year.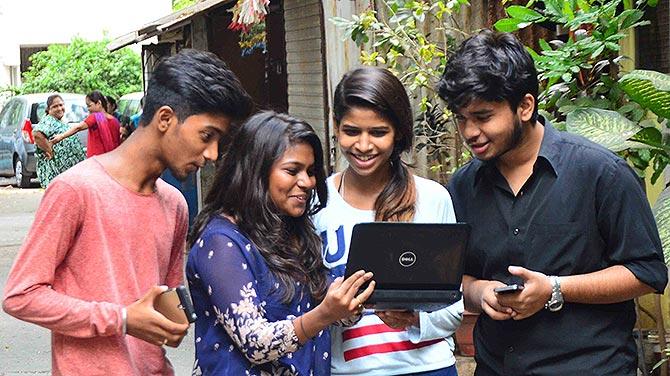 At the end of a year, we usually hear about the Top 10 OMG moments, or the Top 10 selfies Kim Kardashian took (spoiler: they're all the same) or maybe the Top 10 times Donald Trump said something he probably should not have said.
This column celebrates important events in the hope that the next generation of educated people learn better...
Here then are the big milestones that impacted our students in 2015.
1. Toilets
Many cynics might claim that the state of schools in India is in the toilet, but government infrastructure all over India proved that wrong.
Over the year (as of August 15, 2015), more than 4 lakh toilets were built, ensuring that open defecation became a thing of the past for millions of children.
Of course, the claims of 100 per cent coverage of toilets in schools might need to be taken with a mine or two of salt, but 2015 saw a very positive start.
2. CAT becomes student friendly
The Common Admission Test introduced some student-friendly changes including reducing the exam window to 2 days which brought in much cheer.
Besides, the Indian Institute of Management Ahmedabad, which conducted the Common Admission Test this year, decided to give all female test takers their choice of test centre.
This was a welcome move, given that our country is not exactly the safest to make a long trip early in the morning.
Having said that, we'd like to see 2016 bring test centres at better and more accessible locations.
On test day, no student would like to solve a Google Maps puzzle to find the centre located in perhaps the remotest corner of the country. The CAT is difficult enough!
3. Freedom of content
In 2015, Khan Academy entered India formally, with free, high quality content tailored to the CBSE syllabus.
Education is reaching the last mile even before electricity, and that's a welcome sign for our future.
Also, the millions of adults in India who want to brush up on their NCERT basics will now have an alternative to raiding their nephews' schoolbags at midnight.
4. The reach of 4G expanded hugely
Though 4G had made its presence felt in earlier years, 2015 was when it became available to every Indian (with a heavy wallet, admittedly).
This might seem, on the face of it, like something that will waste more time than ever before, but what it actually means is that educational apps (which are much heavier on data usage than YouTube) will become easier to use on that metro ride, or that bus journey, or that five-day wedding when you'll be away from books and professors.
5. The SAT changed, for the first time in a decade
The Scholastic Aptitude Test, or SAT, as it is popularly known, is the one test in India in which knowledge is most binary.
Those families who have a 17-year-old who wants to go abroad can recite word lists under heavy sedation.
Everyone else wonders if it still has a full form and, if so, what that full form is.
This year, the SAT announced a change in its format effective March 2016; this like most changes in tests worldwide, made the new version skew in the favour of people who are good at math.
Congratulations, wizards!
One day, we will have a standardised test that rewards history geeks. One day!
6. The UPSC created a committee to reform the entire structure of the examination
The Civil Services examinations in India are like the IIT JEE in many ways -- they are difficult, they are analysed to death, and they resist change.
In 2015, an expert committee was formed to look into introducing some reforms.
Well, we look forward to a complete overhaul of the eligibility criteria, the diversity level, the format, and the structure of the examination...by 2025!
The author Vaibhav Devanathan is an IIT Bombay alumnus and founder of laughguru.com -- a product that aims to educate using humour.
Photograph: Sahil Salvi