Tata Consultancy Services will be the technology partner of the Indian Railways, which plans to hire about 100,000 people this year through phase-wise online examinations, commencing August 9.
Shine Jacob and Romita Majumdar report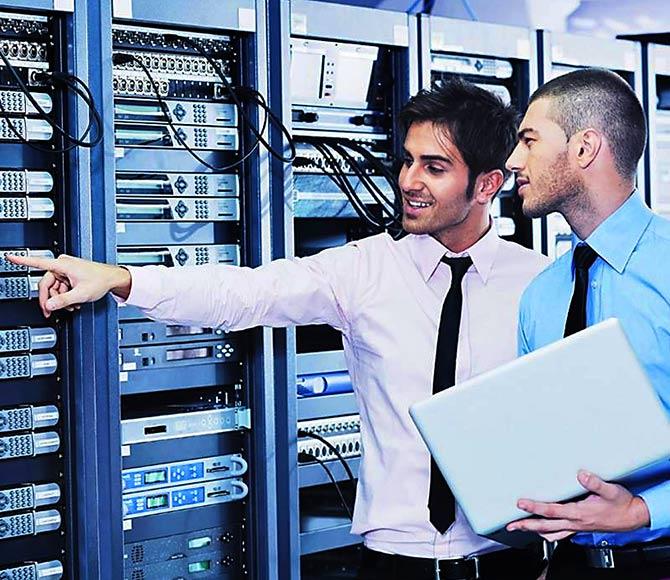 Photograph: Kind courtesy TCS/Instagram
The country's largest transporter has joined hands with the largest information technology services provider to conduct what is being touted as the world's largest recruitment drive.
Tata Consultancy Services (TCS) will be the technology partner of the Indian Railways, which plans to hire about 100,000 people this year through phase-wise online examinations, commencing August 9.
The Railway Recruitment Board has received 4.75 million applications against the 26,502 vacancies of assistant loco pilots (ALPs) and technicians (Level-2), and 19 million applications against the 62,907 vacancies for Level-1 (erstwhile Group D).
"We have given the contract to conduct the examination to TCS, which will hold the test through its recruitment division, TCS iON," a railway official said, adding that two other private sector companies would manage the back-end operations.
TCS will manage 'Question Creation Wizard' to frame question papers unique to each candidate with the same level of difficulty.
It will be done through the adoption of statistical normalisation of questions, which ranks questions according to the difficulty level and then puts the value of difficultly in each paper.
The railways wants to continue with the online exam process to avoid malpractices like leakage and ensure fast processing of results.
TCS's software system has enhanced security features with 128-bit encryption for information sharing, considered to be the most-secured encryption method.
According to the railways, the use of Rs 3.1 billion worth of A4 size sheets, which would have led to felling of 400,000 trees, was avoided in the last four examinations alone by conducting the test online.
More than 71 per cent of the 4.7 million candidates appearing for the August 9 exams for the posts of assistant loco pilot and technician were allocated centres within 200 km of their cities.
Under the revamped system, exam centres will have increased security features like close-circuit cameras, mobile jammers, and metal detectors.
TCS had earlier conducted railway recruitment on a smaller scale of 18,000 people in 2016. About 9.2 million people applied then.
According to officials, TCS was selected through a stringent bidding round, where participants needed a turnover of Rs 150 million and prior experience of conducting exams.
What worked in favour of TCS was its association with the railways.
Over 85 per cent of all digital academic assessments, including CAT, GATE, engineering, medical and law examinations, are being done on the TCS iON platform.
The company also has experience of managing over 100 million applicants and an infrastructure in place with 135,000 computing nodes.
The tests would be conducted across 500-odd centres in 15 languages over a month in different shifts.
As many as 1,00,000 to 1,50,000 computers will be used. There will be 100 questions in the test covering areas like mathematics, general intelligence, reasoning, general science and general awareness.
The national transporter will also refund about Rs 400 out of the Rs 500 exam fees it collected from candidates before the exams. This is to ensure the participation of candidates.