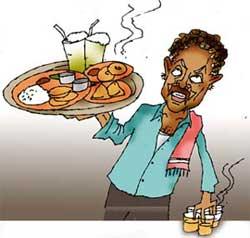 t's not always about money.
Even if your expense account permits you to splurge ridiculous sums of money on a working lunch, occasional slumming can be a deeply satisfying experience.
In fact, the best regional Indian cuisine is found at places that offer substance over style, no frills over five-star pageantry and inflation-defying prices.
There are highway dhabas and lunch homes, Irani chai shops and tiffin rooms. But that's not our story today.
This one will take you through some canteens of India -- long queues, clattering thalis and stuffy dining halls.
You would associate these with poor students. In fact, sometimes, the best canteens have nothing to do with student-y
lives.
i. Take the Andhra Bhavan Canteen in New Delhi.
A great leveller, it feeds a sea of humanity on every week day. And a veritable ocean over weekends, when mountains of biryani get demolished, and Delhiites from far and wide wait, very patiently and very uncharacteristically, for their turn.
But then, the thali is value for money: two vegetables, sambhar, rasam, puris, rice, sweet, papad, curd, hot Andhra pickles and condiments. There is no stopping you either from pouring rivers of desi ghee into the rice, mixing it with gunpowder and making a superb meal of it for Rs 50.
The thali can be supplemented with non-veg dishes for another Rs 50: a choice between spicy curry or fry -- chicken, fish or mutton.
On the other hand, many canteens that have become institutions over the years are associated with varsities.
ii. In New Delhi, Jawaharlal Nehru Universitywallahs will look back nostalgically on appams at the School of International Studies Canteen, even as multinational corporation cafes get booted out.
iii. In Kolkata, they will probably be discussing the politics of eating out.
India Coffee House, in Albert Hall, has been an intellectual hangout since 1931 when the lecture hall on College Street was first contracted out for sips of tea, coffee and conversation.
It has since been as much a hotbed for political movements as known for its Afghani, a cutlet served with gravy, mopped up with bread.
There is the equally famous Kobiraaji, cutlet wrapped in egg, mutton samosas and what they call 'Infusion' black coffee.
For 30 years, the price of a cuppa has remained constant, encouraging not just students to the adda, but also the city's culturatti.
The best -- and most subsidised -- of canteens thrive on political patronage.
iv. Bangalore may have more cheap dining than any other city, but you have to visit the Legislatures' Home Canteen to sample flavours of north Karnataka.
For Rs 25 to Rs 30, they will serve you jolada roti neel -- jowar roti with gunpowder, curd and oily brinjal curry. Then, there is Gowda cuisine with a sour, thin chicken curry to go with ragi balls.
v. In Mumbai, things get more posh.
The MLA's Hostel has a sprawling canteen, Manora, where a pan-Indian buffet lunch comes for just Rs 50.
For cheaper fare, go to the cops! The canteen in the office of the Commissioner of Police serves fixed thalis for under Rs 30.
Tiffin rooms are a separate genre, but they could well be canteens in their pricing, ambience and service.
Common across southern India, and a throwback on the Raj, the term (an English-Indian slang, the truncation of tiffing, which means drinking, usually tea, at breakfast or lunch), came to mean eating a light and early meal: idlis, vadas, upma.
vi. If you are a serious foodie, you cannot have missed hearing about Bangalore's MTR, Mavalli Tiffin Room, with its serpentine queues, 'pure' vegetarian cuisine, and the unbending belief that breakfast should be --  can be -- had at 7 am.
There are others whose fame may not have spread as far but are local favourites.
vii. Annapoorna Tiffins in Thiruvananthapuram, for instance, is known for perfect appams.
In the north, there are the dhabas. But what would you call a place that offered the same basics plus a fixed menu? A canteen?
viii. Bus drivers eat at Jaipur's Shankar Bhojanalay.
Sip on chach, followed by a Marwari thali, under Rs 20.
Check out these canteens!
---
Andhra Bhavan Canteen, New Delhi
Fixed Andhra Thali (Rs 50).
Non-veg (Rs 50 extra).
Watch out for their biryani days.
Triveni Canteen, New Delhi
Whether it is the shammi kebabs, saboodana vadas or stuffed paranthas, the quality has remained consistent.
India Coffee House, Kolkata
'Infusion', black coffee Rs 3.50.

Jadhavpur Canteen, Kolkata
Mutton samosas for Rs 4.50, chai for Rs 1.50.
It is not just college students who hang out here. Huge enough to seat everyone.

Police Canteen, CP Office, Mumbai
The thalis are a steal at under Rs 30.
Manora Canteen, MLA Hostel, Mumbai
Where else can you find a buffet for Rs 50?
Legislature's Home Canteen, Bangalore
Authentic north Karnataka food. Rs 25 to Rs 30.
Vokkaligara Sangha Mess, Bangalore
Non-vegetarian Gowda cuisine. The Karnataka pulao -- as opposed to the Andhra biryani -- is a must try.
Under Rs 50.
Annapoorna Tiffin, Thiruvananthapuram
Famous for its appams. Meals under Rs 50.
Shankar Bhojanalay, Jaipur
Marwari thali under Rs 20. 
Want to recommend a canteen? Write to us! Don't forget to mention your name, telephone number and city!
Illustration: Dominic Xavier