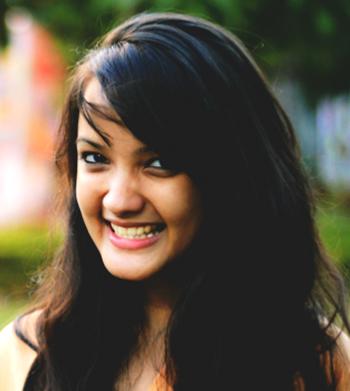 What's so special about Divyansha's book? Let's find out.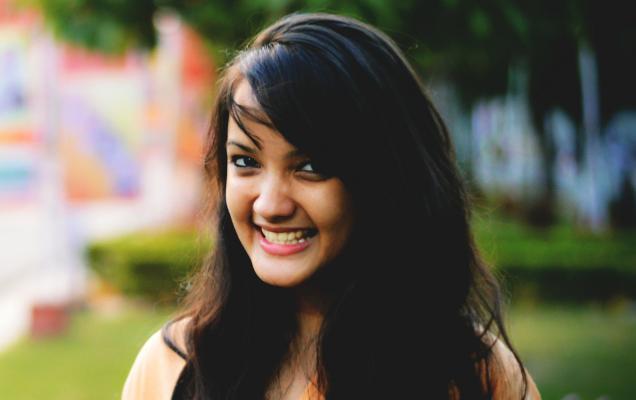 IMAGE: Divyasha is the author of A 20-Something Cool Dude. The book narrates the story of Ayesha and Vikram.
When you hear of an 18-year-old girl who stays cooped up in her room for weeks on end, your last guess would be that she is knitting a bestseller.
Divyasha, now 22 was taken by surprise when her book A 20-Something Cool Dude a love story was picked by the Ministry of External Affairs, Government of India to be included in its library this year.
For the young author, starting out young and clueless meant being free and fearless. She was taking on an industry that is notorious for judging a book by its cover.
Raised in a Delhi family that was a curious combination of traditional and modern values, studying science was as much a tradition in the clan as getting married.
Post completing Class XII, she took up BTech specialising in computer science from the Indira Gandhi Delhi Technical University for Women.
"My first professional plan, if I recall correctly, was to join NASA and be a part of a mission that takes me to the centre of the Milky Way. So yes, Plan-A was slightly different," Divyasha shares.
'I was the Jon Snow of writers'
The book emulates the identity crisis Divyasha went through during the three-month break after her Class XII exams.
"It initially came to me as a fictional train of thought one night, which I bolstered with a script, the way you script scenarios with your crush in your head. I imagined my college life -- my coming of age -- not beginning the traditional, mundane way, but taking an adventurous little turn.
"I sat to write it down the next morning, like I do with all my midnight-brainwaves, on a word document," she says.
Divyasha became the heroine of a ruinously beautiful tale, living vicariously through a fantasy she had conjured, and didn't want to end.
"I was the Jon Snow of writers, I knew nothing! I didn't know where it would go, whether it would even get published, if people would want to read it. Heck, I didn't even know what 'it' was and what I was doing with 'it'. I was simply lending words to this HD picture in my head, I knew the characters and I knew the places and of course I knew the story -- I was inside it!
"I was driven to my desk each morning by a passion beyond my understanding. It went on for months, my fingers typed relentlessly, and I only got closure when I wrote the last word."
Don't judge a book by its cover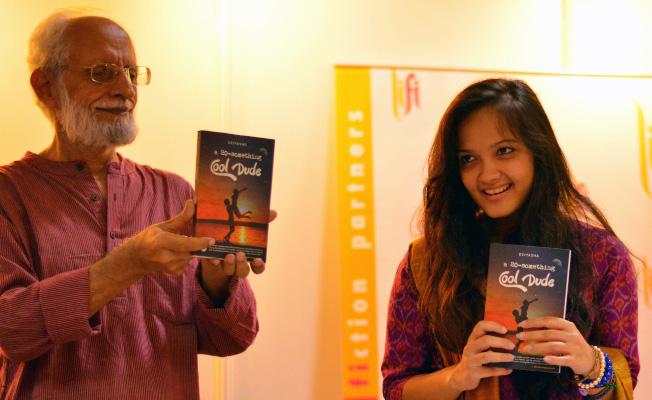 IMAGE: Divyasha's book will be part of the famed MEA library, one of the oldest and largest libraries in the Government of India.
Her search for a publisher could fill a whole other book.
"I tried following the formal procedure of mailing sample chapters to some, but responses were rare. A gigantic manuscript is a time investment -- and no one wants to make it for an 18-year-old girl who looks 13 and has written a love story."
But perhaps the biggest challenge she faced was from her own people. It is the crowd we all know of- the 'I don't read love stories, they are too shallow' crowd, the 'I only read international authors' crowd, the 'another engineer turned writer LOL' crowd. The crowd that generalises, the crowd that is largely stifling and rarely uplifting in nature.
"I don't blame them, though. You tend to avoid spending your money and time on things that have disappointed you in the past. I believe that it is up to me now to change their perception of the cover, rather than hate them for judging a book by its cover," Divyasha says.
She was used to her words receiving formal fruition since she was 14, when she had won the Scholastic Writing Award for fiction, and when she was chosen as a young editor for Hindustan Times at 16.
Her book let her record-streak stay spotless, as she released it last year at the Delhi Book Fair, Pragati Maidan, with Delhi-based LiFi Publications. But the moment of reckoning for the young author came in the form of being selected by the Ministry of External Affairs, as one of the titles that best paints the vivid picture that is India.
The selected titles go to the MEA library, and to its 200 missions abroad -- where they are promoted among their people in about 100 countries.
"They selected mine probably because they wanted to project a young author -- or because my book shows myriad shades of India as the characters travel through it. This way, people, even in the remotest areas, can 'buy' my book and spread the word if they like it -- which is why I am thoroughly excited about it," says the young writer.
Ticket to Paris
Divyasha believes that it is never too late to pick up the proverbial quill, because, according to her, hunger and fixation are the defining variables for your career, rather than age.
"Your work needs your input regularly -- even if it is just a few stray lines you delete the next day. You can't just 'forget' about it for a while and try to follow up on the story later. The story forgets you. With mine though, there was no discipline required because there was no forgetting. The story was the only thing on my mind."
"I was locked up in my room --reading, researching, writing, re-writing.
"I had no career to worry about back then, but I did do disastrously in some of my entrance examinations. Things worked out in the end, but I wouldn't recommend this degree of recklessness!" she cautions.
And a 4.9 rating on her book on Amazon confirms that things worked out indeed -- as does the fact that Divyasha who has completed her engineering is heading to Paris in the Fall to pursue her Masters in Management from ESSEC Business School, having been offered the prestigious Eiffel Scholarship.
We wish her all the best!