Bestselling author Dan Brown spoke at the Penguin Annual Lecture in Mumbai on November 12. Abhishek Mande Bhot/Rediff.com brings you snapshots from the evening!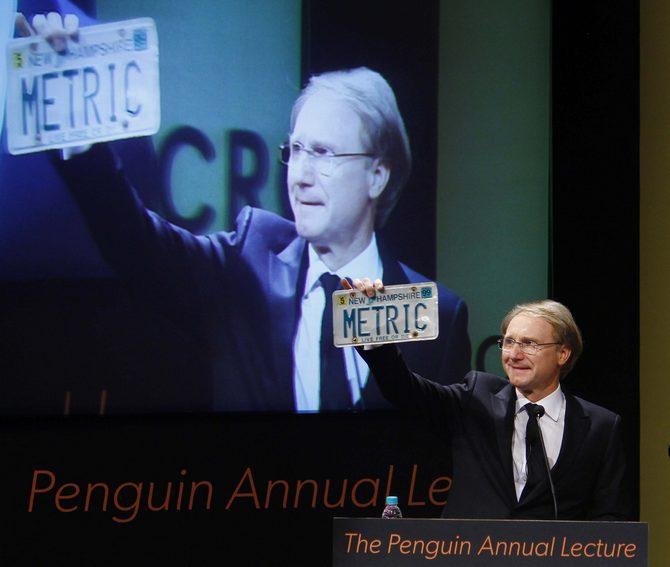 Author Dan Brown holds up his father's car registration plate to an audience in Mumbai.
Photograph: Hitesh Harisinghani/Rediff.com
For a good part of the hour during which Dan Brown addressed a gathering in Mumbai, I could not get over the somewhat striking resemblance Brown's profile had with Liam Neeson's.
Neeson, as Internet memes have informed us, is the guy who trained Batman, Obi-Wan, led the A-Team and was the Greek God Zeus.
Dan Brown, on the other hand, is that bestselling author who made Bible Study popular.
Now before you get all worked up, this last bit is Brown's own admission.
Speaking at the Mumbai edition of the Penguin Annual Lecture, Dan Brown recounted the time when, not very long after the publication of The Da Vinci Code, a priest approached him on the streets of Boston and told him that he didn't care much for his book.
But, he added with a smile before Brown could respond, he was glad that the headcount at his weekly Bible Study class went from eight to a few hundred on the day he selected the book as the topic of discussion.
In Mumbai, Brown was in conversation with author Ashwin Sanghi, who has been hailed by many as 'India's answer to Dan Brown'.
Sanghi, whose books are similar to Brown's in their overarching themes, has little else in common with the American author.
Chetan Bhagat, on the other hand, shares a lot more with him when you think of it.
Brown, like Bhagat, has written six bestselling books (Bhagat prefers to call his books 'blockbusters').
Brown's books have been made into successful movies as have Bhagat's.
Time magazine has named both of them among the most influential people in the world (Brown in 2005, Bhagat in 2010).
The same magazine has credited Brown with 'keeping the publishing industry afloat'. Bhagat's books (and even his fiercest critics will admit this) have changed the way the Indian publishing industry, which until his arrival was perfectly happy with a print run of 5,000 to 10,000 books, works.
Both of them have drawn new readers to the book business and have also been at the receiving end of the severest criticism about the quality of their work
Salman Rushdie called The Da Vinci Code 'a novel so bad that it gives bad novels a bad name'.
Worse things have been said about Bhagat's works.
Bhagat's loud mouth has also earned him Rushdie's ire when he spoke out against The Satanic Verses some years ago.
In return Rushdie, the eloquent wordsmith, hit two birds with one stone when he tweeted: '... I am being Bhaggered. It is like being molested by Dan Brown!'
Back then, Bhagat responded with his trademark verbal diarrhoea.
Brown, when asked recently what he thought of Rushdie's opinion of him reportedly said: "He is a nice man."
Both in New Delhi and Mumbai, Brown basked in the warm adulation of his fans, not very differently from the way Bhagat does each time he speaks in public.
And indeed Brown's fans, quite like Bhagat's own, showered their love on their favourite author, laughing and clapping and cheering at practically everything he said, including at a bit that I am pretty sure only a fraction of the audience got -- cutting carrots into conic sections:
For approximately 30 minutes, Dan Brown, who was supposed to speak on 'codes, science and religion' spoke largely about the blurred lines between science and religion instead.
Holding up his mother's car registration plate that read 'Kyrie', the Greek word for 'Lord' and his father's car registration plate that read 'Metric', Brown spoke of how the diverse influences of his religious mother and mathematician father shaped his worldview.
But for the most part, Brown dished out platitudes. And the audiences lapped them up:
"When science starts tackling the tough questions it starts using phrases like 'uncertainty principle' (laughter) 'margin of error' (laughter again), 'theory of relativity' (more laughter)."
"Slowly physics turns into metaphysics (louder laughter here for some reason)."
"This podium is pure energy (no laughter here)."
This gem:
"Science and religion are partners... attempting to tell the same story."
And then this one that I tried really hard to picture:
"Hindu sanyasis are reading physics books."
I could go on.
At the end of the lecture, a friend mentioned how disappointed she was that he didn't speak more about codes.
Which is also when I realised the reason for my own disappointment: you see, much like my friend, I was (somewhat unconsciously) hoping to listen to Robert Langdon, a far more interesting character than, I suppose, Brown himself.
What we got was a 5 feet 10 inches tall lookalike of a movie star.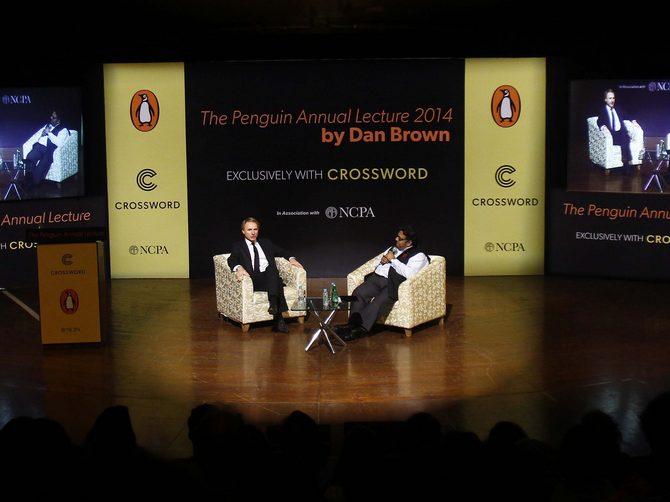 Author Dan Brown in conversation with Ashwin Sanghi who has been called India's answer to Dan Brown.
---
***
The most surreal moment of the evening was Dan Brown's entry itself.
Soon after the mild-mannered banker-author Ravi Subramanian completed his introduction and ran back to his seat, the spotlight shifted to the wings where you imagine Brown would have been bouncing like a boxer before a bout.
And amidst thunderous applause and screams, Dan Brown made his entry not unlike a boxer.
The author was dwarfed by beefy bodyguards who, out of habit had, somewhat comically, outstretched their hands to protect him... seemingly from thin air!
A skinny guard in a safari suit, who seemed to be their boss, took over in a manner that would put the Secret Service agents to shame and ordered his muscular minions to take positions to protect their 'target' from an invisible enemy.
No one, of course, wanted to attack Brown.
The auditorium though had gone berserk; everyone was on their feet.
People, some of whom had travelled from as far as the neighbouring town of Thane (about 40 km away from the venue), were screaming for attention.
For a good minute or so, that was all you could hear.
This was possibly the closest the Tata Theatre may have come to a rock concert.
And there he was, at the centre of attention, in a sharp black suit and tie, smiling and waving.
Platitudes and critics notwithstanding, Dan Brown is a rockstar.
You didn't need to be a code breaker to figure that one out.