On this day, February 1, in 1976, the Kerala-born poet released her autobiography, My Story.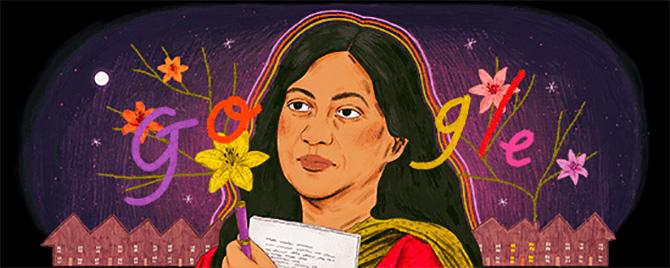 Google on Thursday celebrated the work and life of the one of India's prominent poets Kamala Das.
Kamala Das had dared to write about women's sexual lives and marital problems at a time when open discussion about such topics was taboo.
Born on 31 March, 1934 in Punnayurkulam, Thrissur District in Kerala, she spent her childhood in Kolkata, where her father VM Nair was employed with Walford Transport Company.
Her father was a former managing editor of Mathrubhoomi, while her mother Nalapat Balamani Amma was a renowned Malayali poet.
Playful childhood
"We lived in a large apartment above the showroom of the Walfords Transport Company Ltd at 117 Park Street. It was close to the European cemetery where marigolds bloomed and bougainvillea climbed the minarets of graves. As children, my brother and I played around in the cemetery and read the inscriptions on the old tombstones," Kamala Das wrote about her childhood in Rediff.com. Read it HERE
Regarded as one of the influential feminist author in the post-colonial era, Das wrote in her mother tongue Malayalam as well as in English. For her vernacular readers, she adopted the pen name Madhavi Kutty.
Influence of husband on writing
At the age of 15, she was married to Madhava Das, a banker by profession. He encouraged her to write, and she started publishing her works both in English and Malayalam.
"If my husband had not been sympathetic to some degree, I would not have been a writer at all. I know of women who decided to become writers or artists, but then change their mind later because of the interference from the husbands. Mine not only turned away but welcomed. He took some pride in my writing which was a great help to me," Kamala Das told Rediff.com in 1996. Read it HERE!
The controversial autobiography
On this day, February 1, in 1976, Kamala Das released her autobiography, My Story.
Her life and work had a certain boldness and shape-shifting quality, whether it was the many genres she wrote in or the various languages in which she expressed herself.
The story captures her life from childhood to marriage and beyond, describing the rich inner world of a creative soul.
While some found the book to be controversial, including relatives who tried to block it from being published, many readers were enchanted by the lyricism and honesty of her writing.
"Gandhism was fashionable then. It tasted like forbidden fruit. The freedom fighters knew that they might have to face lathi charges and imprisonment. Every youth needs a cause to fight for, a chance to appear noble in other's eyes. The freedom struggle gave them a chance to become heroes and heroines," Das wrote about the freedom struggle in Rediff.com. Read it HERE
On account of her extensive contribution to the poetry in our country, she earned the label 'The Mother of Modern Indian English Poetry'.
She also ran unsuccessfully for a Parliament seat in 1984, but did not pursue politics later on.
Das was honoured with Sahitya Academy Award in 1984, one of the many awards she received in her lifetime.