Kabir Thapar is a spoilt rich brat who gets behind the wheel of his car after an altercation with his stepmother. What follows is all too familiar.
We bring you this excerpt from Anurag Garg's latest work of fiction, Love not for Sale: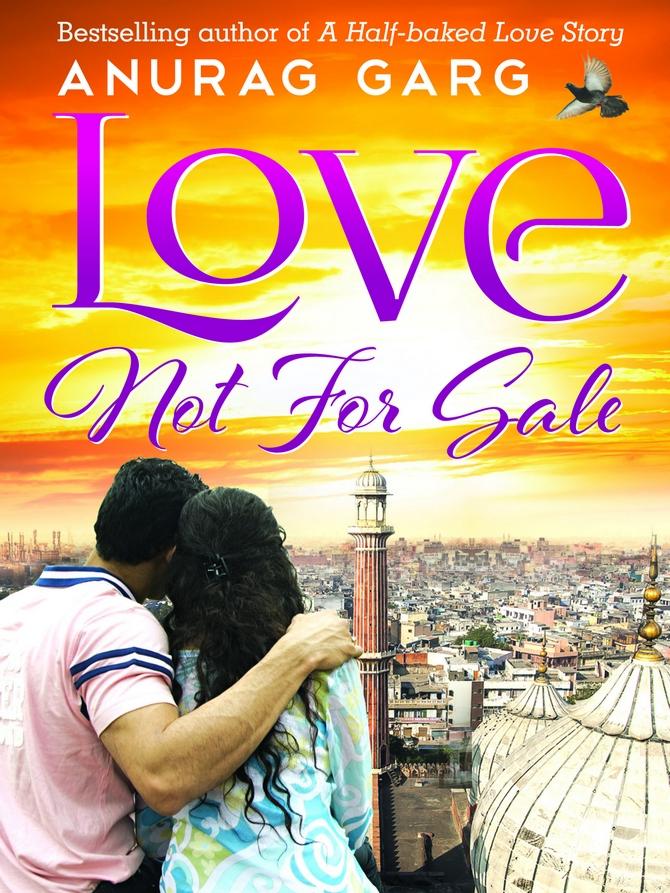 Leave him!' Alisa gestured to the bouncers.
I was bawling inside with anger, frustration, shame and guilt.
All the bad feelings came along at the same instant. 'Why did you do that?' I yelled out loudly, loud enough to conquer the music that could be heard even from inside.
'I was disturbed, Kabir!' she said. I clapped slowly at her justification. 'Kabir, please let me explain, son!' she pleaded.
'Don't you dare call me son, call me son of a bitch instead!'
I shouted again so loudly that my throat almost got ripped apart. 'Kabir please, once . . .' Even her attempt at an explanation made me irate. I was constantly gnashing my teeth.
Tears were spilling out and my head was feeling stuffed.
I crumpled my lips, as I wiped the tears off. 'Don't! Don't explain anyth. . .' I started leaving without completing my statement.
And then what she said left me shattered. She looked into my eyes and burst out in tears.
'Now listen, Kabir,' she said, pointing a finger at me. 'He was your father before he was my husband.
You should have been lying on your bed and crying right now.
But you're here, having fun! Right? What are you doing in this nightclub? Go and grieve over your father's death.'
I couldn't speak. It felt as if someone had undressed me.
'Where were you when he was burning amidst the logs? Must have been sleeping with a random girl!' she said, looking straight into my eyes.
I felt as if I was being buried alive in a coffin.
'Shut your mouth!' I said, raising a finger towards her.
Her eyes were red.
'Why? You don't like being blamed? You don't like people saying bad things about you? Do you have any idea how much filth you carry inside your heart and mind? Do you know how shameless you are? Do you? Go away! Just go!' she shouted.
Emotionally, I was crushed and nothing made sense to me. Everything seemed and felt surreal.
I could sense the amount of debauchery I was carrying within myself. I looked around.
My head started spinning. I ran towards the car and turned on the ignition in anger.
Everyone around screamed at me to stop.
I was drunk and wanted to get some more of the same.
I had a bottle of whisky in the car. I cried, drank, and drove.
Suffering only gets worse when we try to run away from it rather than facing it and it was getting worse for me.
The roads were dusty, and it seemed overcast. What seemed wasn't perfectly true as I was badly drunk.
I was driving at the maximum possible speed.
I could not focus, I was worn out. My body felt limp and I had no control over my thoughts. I thought about the early days of my life, the days when I saw my dad and stepmom smiling together.
Then came the day I saw my stepmom getting intimate with some other man, in a way I've never seen her before.
To see her sticking her body to someone other than my father is the worst possible thing you can imagine!
This hatred cannot be explained or described. It can be felt. It was like a thousand needles pricking my body while I tried to remove them slowly.
I sipped the whisky and closed my eyes for a while. It was all dizzy around me. I felt as if I was about to fall asleep.
I sipped some more but I realized that there was nothing left inside the bottle. I tried to open my eyes. I realized that I was driving at a mad pace, 180 kilometres an hour.
I looked above and a high beam turned me almost blind.
A huge truck passed by, and I managed to open my eyes as I saw someone crossing the road waving his hand, signalling at me to slow down the car. He didn't know the speed, I didn't know how to control the car, and BANG! For a while I couldn't understand what had happened. I couldn't see, I couldn't breathe.
I rubbed my eyes as a noisy siren blew over my head.
The sound was coming from my car.
I opened my eyes and saw that I had banged the car into a tree. I tried to get out but the airbags didn't allow me.
I pushed them aside and stumbled out of the door. I looked at the bonnet and grimaced.
The car was still emitting a loud noise as a result of the crash. I tried to scream for help but my vision blurred and soon I lost consciousness and fell to the ground.
I heard someone call out for help from a distance. I couldn't move. 'Who's there?' I asked feebly, struggling to get my voice out.
No one replied but I could still hear someone crying out in pain.
And then I saw a man crushed between the bonnet of the car and a tree.
I gathered all my strength and walked towards him. I stopped dead in my tracks when I reached the body.
There was another man lying beside him.
'What the fuck!' I growled. 'Shit! Shit! Shit!' I said and ran towards the two compressed bodies that looked almost lifeless.
I had missed seeing the second man at first because everything was hazy around me.
I tried to pull one of them out, but he was so badly stuck that I just couldn't.
The realization that I had killed two men was just too much to take in.
I thought of running away as that seemed to be the only option left.
Nobody had seen me. Nobody had proof I had killed them.
I have the money and the power to overcome the situation, I thought. So I ran away, leaving the two men to their own fate. I simply ran away, like a selfish coward. I was not in my senses. I ran through the dark roads, ran as fast as my legs could carry me.
I just wanted to get away from that shit. I don't remember when I fell to the ground and lost consciousness. I slept there until the sharp, bright rays of the sun forced me to open my eyes. I rubbed my eyes open and struggled to get up.
It seemed like I was somewhere near the outskirts of Mumbai.
I looked around for help and saw nothing but a tea stall a few metres away.
I shuffled through my pockets and found nothing.
I had left my phone and wallet in the car while I was getting high on whisky.
Excerpted from Love not for Sale (Rs 175) by Anurag Garg, published by Random House India, with the permission of the publisher.