He also wrote Princess Diana's controversial tell-all biography.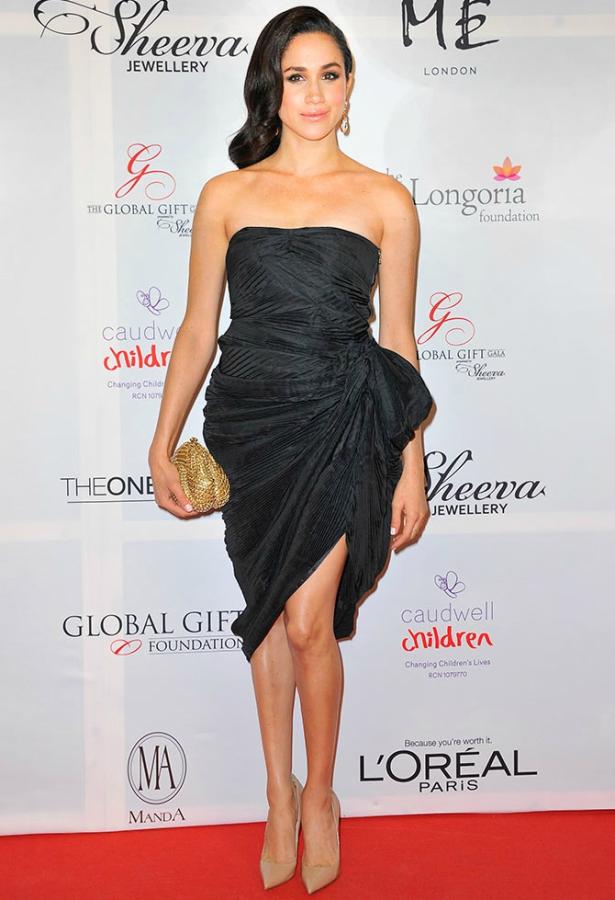 Andrew Morton, the man who wrote the controversial Diana: Her True Story, has announced that he will be writing an in-depth biography of Meghan Markle before her wedding to Prince Harry.
'Excited to be writing #MeghanMarkle's story. She has bags of charisma. A royal star who will have tremendous impact on royal family and wider world,' Morton wrote on Twitter.
Morton told The Bookseller, 'I was a fan of Meghan's long before she met Prince Harry. She has star quality, what some have called "the Markle Sparkle".'
'Confident, groomed and camera ready, she is a dramatic contrast to the blushing, coy royal brides of recent history. The warmth and affection Meghan and Harry displayed during their engagement interview is light years away from the stilted "whatever love means" conversation with Prince Charles and Lady Diana Spencer in 1981.
'Meghan is an exciting and genuinely charismatic addition to the royal family -- she makes the House of Windsor seem relevant again. Hers is a fascinating story and I can't wait to tell it.'
Meghan: A Hollywood Princess will be published by Michael O'Mara Books on April 19, 208 -- a month before the royal Windsor Castle wedding, which is slated for May 19, 2018.
Michael O'Mara told The Bookseller: 'Morton, whose California home is a short drive from the area where Meghan spent her youth, is ideally placed to produce the first in-depth look at her life.'
Here are 5 things you need to know about the man who will write it.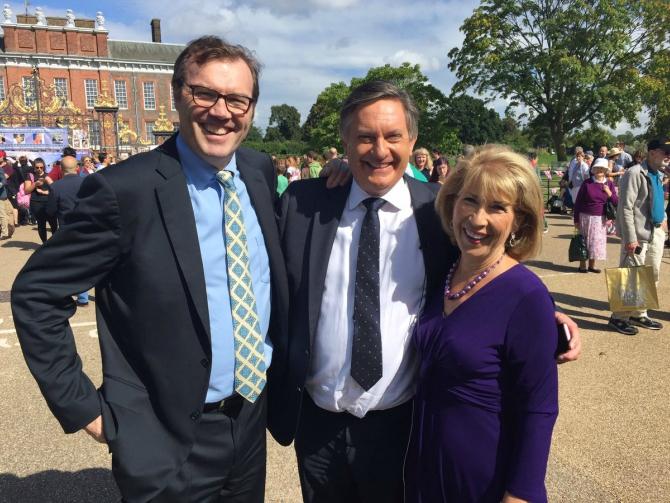 Andrew Morton (left) with BBC journalists outside Kensington Palace, the home of Prince Williams and Prince Harry.
Photograph: @andrewmortonUK/Twitter.
1. The Diana chapter
Princess Diana's biography was based on secretly-recorded conversations she had with her friend James Colthurst and was written with her approval.
The book explored her secret battle with bulimia, suicide attempts while still at the palace and Prince Charles's relationship with Camilla Parker Bowles, now the Duchess of Cornwall.
Asked why Diana trusted him with her story, Morton had told Fox News, 'It's a question that's always perplexed me. [But] she knew I was sympathetic to her. She knew I was writing a biography on her. She knew I knew some of her friends…
'She tested me out with a couple of stories to see how I'd do… And the fact that I was independent of newspapers, of television meant that I could do her bidding… And I think all of those factors came together, with a deep desire to tell her story.'
Almost two decades later, just before Prince Williams wed Kate Middleton, Morton also wrote William & Catherine: Their Story.
2. Before The Crown...
Before Episode 6, Vergangenheit, of The Crown Season 2 had the world googling the Duke of Windsor's Nazi friendships, Morton wrote 17 Carnations: The Royals, the Nazis and the Biggest Cover-Up in History.
He has written another book on 'the untold life of the Duchess of Windsor, the woman who changed the monarchy'; Wallis in Love will be published in February 2018.
3. Monica Lewinsky's biographer
Andrew Morton was also the authorised biographer of the former White House intern, who the world came to know after former American President Bill Clinton had an 'inappropriate relationship' with her.
4. Unauthorised biographies
Morton has penned unauthorised biographies of actors Tom Cruise and Angeline Jolie, football star David Beckham and his wife Victoria, and singer Madonna.
5. What he thinks Diana would have thought of Markle
In his Meghan Markle biography, Morton, a former royal reporter for British tabloids, is expected to include the challenges of growing up biracial, her rise to fame, her 'fractured love life' and the date that led to her relationship with Prince Harry.
He told Hello! magazine, 'She is a humanitarian and a campaigner for those less fortunate. Remind you of anyone? Of course the comparisons with Diana are inevitable. She would have heartily approved of her son's choice -- a successful career woman in her own right.'