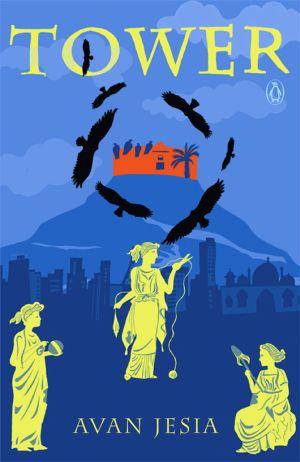 Recently, we brought you an excerpt from the recently published work of fiction Tower by Mumbai-based author Avan Jesia, a "haunting saga of love and loss, spanning three generations of a Parsi family" (click here to read).

With all the ingredients of a powerful piece of fiction, the book is a compelling read, heart-wrenching in places and hilarious in others.

Here we bring you a more light-hearted excerpt, by way of Chapter 19 from Part I, The Fates - Clotho:

Fancy Freny mooned over her imagined love affair with Yezad Zorabian, for whom she had saved a seat right next to herself. His booming voice had always sent shivers in the pit of her stomach, and the beefy palms that splayed from forearms thickset as tree-stumps as he handed her a packet of mava cakes had caused her knees to knock even on the hottest days of Sumari summers. So his presence on this cool December Bombay night had Fancy Freny shuddering like a souffle.

Of course if love blossomed, the mava cakes would have to be replaced by madeleines, mused Freny, and the dated bentwood chairs and chipped marble-topped tables would have to go. She would redecorate in the style she was fond of calling 'art-decor', dutifully informing one and all that it was all the rage in Paris. She would rechristen his restaurant -- 'Light of Iran Bakery and General Stores' just didn't have a ring to it...'Al Fresco at Freny's' perhaps, she thought as she imagined herself blushing coyly at customers who oohed and aahed as she waved away with a manicured hand the honour of having an Irani restaurant named for her, 'Oh this is silly, Yezad!' she would scold, feigning just the tiniest trifle of annoyance at this embarrassing display of her husband's devotion.

Meanwhile, long tables were swiftly covered in white cloth, and one by one, the courses appeared on the banana leaf plates: sweet carrot pickle dotted with raisins was mopped up with hot flatbread; the red, spicy chicken arrived, among calls for a leg piece here, a breast there; a whiff of bay leaf and cinnamon announced the arrival of the fish.

'Here! The tail please!'

'Yes, sahib...'

'Two tails for me!' Piloo Vachha shouted, quickly explaining to a disdainful Freny Panthaky that she was saving it for her young son Peshotan, where could he have disappeared?

'Pesu! Pesu! There he is. Come here, eat your dinner!'

But Peshotan Vachha was in no mood to heed his mother's dinner-party directives, involved as he was in a game of chor-police and suffocating under the tight collar around his skinny nine-year-old neck.

'I'm not hungry!' he triumphantly shouted across to his mother.

'Try the fish, Pesu!' his mother yelled back.

'Fish! Chhee!' he countered, sticking his tongue out in revulsion.

Piloo Vachha gave a martyred look to the still sniffing Freny Panthaky and shrugged helplessly at the prized fish tails before her, plump and white.

In her best British-accented Gujarati, Mrs Panthaky inquired of the waiter, 'Beejee poochhree chee kay? Is there another tail?'

'No madam,' said the waiter, breathlessly awaiting the outcome of this most curious exchange which he had watched with such appreciation. At some point he had been joined by his brother, the pulao waiter, who had grown tired of waiting for the dreaded and always eventful fish course to end.

'I told you to let that Ramesh serve the fish. Very good, very good...' he quietly admonished his brother in lilting Marathi with a smug wagging of his head. 'Your twelve o'clock has struck, no?'

But the fish waiter brother was too captivated with his concern for the fishless Freny to heed his brother's reproaches. He gestured to her to claim the extra piece on Piloo Vachha's banana-leaf plate, bidding her to ask for it, his eyes darting staccato from fish to Freny.

An outraged Freny Panthaky refused to accept any piece at all.

'Take it away!' she commanded with a flourish of her hand, nearly knocking over the glass of gingerade which the elusive Yezad Zorabian had fetched for her, before disappearing in a most ungentlemanly manner. She bitterly rued her decision to save him a seat, recognizing it as the direct cause of Piloo Vachha's unwelcome presence. Seeing that the chair had remained unoccupied even after the rotlis were served, that awful woman had come and plonked herself there. And where on earth was Banoo when you needed her, Fancy Freny wanted to know, crossly pursing her Revlon-ed mouth at Banoo's uncharacteristic and inopportune unavailability.

The fish waiter gravely shook his head at the losing battle.

'What to do madam, there is only one tail per fish,' he said with a comradeship that was most touching, even to Piloo Vachha, who sighed at her two fish tails and valiantly consumed them both.

Excerpted from Tower (Rs 399) by Avan Jesia, published by Penguin Books India, with the permission of the author.

Click here to buy this book!