Why youth gathering to chant this misogynistic rap song is the WORST idea ever!
Warning: The lyrics of the song are pretty graphic.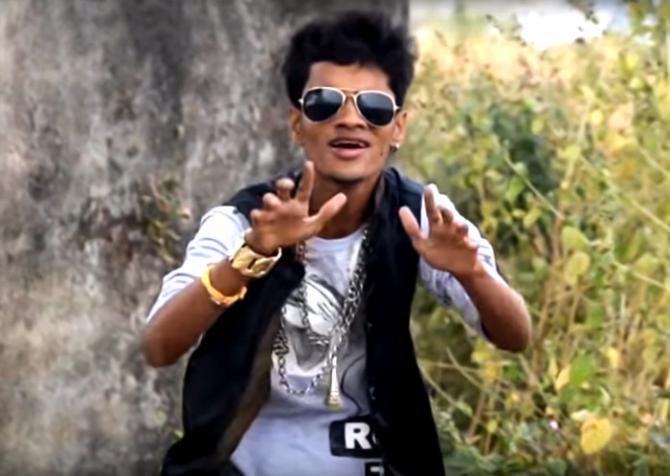 A video grab of the trending song.
Photograph: YouTube.
You know that right they call freedom of speech and expression, guaranteed by the Constitution of India?
When you come across someone like self-styled 'rap king' Omprakash Mishra, you realise not everyone deserves it.
Because, to give you the background, Mishra used said right in a 'rap song' that was uploaded on December 31, 2015, and the words are, well, puke-worthy.
We are not going to reproduce his disgustingly offensive lines, but why are we talking about it today?
One, because this video -- part of a new phenomenon called cringe pop, propelled by the likes of Dhinchak Pooja earlier this year -- has been rediscovered from the dank YouTube corner it used to lurk in.
Two, as a result, of this rediscovery this video's close to touching 3.5 million views. Thankfully, the dislikes far outnumber the likes, but it is still creepy to see that it has over 32,000 likes.
Three, because a so-called desi humour Facebook page, organised a flash mob in Delhi's Connaught Place, where hundreds of youngsters -- both boys and girls -- showed up to chant this misogynistic 'song'.
Four, two more events are being planned -- on September 16 in Noida and September 17 in Mumbai.
Do those who turn up for such events -- advertised as 'epic' and 'unmissable' by its promoters -- even realise what they are doing?
Do they understand the misogyny in the lyrics? Or are they willing to anything to be considered a part of the crowd, 'in' and 'with it'?
Are these the kind of songs and trends that India's Gen Next wants to be remembered for?
Meanwhile, the 'event' in Mumbai promises a 'live performance' by 'rap king Mishra' himself and thrilled by his sudden popularity, Mishra has even announced 'Aunty ki ghanty part 2 -- comming soon'
(Excuse us while we puke!)