For an increasing number of bike enthusiasts, the Royal Enfield is becoming a way of life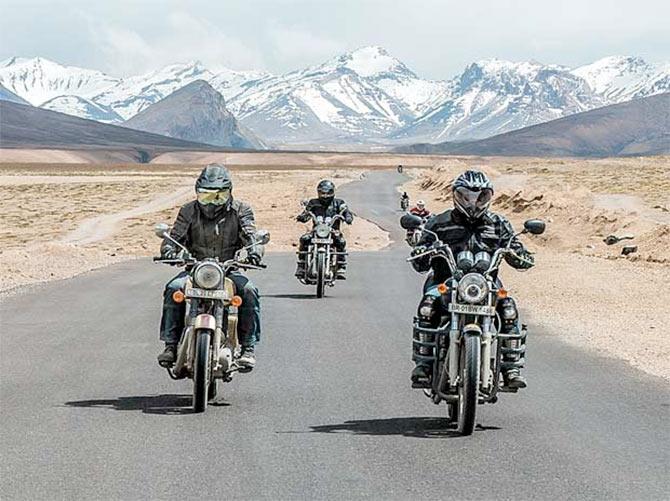 In November 1997, when my husband bought a Royal Enfield motorcycle, a chrome red Bullet Machismo 350 cc, among the first people who came to congratulate him and admire it were the milkmen who supplied milk around his house in Chandigarh.
Nearly 20 years later, standing inside the Enfield store in Delhi's upscale Khan Market, I soak in how much the world of this iconic motorcycle has changed. The store looks like a plush living room of a hardcore biker. On one wall are old pictures from the 1930s, '40s and '50s of the bike that participated in World War II and which has for years been the motorcycle of choice for the Indian army.
On another is framed an "exploded" Royal Enfield Continental GT, popular as the "cafe racer", its different parts pulled away from its core. There are a few motorcycles on display, but the focus is on gear: helmets, jackets, boots, T-shirts, belts, jerry-cans, bags and gloves.
Every corner of the store gives out one message: the Enfield is not just a bike -- it's a lifestyle statement.
The Enfield has arrived. It is evident in the growing number of independent riding clubs dedicated to the Enfield that have sprung up across the country in the last decade or so. It is visible in the passion with which the bike is customised to match its rider's personality. It is palpable in the approach of the motorcycle's 500-odd dealers in India, who are often also passionate Enfield riders. And it is perceptible in the manner in which the company is promoting the bike as a lifestyle you choose by way of organising big and small rides, or "burn-ups" as they are called, or offering a platform on its website to Enfield enthusiasts to meet up and plan their own rides.
Annual events like the Rider Mania -- India's biggest gathering of Enfield riders -- have further strengthened the cult of the bike. Its last edition, in November 2015, saw about 7,000 Enfield buffs converging on Vagator in Goa. The three-day festival included events like dirt track racing, the tricky slow bike racing, on-the-spot bike customising competitions and macho contests like arm wrestling and beer chugging. Celebrated as the festival of "music, mates and motorcycle", it also saw the participation of some big names of Indie music like Indian Ocean and Karsh Kale.
Comparisons with another motorcycle, the Harley-Davidson, which is also heavily into organising rides, has a formidable Harley Owners Group (or HOG, its official riding club) and hosts an annual rock music festival, "Harley Rock Riders", to bring together motorcycling and music in India, are inevitable.
But comparison isn't what Siddhartha Lal, Eicher Motors MD & CEO, likes to focus on. "For us," he says, "it is more about creating a market for the definitive leisure and adventure motorcycle in India. And I believe we have been able to do that." Dressed in an Enfield jacket, T-shirt and boots, and sporting a beard, Lal, whom I meet at the Khan Market store, epitomises the bike he has revived -- he looks rugged, yet contemporary.
For the last few years, he says, the bikes have been selling themselves. That leaves the dealers with more time to focus on offering Enfield owners a lifestyle experience. "We organise 6-8 events (customer rides) per dealer per year, if not more," says Lal.
Chandigarh-based Manmohan Singh, one of Enfield's oldest and largest selling dealers, can vouch for that. "Once a month, I go for a breakfast ride to either Shimla or Kasauli with my customers with whom I am connected on Facebook. We start around 6 in the morning and are back by 2 pm," says Singh whose grandfather opened a store in 1957. Today, Singh runs three stores.
Singh is strict about the rules of the ride: no alcohol and a speed limit of 50 km per hour. To ensure that nobody zooms recklessly, someone from the Enfield area office or from Singh's store leads the ride and another person trails it.
Akshai Varde with his Enfield Riding responsibly is also the motto of Delhi-based Royal Mavericks riding club. Tarique Afaque, a 34-year-old civil engineer, started the club to change the perception that bikers are habitual law-breakers. Today, the club has 3,000 Enfield riders. "On our rides, we don't allow anything that is against traffic rules, be it high speed, loud silencers, fancy number plates or absence of rear view mirrors," says Afaque. Starting January 1, the club has also decided to allow only those motorcycles that have the original stock silencers.
The members come from different professions: software engineers, pilots, lawyers and CEOs of companies. There are fathers and sons, husbands and wives, women riders and also college students. The oldest member is in his 80s and recently rode with the group to the Jim Corbett National Park. When they meet, they talk about old and new riding experiences, the additions to their motorcycle -- from lights and horns to a carrier bought from Ladakh -- or a souvenir from some ride.
Bengaluru-based Bulleteer often rides for a cause: help orphaned children, go to a forest location and educate people about the need for afforestation or paint a school.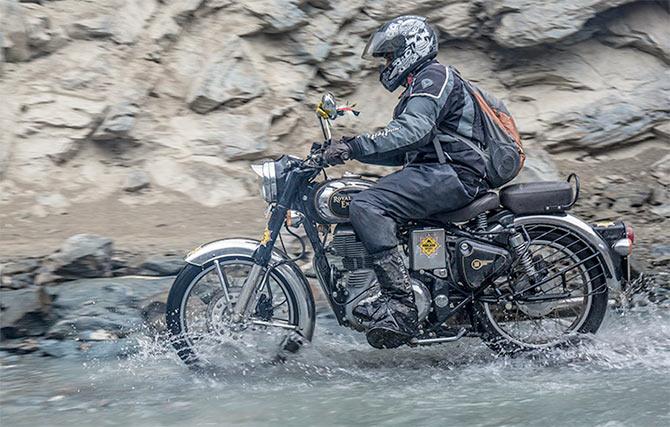 Photograph: Courtesy, Royal Enfield
The club got formed over beer when four like-minded people thought about setting up a bikers' group that would epitomise fun with responsibility. Today, Bulleteer's membership has swelled from four to 4,000. The club has organised rides to Leh, Nepal and Bhutan. Sometimes 70 to 80 bikes join in for a ride. For 15 to 20-day rides, Arvin Padmanabha, Bulleteer's 33-year-old founder, prefers to restrict the group to 10 to 15 motorcycles.
There are also certain unsaid, unwritten rules that the Enfielders follow. "We never pass by another Enfielder whose motorcycle needs assistance. We try to help fix the problem and ensure that both of us start our engines together to reach our respective destinations," says Afaque. If the problem still persists, you try to make the biker in trouble feel better with a sense of camaraderie and move on with the promise to meet again.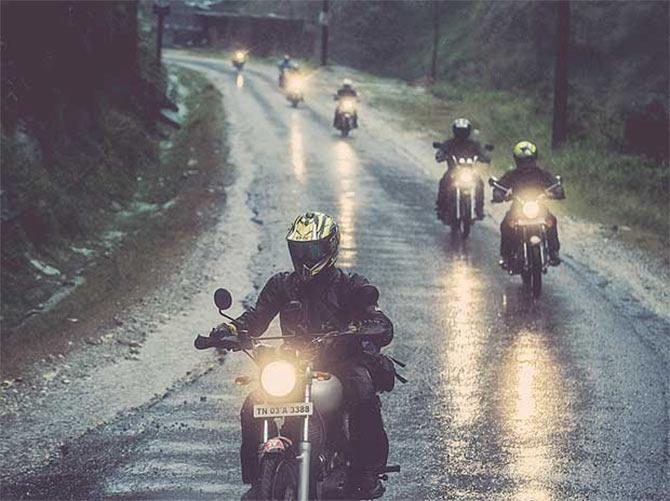 The Royal Enfield Tour of Nepal
There are thousands of organised and unorganised Enfield riding clubs in the country with a collective membership that would easily be over a million. Some smaller ones, like Delhi-based Highway Players, have just about a dozen members -- all friends passionate about the Enfield.
An important part of the Enfield's world is the people who customise the bike -- like Akshai Varde, founder of Mumbai-based Vardenchi Motorcycles, who rode an Enfield to his wedding to actor Sameera Reddy.
"The Enfield's originality comes from the early 1900s when forms were fairly simple," says Varde, whose first Enfield was a 1977 350 cc Standard, which he bought when he was 22. Now he rides a Classic 500 that has been modified with a Vardenchi carbon kit, complete with alloy wheels and LED blinkers. "The Enfield is a modern classic and is still a very retro-looking motorcycle. Its simple, soulful form allows it to be customised into something more sporty or cruiser like," he says.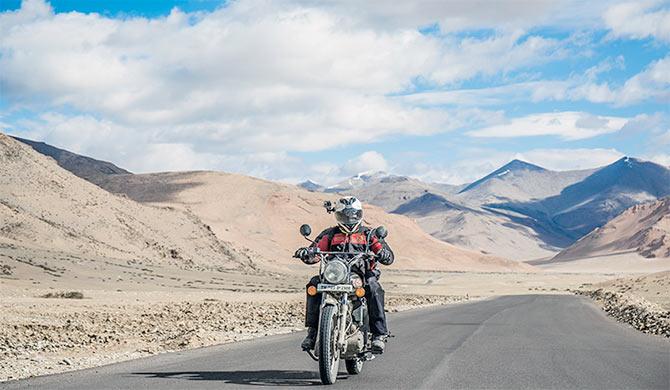 Photograph: Courtesy, Royal Enfield
As compared to the Enfield, the Triumph and Harley designs have become so distinctive that "if you have to customise these bikes, you will have to do a lot to incorporate your personality into them. For every 100 Enfields, we customise one Harley," says Varde.
The Enfield has grown as a lifestyle bike and with it has Vardenchi, which supports that lifestyle. "In 2005, our first year of business, we customised 16 Enfield motorcycles. Now, we are touching close to 600 bikes in a year," says Varde, who started with one helper in a small shop. "We were then a team of three; now we are 35."
So high has been the demand from both young and evolved riders to customise this bike that Vardenchi has developed exclusive kits of accessories targeting the entire range of the Enfield. The kit includes the handlebar, seats, exhaust, indicator blinkers, headlamps, front and rear fenders, side panels and tank protection panels that instantly transform even the colour of the bike. A motorcycle can be turned around in a matter of a few hours to a day without changing its structure or engineering.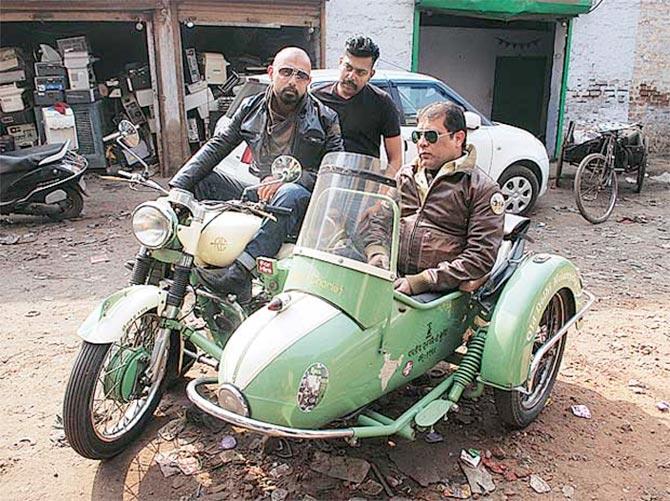 Bobbee Singh on his bike with Shahid Khan in the cart
If Varde has created structured Enfield accessory kits, Delhi-based Bobbee Singh, the founder of Old Delhi Motorcycles, is creating bikes personalised to such an extent that no two look alike. This 42-year-old has customised over a hundred Enfields since 1989.
To create a bike for someone, Singh first listens to the person about the things he or she likes. "There are ten billion nuances in every person's memory and heart that they open up about when they start talking," says Singh. "My mind starts to sift through all that information and nuances and starts designing a motorcycle. It's a very personalised expression of every human being."
Then he goes to the maestros, the ustads of different parts of the Enfield, in Delhi's bustling Mayapuri car market. His favourite expert here is Shahid Khan, who makes only the Enfield tank for him. There are others -- someone who specialises in putting the spokes of the tyres; one who makes only the seat of the bike; or the one who does only the leatherwork for it. "Building a motorcycle by hand is a very unforgiving task. There are no retakes; no machines," says Singh.
Singh's own bike, a 1968 Enfield, is something of a rarity. It was gifted to him by his mother and he calls it "Mother Superior". The bike, painted half and half in two colours -- Cuban Cadillac green and Ivory Vespa -- to get the feeling of two bikes in one, has a Sholay-style side car that invites many smiles and waves when he hits the road.
Varde and Singh are two amongst the dozens of big and small Enfield customisation companies across the country. There is also an army of closely-networked mechanics who will work on no other bike but the Enfield.
Photograph: Courtesy, Royal Enfield
The Enfield hardly advertises. The lifestyle that the bike has come to represent -- through its riding clubs and customised motorcycles -- does that for it. "There are people who have bought an Enfield just to be part of our club," says Padmanabha of Bulleteer.
As compared to Harley-Davidson, which has a showroom in the premium-brand DLF Promenade mall in Delhi, the Enfield, however, trails in terms of gear. Half of the Harley showroom is dedicated to gear and accessories, most of which costs 20 times that of the Enfield. It also has an equal range of merchandise for women.
Also, the Enfield has five gear stores in the country so far, which means a bulk of its sales still happens through run-of-the-mill stores and merchandise contributes little to its turnover.
Gear apart, ask an Enfield rider what the bike means to him or her and this is what you're likely to hear: "It is a companion, a friend, my go-to place. I can't imagine my life without it," says Varde. "A schoolboy's crush -- an old sweetheart," says Singh. "A feeling that surpasses everything else, a friend you spend time with," says Padmanabha.
There came a time, 10 years ago, when my husband sold his Enfield to a friend as we shifted from Chandigarh to Delhi. Five years later, when he found that the friend was neglecting the Enfield, he bought it right back, paying the exact same amount he had sold it for.