Does s/he turn violent when the gadget is taken away?
It's time to take note of their gadget obsession, says Apurva Venkat.
Till about two months ago, Riya Jacob had only one friend -- with whom she would spend all her time playing.
A 15-year-old Class 9 student playing with one friend is unusual, but not uncommon.
Just that the friend wasn't a human, but a gadget.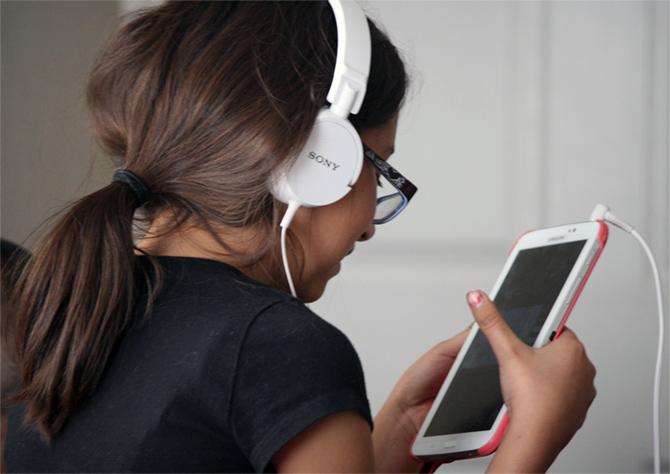 IMAGE: A majority of students are addicted to gaming or social networking sites like Facebook and Instagram. Photograph: Kind Courtesy Wheeler Cowperthwaite/Creative Commons
Riya's parents, both working in software firms in Bengaluru, had bought her a tablet earlier this year.
Since the tablet was for common use, she started using it initially to browse the Internet and watch videos.
Soon, it turned addictive. Riya started missing her evening tuition classes and would often wake up drowsy as she would be up late playing games and watching movies on the device.
"Initially, I thought it was normal for children her age being hooked to games. However, as I saw changes in her behaviour, I grew sceptical," says Riya's mother who works as a senior manager at a IT company in Whitefield.
"Unaware that something like gadget addiction existed, I began to think that my daughter was being blackmailed or was hiding something from us. All attempts to make her talk went in vain."
Riya's parents opted for external help after she once turned violent when the tablet was taken away from her to attend a family function.
Riya's is not a one-off case.
A study by the Services for Healthy Use of Technology (SHUT), a gadget de-addiction centre at the National Institute of Mental Health and Neuro Sciences (NIMHANS), found 70% of respondents -- aged between 13 and 17 years in schools in Bengaluru, were addicted to gadgets.
A majority of them were on gaming or social network sites like Facebook and Instagram.
A small percentage were addicted to pornography.
Similar is the case of Rahul R, a top ranker in school till Class 8 who almost dropped out of school due to his obsession with video games.
IMAGE: Excessive activity on the Internet can cause neck pain, fatigue and eye strain among children. Photograph: Kind Courtesy Sherif Salama/Creative Commons
Rahul's behaviour was rough; he would break things and tear clothes if he was asked to stay away from the computer.
He beat his mother on several occasions. Due to his excessive activity on the Internet, he developed neck pain, fatigue and eye strain.
When he was brought for counselling, he scored 81 in a test that met the Griffith criteria for video game addiction.
A focused treatment that included family members spending more time with him, exercise and outdoor games helped wean him away from video games.
Both Rahul and Riya are on the path to recovery.
"When we started out, there were no patients at all. Now, we have six new patients each week. The most common age of patients is 16 to 22 years and they are generally brought by parents or caregivers," says Manoj Kumar Sharma, professor, department of clinical psychology, NIMHANS, and a counsellor at SHUT.
Started in 2014, the clinic has already treated around 300 patients, with an average of six patients each week.
While there is no clear definition for the growing phenomenon of gadget addiction, it is generally considered a condition when the use of gadgets stops a person from maintaining a healthy lifestyle.
In Delhi, Uday Foundation, a non-profit organisation, runs an Internet de-addiction centre to help patients.
Schools too have started taking note of this trend and are extending support to parents in dissuading children from using gadgets.
The schools are asking parents to engage children in other activities that are not related to academics. They are also encouraging sports.
Sharma says the only way to treat this emerging addiction is by raising awareness.
"It is a problem that people from across the world are facing. One needs to accept it and seek help. We should stop ignoring it," he adds.