rediffGURU Air Commodore Nitin Sathe (retd) helps you shake off the last-minute jitters as you prepare for the UPSC National Defence Academy exam.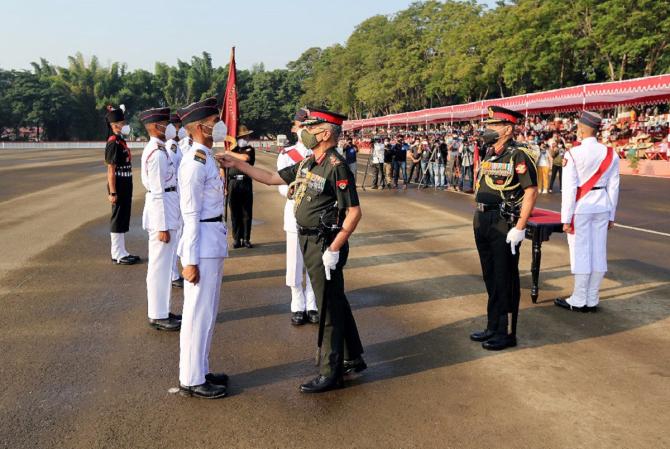 If you are interested in joining the Indian armed forces, then your revision for the UPSC National Defence Academy exam -- which is scheduled for April 16 -- must be on in full swing.
These are important days and I hope you all are expending your energy towards achieving success.
Here are nine tips that will help you during the countdown for the exam and while you attempt the exam as well.
1. Have confidence in yourself and your preparation.
When you get stressed with the thought of the exam and feel unsure of some aspects of your studies, do not panic.
Close your eyes and tell yourself to relax. Just saying, 'Relax. Relax. Relax' in your mind and clenching and unclenching your fists will work; trust me, I have tried it.
After all, the exam will have questions from areas/subjects that you have studied for this long; you should not be unduly worried.
2. Be consistent with your preparations.
Remember to continue to study till a day before the exam after which you should just go through the various formulae and short tricks of answering questions that you have been taught.
Do not start cramming on the last day; it will only lead to confusion!
Practice, practice and only practice helps, especially in the mathematics paper, so take as many as mock tests as you can.
3. Learn the art of relaxation between bouts of study.
Do not keep staring at your books and notes when you are mentally tired.
Take a break and start again for better assimilation.
4. Ensure that you travel to the place where your exam will be held at least a day prior to the date.
Unwind after your journey, sleep well and wake up fresh for the test.
Avoid caffeine as far as possible.
5. Make sure you have the stationery you need.
Remember, smart watches, phones and electronic gadgets are not permitted at the centre.
Carry an energy bar and something to eat between the two papers.
Carry water too and, of course, your mask.
6. After you take your seat at the exam centre, and before the question papers are distributed, close your eyes and meditate.
Tell yourself to relax. Remind yourself that you are sufficiently prepared and are going to do your best.
Your heart might beat a little faster, you might feel stressed; any exercise (there are others like the one I mentioned in point no 1) to reduce anxiety will help.
Remember, everyone giving the paper is facing a similar situation.
7. You will be running against time when you answer the maths paper.
Begin attempting the sections where are you are most confident.
As you initially read through the paper, you could write the formula you will use against the questions you plan to answer. Do this using a pencil. The formula will help when you start answering the paper.
If the paper is moderately, or even very, hard, you may attempt 50 to 60 correct answers to make it to the cut-off; anything more is a bonus.
Remember, the better you score; the better it is for you.
At the same time, do not get flustered if you cannot answer a question. Move on to the next one and return to this one later.
Most importantly, check and recheck if you are marking the answer on the OMR (optical mark recognition) sheet correctly.
8. The GAT (general ability test), which is the other paper, is easier; you will find that you are more relaxed.
Attempt the English section first, followed by the general science and general knowledge sections.
Again, move on to the next question if you are not sure of an answer; come back to the questions you have not answered after you have attempted the questions to which you are sure you know the answer.
If you have already attempted your maths paper, remember it is done and dusted. Do not worry about it as you attempt the GAT paper.
9. Do not attempt to guess and answer.
Remember, there are negative marks for wrong answers.
I know young aspirants who have make this mistake to their detriment.
May you crack the UPSC NDA written exam with high marks.
Once you have passed the written test, we will guide you in your preparation for the Services Selection Board.
All the best and do well!
If you have registered for the NDA entrance exam, you will know that the exams are scheduled to be held on April 16.
As you continue your revision for the written exam, you may feel the need for a few tips or want to get a few queries answered.
You can reach out to rediffGURU Air Commodore Nitin Sathe.
Air Commodore Sathe has served as Director of Training, National Defence Academy and President, Services Selection Board, Dehradun during his distinguished 36-year career in the Indian Air Force.
Today, he is a certified recruiter and personality assessor, who motivates youngsters to join the armed forces.
Ask your questions HERE.
---
Please Note: The questions and answers are published to help the individual asking the question as well the large number of readers who read the same.
While we value our readers' requests for privacy and avoid using their actual names along with the question whenever a request is made, we regret that no question will be answered personally on e-mail.
All content and media herein is written and published online for informational purposes only. It is not a substitute for professional advice. It should not be relied on as your only source for advice.
Opinions expressed herein cannot necessarily provide advice to fit the exact specifics of the issues of the person requesting advice.