Dr Dinesh Jain shares some valuable tips.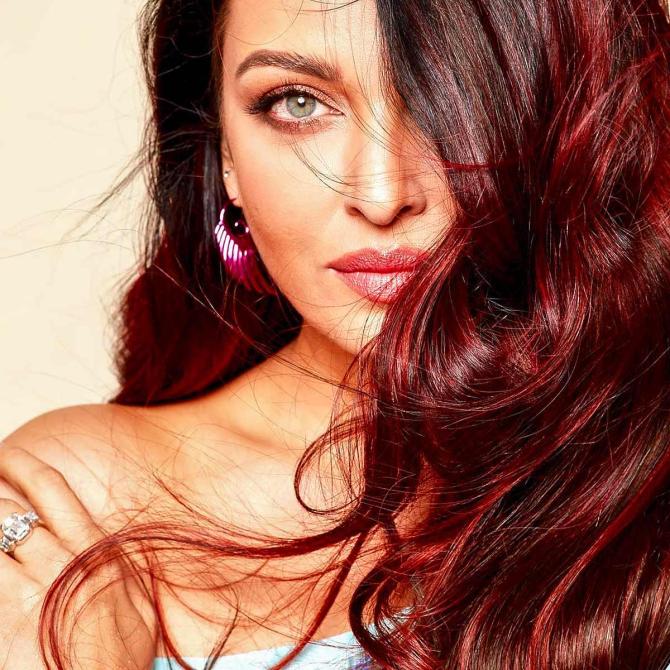 Dear Reader, worried about your skin?
Or your hair?
Is acne the bane of your existence?
Or dandruff causing you embarrassment?
Do send in your queries about your skin and hair problems to Dr Dinesh Jain at getahead@rediff.co.in (SUBJECTLINE: Dr Jain, can you help?).
Dear Dr Dinesh Jain
I have been facing a lot of hair loss in the last year.
In fact my hair has reduced to one fourth of what it was.
There does not seem to be any reason for it.
I don't have dandruff or anything like that. I am 30 years old and very proud of my hair. I have tried cutting it short which made me very sad but it did not help.
How can I improve my hair growth and grow it back to how it was originally?
Aditi Babu
Shimoga
Hi Aditi.
There are many causes for hair loss.
You need to evaluate if some change in your routine has affected your hair. It could be a change of place or water or diet alterations.
Cutting your hair short is never a solution to stop hair fall because the cause lies much deeper, in the scalp.
You may be going through androgenetic alopecia, where hair becomes thin and weak and then falls off, leading to balding.
Do contact a good hair and skin specialist to find out the root cause.
Dear Dr Jain
What is the best way to maintain your skin?
How can I have glowing skin?
Rajesh Hebbar
Bengaluru
Hi Rajesh.
We often forget that our skin is a reflection of our internal system.
When we only look at external sources of maintaining the skin, we can easily neglect the internal environment of our body.
To begin with, include lots of greens and fruits in your diet. Besides other benefits, this will also work also as an antioxidant for your skin.
Pollution is another cause of damage to the skin. One needs to be very careful about this.
The best method is to regularly wash your face with a mild soap 2-3 times a day.
A good balance of vitamins will help.
My simple recipe for a healthy and glowing skin is a good diet, regular exercise, the use of sunscreen during the day and a good moisturiser at night.
Dear Dr Jain
I am 25 years old. I have very oily and sweaty skin, especially on my face and hair.
When I have to go for meetings or family functions, it becomes very embarrassing.
How do I make my skin less oily and stop the sweating?
Christina D'sa
Mumbai
Hi Christina.
An excessively oily and sweaty skin is definitely a concern for anyone having this issue.
I would start by recommending a healthy routine of exercise in the morning so that your maximum sweating happens before you take your bath.
Next, I would also recommend that you eat more greens and fruits and avoid oily and salty food.
Wash your face multiple times.
Avoid intense heat so that you don't sweat much.
Use a good astringent toner; these toners contain alcohol that tends to dry out the skin. Pat your face dry when needed using blotting papers and medicated pads.
Dear Dr Jain
My name is Ashish Mehta and I have recently turned 30.
I want be careful that I don't show signs of aging early.
I have normal skin and I use moisturiser. What kind of skin care regimen should I follow?
Ashish Mehta
Dehradun
Hi Ashish.
I have the following recommendations for you to slow down the aging process:
Sun protection every day: It is important to protect your skin as too much of exposure to the sun can expedite aging.
Wear long-sleeved clothes and a cap when you step out. Use sunscreen with an SPA of at least 30 when you are exposed to the sun. Using sunscreen indoors helps as well because of UV radiation from the lights we use in our homes and offices.
Quit, or minimise, smoking and drinking alcohol: Smoking and alcohol speed up the process of how quickly the skin ages.
It causes wrinkles and a dull skin.
Alcohol in particular dehydrates the skin, which can lead to faster aging.
Minimising facial expressions: When you make a facial expression, you contract the muscles.
If you contract the same muscles repeatedly for many years, these lines become permanent.
A well-balanced diet, with additional emphasis on greens and fruits: Studies suggest that eating plenty of fresh fruits and vegetables may help prevent damage that leads to premature skin aging.
On the other hand, a diet containing lots of sugar or other refined carbohydrates can accelerate aging.
Exercise most days of the week: Moderate exercise can improve circulation and boost the immune system. It will help your skin remain youthful.
Apply a facial moisturiser every day: A good moisturiser traps water in our skin, giving it a more youthful appearance.
Hello Dr Jain
I have long hair and I oil it with coconut oil three times a week.
Is it okay to leave the oil overnight?
What is the best way to take care of long hair?
Hetvi Patel
Gujarat
Hi Hetvi
Yes, you can oil your hair but only once or twice a week. Too much oiling of the scalp is not recommended.
However, conditioning the hair twice a week is also a good remedy to nourish the hair follicles.
Here are some more tips to help you maintain your long tresses.
Use the right hair brush.
Use a deeply hydrating treatment twice a week.
Use a heat protectant.
Use hair bands that don't pull at the root.
Use a hair wrap or an old t-shirt instead of a towel to dry your hair.
Try not to over-wash your hair.
---
Dr Dinesh Jain is based in Mumbai and practises at Sparsh -- the Aesthetic Clinic. He is a well known cosmetologist and specialises in anti-ageing regenerative medicine, hair regrowth and stem cell-based treatment.
His qualifications include an MBBS, DV&D, MD and an MSc.
In his two decades of practice, he has treated thousands of patients including many Bollywood stars.
Send in your skin care queries to Dr Jain at getahead@rediff.co.in (SUBJECTLINE: Dr Jain, can you help?)
---
Do note: This column is an advisory. Please consult your doctor before beginning any treatment