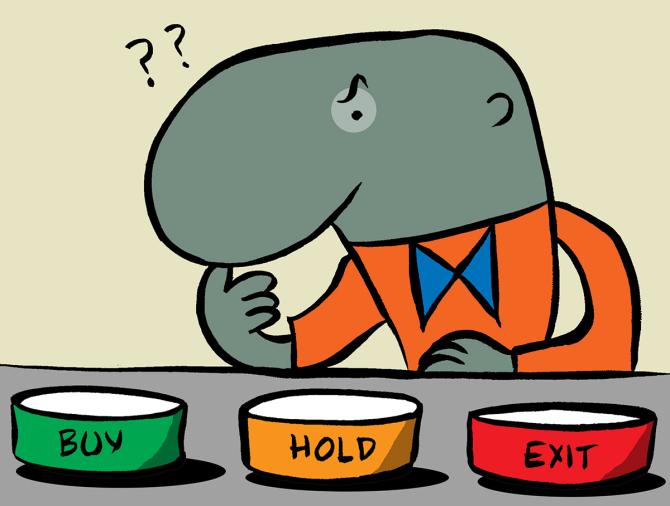 Ajit Mishra, vice president, Research, Religare Broking, answers your queries:
---
Somnath Bhattacharya: Please advice i have bought following equities with the price. What to do?
Ajit Mishra:
Rajiv Malpani: I have bought 1000 shares of IEX @ 265. Please advise.
Ajit Mishra: Hold for long term
Anant Chaurasia: Plz advise on future prospects of following holdings as on dt.
Ajit Mishra:
Vijaynidhi Ramakrishna: Please advice on the following portfolio:
Ajit Mishra:
Anuj Kumar Jain: I would like to take your valuable opinion for "HINDUSTAN MOTOR LTD" STOCK. At current level, should I buy or not? What is your view for long term as well as short term?
Ajit Mishra: No, avoid.
Sudhakar: Looking forward for your suggestions on the following stocks:
Ajit Mishra:
Sivarajan Balamurugan: I have the below shares with average buy price. Kindly advise whether I should hold, exit or buy more
Ajit Mishra:
Paramesh Bojan: I have the below holdings. Kindly advise your suggestions on these.
Ajit Mishra:
SUNNY: I have the following shares with me. Could you kindly review and advise me as to whether I should hold or exit.
Ajit Mishra:
Syed Habib-ur Rahman: I have a portfolio of the flowing shares, want your suggestion for hold/ exit
Ajit Mishra:
---
Please mail your questions to getahead@rediff.co.in with the subject line 'Ask Ajit', along with your name, and Mr Ajit Mishra will offer his unbiased views.
Disclaimer: This article is meant for information purposes only. This article and information do not constitute a distribution, an endorsement, an investment advice, an offer to buy or sell or the solicitation of an offer to buy or sell any securities/schemes or any other financial products/investment products mentioned in this QnA or an attempt to influence the opinion or behaviour of the investors/recipients.
Any use of the information/any investment and investment related decisions of the investors/recipients are at their sole discretion and risk. Any advice herein is made on a general basis and does not take into account the specific investment objectives of the specific person or group of persons. Opinions expressed herein are subject to change without notice.
You can find more of Mr Mishra's answers here.