The life-size 'casting couch' statue of the Hollywood sexual predator was installed near the Oscars venue.
A statue of Harvey Weinstein in a robe, holding an Oscar and sitting arms spread on a golden 'Casting Couch' appeared near the venue of the Oscar Awards in Hollywood days before the the ceremony.
The sculpture was a collaboration between street artists Plastic Jesus, who takes aim at the dark side of showbiz with his annual Oscar season installations, and Joshua 'Ginger' Monroe, the artist who is now best known for the naked Donald Trump statues that popped up in the United States in 2016.
While Plastic Jesus is 'a former London photojournalist who moved to LA many years ago to explore installation art as a way to tackle sociopolitical issues', Ginger is a Las Vegas-based artist.
'For many years the exploitation of many hopefuls and established names in the industry was brushed under the carpet with their complaints of harassment and sexual abuse being ignored or worse,' Plastic Jesus, who prefers to remain anonymous, told The Hollywood Reporter. 'Hopefully, now in the light of recent allegations against many leading figures in Hollywood the industry will clean up its act.'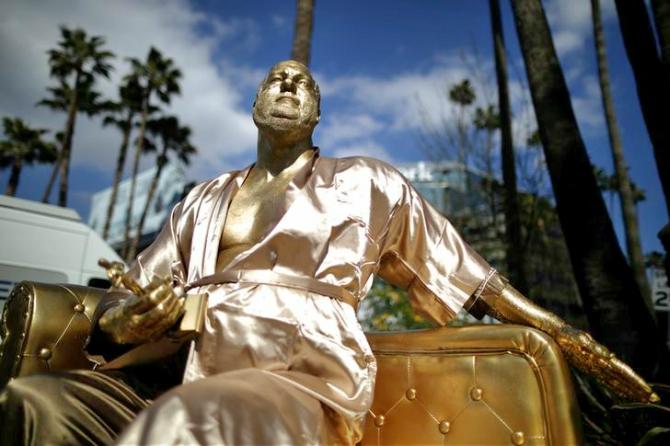 The statue was sculpted with an Oscar statue gripped in Weinstein's hand, strategically placed near his groin.
Ginger told THR, 'The whole couch and the entire image it gives off was to me a visual representation of the practices and methods that are used in Hollywood with these big powerful people. They have money and power to give jobs and they use that for their own sexual gratification and there's no better way to visualize this than the way we did with the casting couch.'
After the naked Trump statues, Ginger had told The Washington Post that he had been approached because of his monster-making abilities: 'Trump is just yet another monster, so it was absolutely in my wheelhouse to be able to create these monstrosities.'
After installing the Weinstein statue, the artist told THR, 'To be able to knock the monster down a peg and poke fun and ridicule it helps remove its power. That's how you take these powerful people down. As Mark Twain once said, "Against the assault of laughter, nothing can stand."'