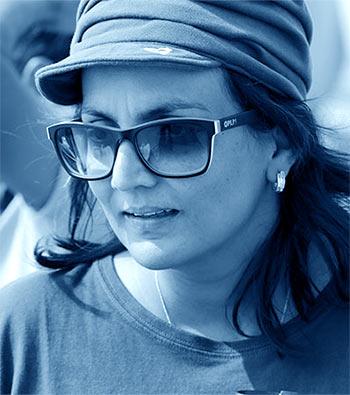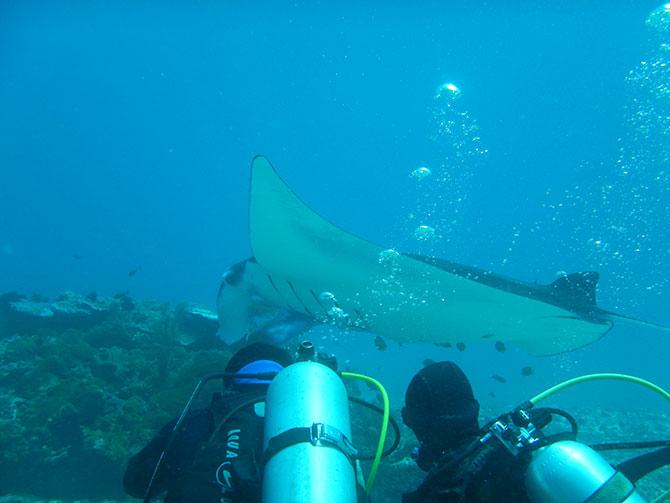 IMAGE: Watching a Manta Ray in its natural environment.
Wondering where to go on a vacation?
Fed up of searching online and consulting with friends/family?
How about a celebrity then?
What if a celebrity told you about their favourite holiday destination?
Told you about all the things they like to do there -- be it tasting the local cuisine, indulging in leisure activities or haunting museums.
Would it inspire you to pack your travel bags and get going? We hope so :)
---
She is one of India's finest cinematographers.
And one of the country's best underwater cinematographers.
She has many successful advertising and commercial films to her credit, and her latest feature film, Airlift, did extremely well at the box-office.
Airlift was lauded for its raw, understated, look. And the credit goes to the woman behind the lens, Priya Seth.
Priya tells A Ganesh Nadar/Rediff.com about her favourite holiday destination.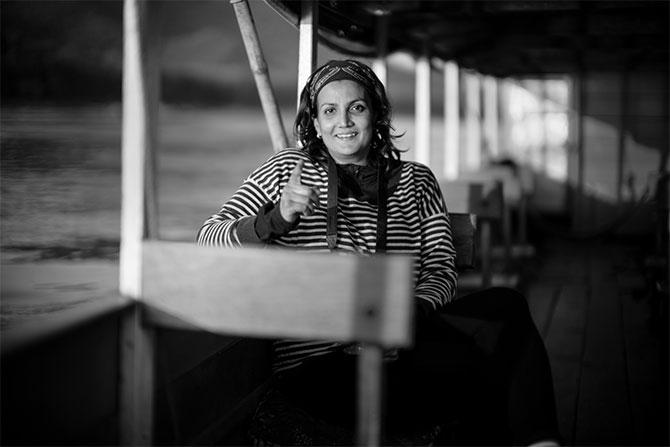 IMAGE: Priya Seth on holiday.
Which is your favorite holiday destination?
Komodo in Indonesia. It is my favorite because it's the best place for scuba diving, which I like very much.
I go for a scuba diving trip once a year to different places. I stay for a week.
Where do you usually stay?
I stay on a liveaboard yacht, a kind of boat designed for dive trips. It has 15 to 16 bedrooms on three levels.
You can travel on the ocean on the yacht and go scuba diving at various places.
Which are the best places to eat? What do you recommend one must eat there?
As you are on a yacht, you eat what is available there. Sushi and sashimi are my favourites. Both are dishes created with raw fish.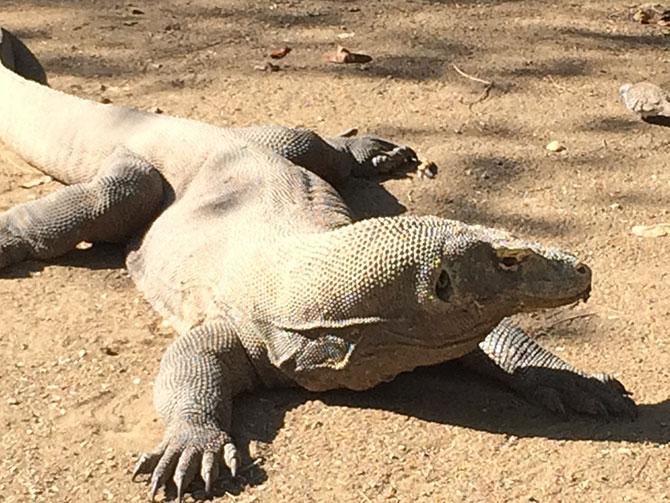 IMAGE: The Komodo dragons have a toxic bite.
Some of the best sights and attractions in Komodo?
There is an island where you can see the Komodo dragons, one of the most pre-historic animals in the world. They are vicious carnivores and are dangerous.
Their bite can kill you as it is very toxic. The dragons are long and very strong, but not tall.
To visit this island, you have to be accompanied by forest rangers.
What leisure activities can one indulge in?
Scuba diving is the only activity and that is what we went there for.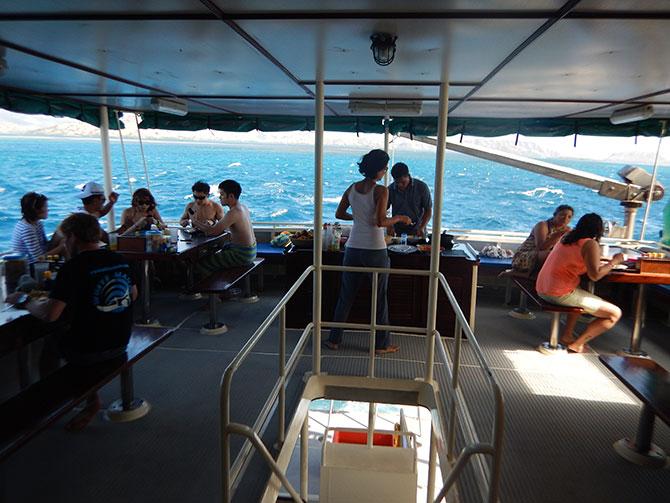 IMAGE: Taking a break on the yacht.
How do you usually spend your day there?
I get up early. The first dive is at 7 am. Each dive lasts an hour.
Then breakfast, a break -- we can read on the yacht -- and we go diving again. It is tiring, but as we are passionate about this sport, we enjoy it.
The days just go by as we continue diving at different places.
We also had a drone on which we had fixed a camera. We had lots of fun shooting ourselves and the fish with the camera mounted on the drone.
Are you a solo traveller or do you like to holiday with friends/family?
I always go for holidays with my friends or family.
Do you plan your holidays well in advance or is it on the spur of the moment?
It is difficult to plan well in advance because of my profession. We cannot plan too much in advance.
I plan when I am sure I can take a break. When you plan too much in advance, you might have to cancel.
How does one travel to Komodo?
We had to take four flights and then a boat to our yacht. We flew to Singapore and then to Bali.
From there, we took a flight to one island and then to a second island. We then took a boat to the yacht.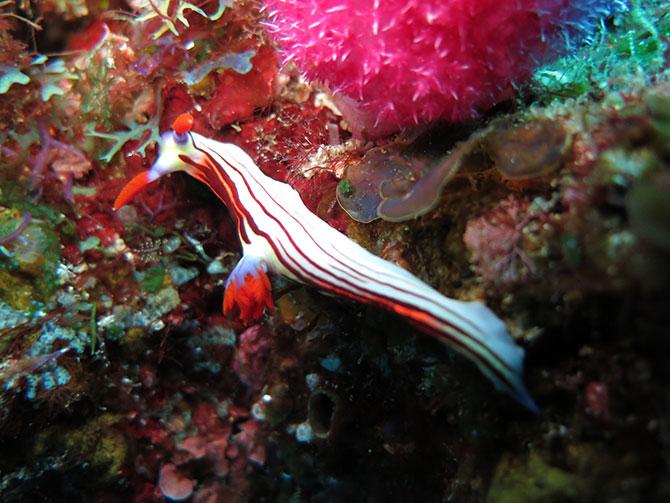 IMAGE: The beautiful life under water.
Do you shoot plenty of pictures on your holidays? Or do you bank on your memory?
I don't click pictures -- my profession involves shooting pictures. Once, I had taken a camera underwater. I was so busy clicking pictures that I did not enjoy the dive. After that I stopped.
I think my memories are enough.
What do you recommend one must eat in Komodo?
There are plenty of good restaurants in Bali. They are very interesting as there are a lot of experienced chefs.
You can sample the local food and international cuisine as well.
How are the local people?
They are warm and very friendly. They are geared to tourism.
They love Indians as they are Hindus.
Their Gods are the same and they have names like ours.
Our cultures are similar. They speak enough English to communicate well with us.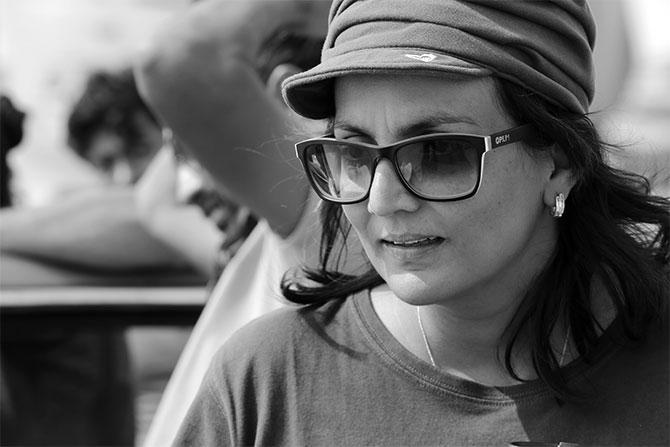 IMAGE: Priya during her favourite holiday.
On a trip to Komodo, how much money should one carry?
I went on a pre-paid boat trip. Everything was paid for in advance. Apart from your travel and stay, you should carry $1,000 for shopping.
The one thing you missed doing on this trip?
This was a trip on a boat, so I did not spend much time on land.
Given a chance to go back, I would love to travel around Bali in a car.
The landscape is beautiful and varied. There are hills and there are beaches.
There is also a beautiful monkey forest. The monkeys are very bold there.
Is there something special you brought back to India from your vacation?
I bought a silver chain with a Manta Ray -- one of the most magnificent creatures of the ocean -- pendant.
It is special because it reminds me of my love for the ocean. It is one of my most treasured possessions.
One word you'd use to describe the place.
Thrilling!