"The feeling is yet to sink in," says Soumya Mukherji, who will now use the money to convert his dream into reality. He tells Prasanna D Zore and Ashish Narsale all about it.
Soumya Mukherji plans to build a homestay resort with his winnings.
Photograph: Ashish Narsale/Rediff.com
Soumya Mukherji has been away from his parents for 18 years -- through college, B-school and a job in Delhi.
But now, thanks to winning a ₹1 crore contest organised by Chinese phone manufacturer OnePlus in Mumbai on June 22, he will be back with his parents -- his father, who is a retired government officer, and his mother live in Bhubaneshwar -- for good.
"My mother cried when I called her and told her I won," Mukherji told Rediff.com. She was the first person he called after the win.
"The feeling is yet to sink in," he added as people thronged around him for selfies.
But there is more to this 35-year-old MBA's story: it is a dream come true for an aspiring entrepreneur.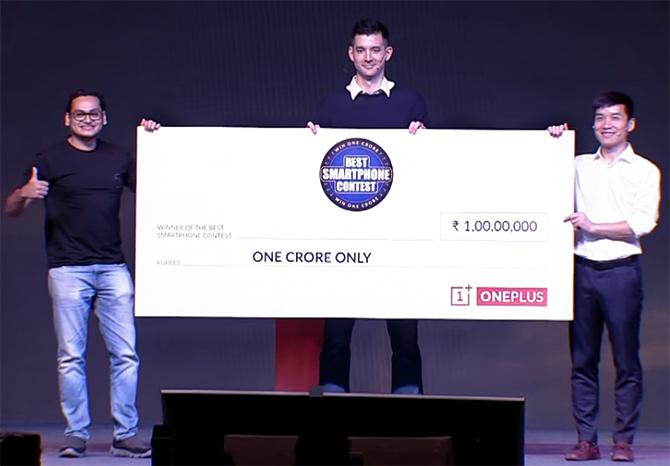 From left, Soumya Mukherji, OnePlus global head of marketing Kyle Kiang, and founder Pete Lau. Photograph: Courtesy OnePlus
Last July, Mukherji quit his job as deputy team manager at Sita Travels to pursue his entrepreneurial dream. He wanted to set up a homestay on land that his father owned on the outskirts of the Chandaka Elephant Sanctuary, 13 km from Bhubaneshwar.
"I left my job because I thought I was getting old," Mukherji said. "To start something new when you are 35 makes you feel old."
He poured his savings from his job at Sita Travels, which paid him ₹7 lakh per annum, into his dream project. But it wasn't close to enough.
Then Mukherji heard about OnePlus's Best Smartphone Contest, organized to coincide with the launch of the flagship OnePlus 5, which is scheduled to go on sale on June 27.
The competition, open only to OnePlus users, had six-stages -- all testing the contestants' knowledge of the brand's smartphones.
In the final stage, the contest came down to five participants.
Mukherji missed the first round, which was taken by a Mumbai contestant. But he was quick on his feet the second time.
The final question, which won him the ₹1 crore jackpot, was about guessing the selling price of OnePlus 5. "I made a calculated guess," he said.
Asked if he was nervous, he said, "It was pure luck; it was fate, destiny."
He added, "I didn't have any bank balance after I quit my job. Now, this money will help me in my project. It was just an idea first. Now, it will be converted [into reality]."