"At 22, I had so many dreams -- disability was definitely not part of the plan.
"In the Indian society, disability almost always invites sympathy and charity.
"Heck, once a woman gave me 25 paise -- just because I was sitting outside a temple and was disabled, she thought I was a beggar!
"This stigmatisation is unshakeable from our mindsets."
Years ago, a fateful accident overturned Shivani Gupta's life for the worse. How she bounced back and emerged a winner is an inspiring tale in itself.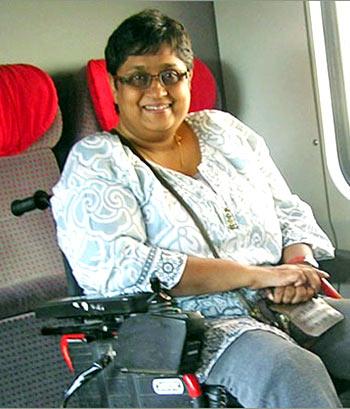 Shivani Gupta was a young and independent girl from Delhi.
Having spent most of her life studying in different parts of the country and living by herself, she was one of those buoyant and self-assured individuals with a solid plan and all the commitment needed to see it through.
And sure enough, good things were happening to her.
Graduating from the Institute of Hotel Management, living in the capital, landing a job as a guest relations officer at a five star hotel -- for the twenty-something, her life's best decade seemed to be playing out like clockwork.
Until one night, when she had invited some friends over for a little soiree.
The bunch partied into the night, until it started getting late and was time for everyone to go home.
Shivani volunteered to drop a female friend back to her hotel; but that car ride changed everything.
They met with a massive accident, inflicting a spinal cord injury on the 22-year-old that rendered her quadriplegic.
To say that she bounced back and immediately got her life back together would be a lie, but how grandly she did when she managed to, is a story worth telling.
Identity crisis
An identity crisis was washed ashore with her brand new circumstances.
She knew her life was going to undergo a whirlwind of changes, but she could not foresee just how it would unfold.
"I had no idea what this disability meant, and was absolutely clueless how to deal with it. I did not know what to expect any more.
"At 22, I had so many dreams -- disability was definitely not part of the plan.
"Back then, there was zero awareness about dealing with it -- so this situation had a disheartening sense of finality. It was a long journey until I felt I could face the world."
Post the accident, Shivani lost her ideal job back at the hotel.
"Corporates weren't open to employing people with disability. I was told that there is recession, so they couldn't continue to employ me.
"I didn't even know that I had the right to fight for it, that it was even possible. I accepted thinking there really was no alternative."
Getting back into the game
Soon Shivani saw that she could channelise her need to still be part of the world, into a different hobby.
"I started painting. My hands were paralysed, so by moving them in this light manoeuvers, it proved to be therapeutic.
"I started selling my hand painted art. Wherever I would hear of exhibitions, melas and events, I would show up with my table and collection," she said.
"I knew for a fact that I wasn't the best painter -- so I always had this dilemma.
"Were people purchasing my stuff because it was good, or merely because I was disabled?
"I couldn't have lived with the answer if it was the latter, so even before I could find out, I decided to try my hand at something else."
Around that time, she had the opportunity to join a rehabilitation centre in the UK for two months -- to explore the idea of accessibility.
That programme was her first tryst with the concept, and she learnt that she was also entitled to some rights in spite of her physical condition.
Helping others like her find meaning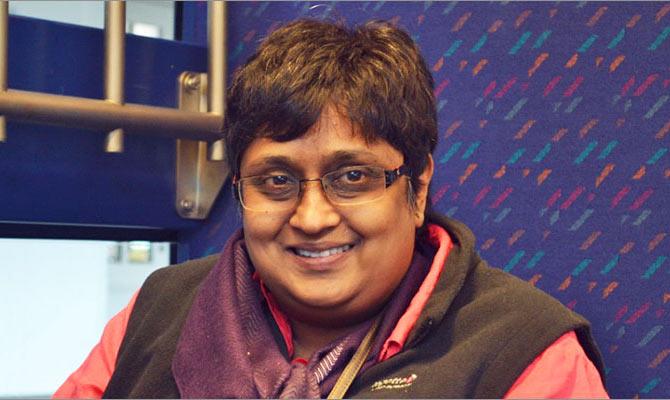 When she returned from the programme in 1996, she was determined to go all out in spreading the word -- for there finally seemed to be some hope.
The Indian Spinal Injuries Centre back then, was still skeletal and in the process of being constructed.
It was an alien concept after all, trying to console a person impaired by injuries.
Shivani joined there as a counsellor to interact with patients in the same situation as her, and continued to do her bit in building hundreds of morales for six years.
"Back then, raising awareness was the need of the hour, for no one was really willing to offer hope to us," says Shivani.
Her pursuit of normalcy led her to a UNESCAP training programme in Bangkok, at their headquarters.
'Training in non-handicapping environment' was the purpose of this seminar, and Shivani learnt how it is not only her right, but the government's responsibility to grant her the means to compete with the world at an equal footing.
She returned to India and immediately laid the framework to spearhead a series of five workshops for NGOs and governmental representatives from all states of the country.
Even though she laid an elaborate enough plan for the representatives to adopt, nothing from the seminar even found place in discourse for a long, long time.
"This mostly fell apart, because they couldn't see live examples. Nothing was accessible at all.
"Thus, our attendees didn't integrate it in their work. There was a much longer training programme and much more commitment required," explains Shivani.
She co-authored one of the first pieces of literature on the subject, but felt a dearth in her own knowledge as well.
AccessAbility
"I felt like I needed to study further, so I pursued a Masters in Architecture Design in UK from EDEXCEL, and went on to procure a post graduate degree in MSc in Inclusive Environments at the University of Reading, UK."
With a whole list of tangible solutions, now, Shivani could offer not only a first person's perspective on disability and the needs that the disabled have -- she also helped an organisation with well-researched and expert ideas to implement accessibility mechanisms.
Under the name AccessAbility, she kicked off in 2006.
"Our concentrated work on accessibility engaged in all kinds of things.
"Be it the private sector, hospitality, retail, people wanting to employ disable people, educational institutes -- we gave them the entire plan of how they could make their infrastructure and practices disabled-friendly."
Shivani's initiative even became a name to reckon with internationally, as she associated with the office of the High Commissioner in Human Rights in Geneva.
Things were starting to look up, and she was finally starting to discover her place in the world again.
Faced with loss yet again
But in 2009 an unexpected turn of events threatened to disrupt, once again, everything she had rebuilt.
Shivani met with another accident, and this one claimed the life of her soul-mate and pillar of strength -- her husband.
Her father-in-law was also a victim in the accident.
Deeply disturbed by the loss of her companion, Shivani knew she had to heal herself and keep going.
After all, she wouldn't have survived two such colossal calamities if she didn't have a purpose to fulfil in the world.
How she decided to heal, was by writing her first book, No Looking Back -- an autobiography.
"Writing about myself had me thinking deeply about so many things, and made me realise that all the answers I was looking for could be found in my own story.
"I learned to make my peace with things I couldn't control when I wrote about them."
Winning the National Award for being a role model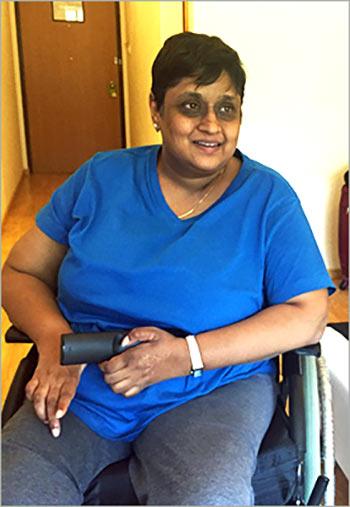 Her unwavering resolve resonated with many greats of the country, as she was presented with various honours and awards for never letting go of her spirit -- The NCEPRD -- Shell Helen Keller Award awarded for her work in increasing employment opportunities for persons with disabilities; the CavinKare Ability Mastery Award for being a role model; the Snowdon Award for Disabled Students, and the Neerja Bhanot Award given yearly to a woman subjected to social injustice, who faces the situation with grit and determination.
In fact, she was also an illustrious recipient of the National Award instituted by the Ministry of Social Justice and Empowerment presented to her by none other than the former President of India -- Late Dr APJ Abdul Kalam.
"The most special one to me, amongst these, is the Neerja Bhanot award.
"The entire organising team, upon learning of my condition, arranged for ramps to be put up on their staircases so I could go up to the arena myself.
"Although the ramps turned out to be very steep, I was deeply moved. It was the thought that mattered."
'Once a woman gave me 25 paise'
It is not everyday though, that Shivani meets people with such empathy and maturity.
"In the Indian society, disability almost always invites sympathy and charity.
"Heck, once a woman gave me 25 paise -- just because I was sitting outside a temple and was disabled, she thought I was a beggar!
"This stigmatisation is unshakeable from our mindsets.
"No one understands that the disability is just one of our many characteristics. Say, if you were to go to Russia and don't speak the language, you would be disabled in that regard too. But that doesn't mean you are completely useless. Similarly, we have many abilities too."
Far from being inept, this woman is iconic -- in her optimism, her courage, her unshackled spirit, she is a stalwart for everyone who has had trouble seeing the light.
"Be patient, take life as it comes, and always be thankful," she concludes.