Geeta Sridhar, a primary school teacher took in 28 special children ailing with cancer into her home. What she did next will warm your heart.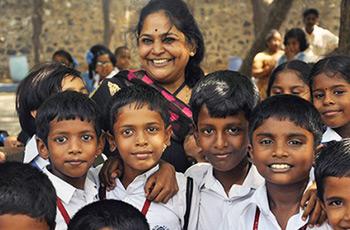 I think I may have spent an afternoon with the Jawaharlal Nehru of our time.
She has two beautiful young daughters -- one an engineer and the other studying to be a doctor -- who she raised to become as golden-hearted and kind as she is.
Back in the Sion school where she is a primary teacher, at the beginning of every academic year, the notorious little seniors meet their anxious juniors and ask them to hope and pray that they get Geetu Teacher as their class teacher.
But the bunch of children, who have perhaps best felt the light of her aura, are the 28 formerly orphaned children, all battling with various stages of cancer, for all of whom, besides from being Geetuma, she is Maa.
There is one awe-inspiring and another heart-breaking tale behind what led her to take these children under her wings, she tells me.
"One day my daughter placed a condition; she would only have her curd rice, in return for a promise from us.
"I told her I'm not buying her video games or dolls or any such nonsensical fads.
"She assured me that what she was going to ask of us was not materialistic.
"I protested but my husband agreed -- soon, I realised that she was throwing this tantrum only because she knew she was asking for something perhaps more tricky than anything monetary," recalls Geeta Sridhar.
Her daughter Charu, then eight years old, said she wanted to completely shave off the long thick hair that is the pride and identity of south Indians.
"Charu had beautiful locks that fell right to her knees. You know, the kind that always landed her the devi and Bharat Mata roles in every school play. But we had to relent, for we had made her a promise, after all.
"The next day, when she went to school, she ran towards her friend Harish.
"Harish's mom, in turn, came to me and started hugging and kissing me, while crying profusely, saying 'you have a priceless angel with you'."
Soon, Geeta discovered that Harish was undergoing chemotherapy due to which he was losing his hair, but the students in school were making fun of his baldness, and so nastily that he had stopped going to school.
'My Charu, the class-monitor, told his mother, 'You bring him to school next Monday onwards, I will solve his problem'," says Geeta.
"I was thinking, if my daughter can do something so immense and selfless, why couldn't I?"
But within a week, she had to fly to Chennai after a heartbreaking phone call.
Her father -- a completely fit, healthy and soft-hearted man who never even hurt a fly -- had been diagnosed with cancer, and was on its very last stage.
"Within a week, our life fell apart; as we saw him struggle with chemo and not be able to cope with it. Before he breathed his last, he told me, take all my property and please put it to good use."
'Make Charu a doctor,' he'd said.
Geeta ended up keeping her word on both counts.
She started thinking of everything she could do with all the resources she had at hand.
Two houses in Mumbai suburbs, and the strong connections of her husband, who was the secretary of the Shanmughananda Hall in Sion, Mumbai.
"My pillar of support, he asked me to follow my heart and do whatever I felt was right and needed, and that he will do everything in his capacity to help me out."
Through his connections, Geeta met a doctor who directed her to an orphanage in Pune.
Amongst their children were some little ones, between two and five years old, who were ailing from various stages of cancer, but were not getting the intensive care, and most importantly, love and attention that one needs to cope with it.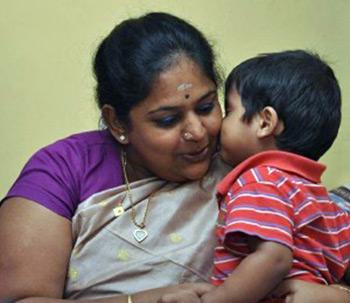 "I took them in, each one of them, as my own," says Geeta, of the 28 children who went back with her to Mumbai, to a new home, and the mother they never had.
Many of them were counting days, when she first met them, and against all odds, it is almost six years later, and they have now successfully cheated death and are leading happy lives.
Maybe it was this closet chef's food, maybe the activities, maybe the special professional care she had arranged for them, or maybe, it was the healing power of her unconditional love.
Since the condition of the children is such that it will worsen even if they come in contact with somebody having a cold, the home is closed to visitors. Instead, a doctor is 24x7 with them treating and observing them.
The children are also taken to the Tata Memorial Hospital for regular check-ups and therapy.
The home runs smoothly on goodwill and the strong network of well-wishers, in the form of Geeta's friends and family, who never hold back from donating everything -- right from clothes, to blankets, to toys, and televisions.
With all this generosity coming their way, the children have had happy childhoods with the quality of life they deserve.
Sunday is a special day that everyone eagerly looks forward to at the edges of their seats, for that is when their Geetuma is permitted to visit them and shower her love on the blessed ones.
"Everytime they call me Geetuma, I fly in the sky. It still brings tears of happiness to my eyes."
What is equally looked forward to is this Masterchef's food. It is a hobby that she has nurtured all through her life, and everybody who knows her now gets to reap the benefits, for Geeta's food is heaven on a plate!
Fun fact: She even applied to Masterchef's fourth edition, and almost made it through!
Juggling a job, two young teenage girls and 28 other sons and daughters could not have been possible without the support of her school.
"My principal allowed me to leave two periods early so I could give my time to my other children. And the best part was, my colleagues never spoke behind my back that I leave early so often -- everybody knew what my intentions were and efforts were, in fact, they all volunteered to help me with my teacher errands -- like filling the registers, or minding my class when I was gone. They were all so encouraging. I would break down very often after meeting my children, or getting overwhelmed with work pressure, but they were always there to wipe my tears, ask me to be strong, and offer to help in every way possible."