Ujjwal Priyank, Aman Nasim, Subham Raj, Aditya Prakash and Sidhant Mohan would travel to Japan between November 6 and 13.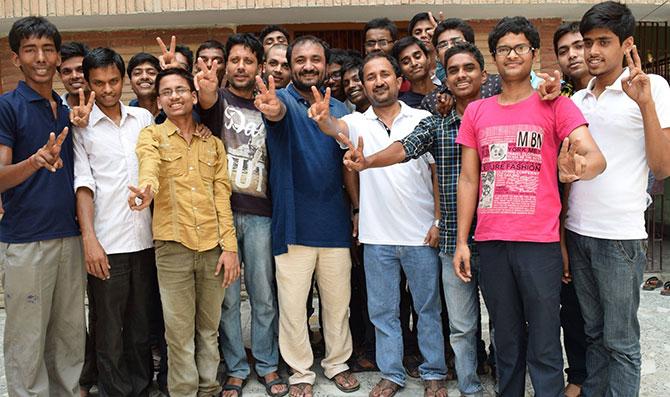 Five meritorious students of the famed 'Super 30' academy of mathematician Anand Kumar have been selected for a tour of Japan to know more about science and technology.
"This academy for talented underprivileged students is well known in Japan and this is the reason we have decided to fully sponsor the visit of the five meritorious students of Super 30," Yoji Nishikawa, a senior official of Japan Science and Technology Agency (JST) said after handing over invitation letter to the five selected students.
The five students from the academy have been selected for a special one-week programme in November this year during which they would visit some top educational institutions of Japan and also attend a lecture of Nobel Prize winner Shirakawa, Nishikawa said.
Elaborating further, the Japanese official said that under the special programme from November 6 to 13, the shortlisted students would visit Tokyo University and also interact with students of Super Science High School of the country.
He said they would also be lectured by 2000 Nobel Prize winner in Chemistry including Shirakawa.
Last year, Tokyo University had announced its decision to provide full scholarship to two students of Super 30 for higher studies in the famed university every year.
Mathematician Anand Kumar said that the five students have been selected through a screening test for the Japanese educational trip.
Super 30 academy run by Anand Kumar since 2002 in Patna has facilitated selection of more than 350 students hailing from underprivileged section of the society in the IITs.
The five selected students Ujjwal Priyank, Aman Nasim, Subham Raj, Aditya Prakash and Sidhant Mohan expressed excitement going to Japan where they would learn more about science and technology.
Lead image used for representational purposes only. Image: Kind courtesy Anand Kumar/Facebook