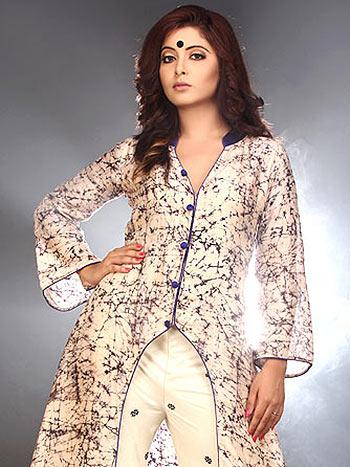 The third part of the series on North East Indian designers has Dhiraj Deka talking about how designers still struggle to acquire original Silk fabric from the market and how his growing business has helped the weavers earn more and lead a better livelihood.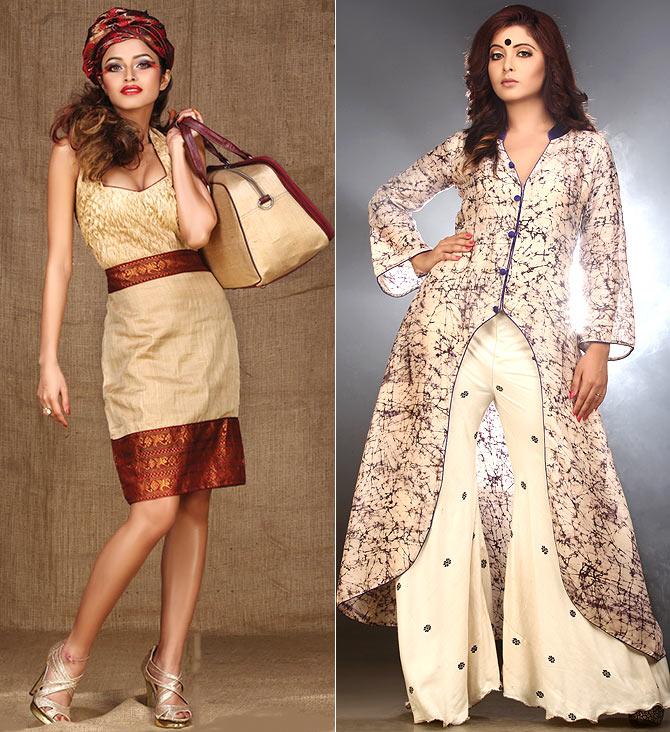 Part I: The Silk Route to Success
Part II: 'Everyone needs to take North East Indians seriously'
Dhiraj Deka of Assam was not satisfied with being a mere designer. He wanted to succeed as a businessman as well.
Mixed into these two dreams was one more, that of reviving the beautiful art of weaving in his home state.
Lady Luck smiled on him, he tells Tista Sengupta/Rediff.com, and he will soon be retailing from multi-designer stores in New York.
How it all began
My dream was to become a successful businessman in the field of fashion.
The rich variety of our traditional fabrics like Eri silk and Muga silk has always been in demand in the global market.
That's the avenue I decide to explore.
I design ready-to-wear Western outfits, saris and Assam's traditional Mekhela Chador in Eri, Muga and mulberry silk.
The challenges
The biggest problem was finding weavers.
The art of weaving was dying. Most weavers were doing other jobs because weaving did not allow them to earn an adequate living.
When I launched my label Bibhusaa in 2009, I told my weavers, "If I grow, you will grow too."
My weavers have seen my business grow. It motivates them to work hard and keeps them going even today.
The other problem I faced sometimes was that the fabric available in the market wasn't original.
Very few people know to differentiate between natural and duplicate fabric. An easy way to check is to take a piece of the fabric and burn it. If it smells like burning plastic, it isn't original.
The government has not taken any steps to curb the sale of duplicate fabric. A special quality check must be implemented to ensure that the fabrics are genuine.
Achievements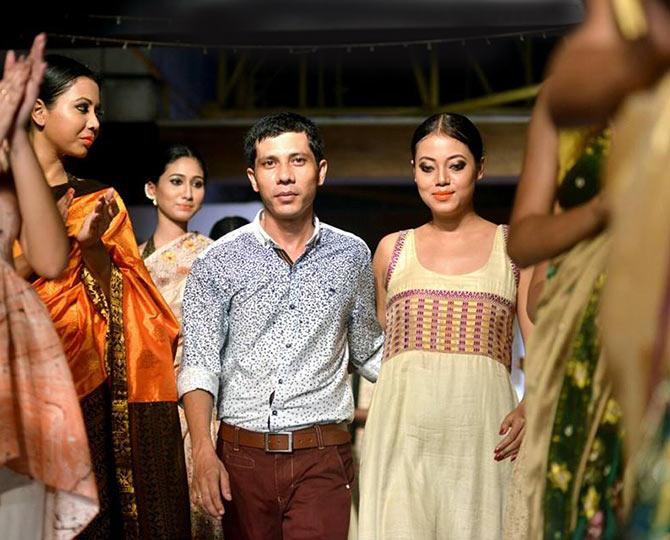 I have participated in several government sponsored traditional handloom shows and fashion shows held in New Delhi, Mumbai, Bengaluru, South Africa, New York and London.
Unlike many designers, I have been fortunate to find sponsors for most of the time. Sheer luck, perhaps :)
Coming soon
The big news is that I will be retailing from multi-designer stores in New York soon.
My label will also be available on e-commerce sites within a couple of months.
And my next goal? I want to focus on the Eri-knitting tradition.
Point Of Sale
Bibhusaa
H B Road
Church Complex
Kumarpatty
Guwahati
Online: https://www.facebook.com/dhiraj.deka2
Price Range: Rs 3000 -- Rs 40,000
Take a look at our earlier features in this interesting series:
PART I: The Silk Route to Success
Part II: 'Everyone needs to take North East Indians seriously'