'I couldn't think of anything else the whole day but music and beats,' says Carl Frenais, the Kochi-born singer making waves in Dubai.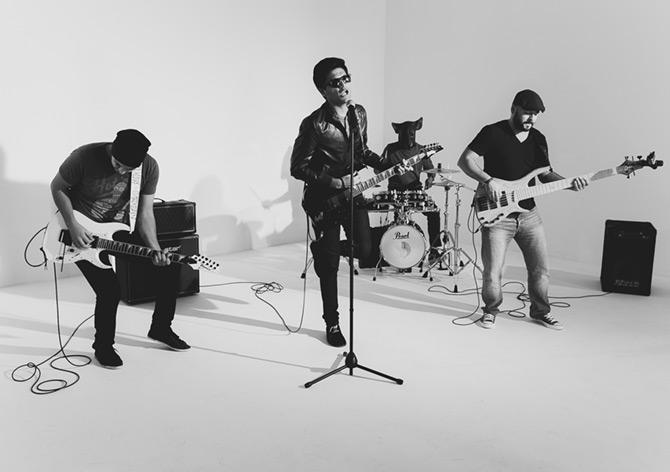 IMAGE: Carl Frenais with his band in action.
Carl Frenais had one passion -- music. The usual family pressure of finding a regular job made him move from Kochi to Dubai. But the search for a career could not douse his desire for becoming a musician. In Dubai, he met folks with similar passion and formed a band.
Success followed soon with the band winning the Bandjam, a battle of the bands, and signing up with a local production company. But the biggest achievement for the lead singer from Kochi of a multi-national band was to open the Bon Jovi concert in Abu Dhabi on October 1.
Abhijit Masih spoke to the singer who is making waves, for Rediff.com
How did you get hooked on to music?
I grew up in an Anglo Indian family that listened to a lot of country and rock n roll music. The Lafrenais family are known to be a family filled with musicians. So it was hard not to get hooked at an early age.
My brother used to listen to a lot of Bon Jovi and The Beatles. My dad was the more country guy with Neil Diamond and the Bellamy Brothers.
So my roots are very diverse and I couldn't think of anything else the whole day but music and beats. I used to always find myself lost in a song.
Tell me about your break into the music industry.
I started off as the lead singer/drummer for a local (in Kochi) rock n roll band called High Voltage. We gigged around the city. I was super young at the time so people always noticed the 15-year-old drummer who sang. My real break I would say was through Youtube.
I used to keep doing renditions of popular songs which often got shared by major bands and artists like Outlandish, Karmin and Foster the People. But even then the dream wasn't taking off.
So after a lot of family pressure to find a good job I moved to Dubai. What they didn't realise is my dream followed me too.
I met three talented musicians and we are now one of the leading bands in the region.
How did you prepare for opening for a legend like Bon Jovi?
Nothing extraordinary. We treat every gig the same by putting all our effort into it and making sure we have a good time on stage.
Fortunately, the crowds have always responded well.
This was our biggest gig as a band yet and we wanted to make sure we made an impact. Fingers crossed.
No Bon Jovi covers. You can't touch those songs especially when they are actually listening to you. We did all our original material. Songs from our upcoming album What The...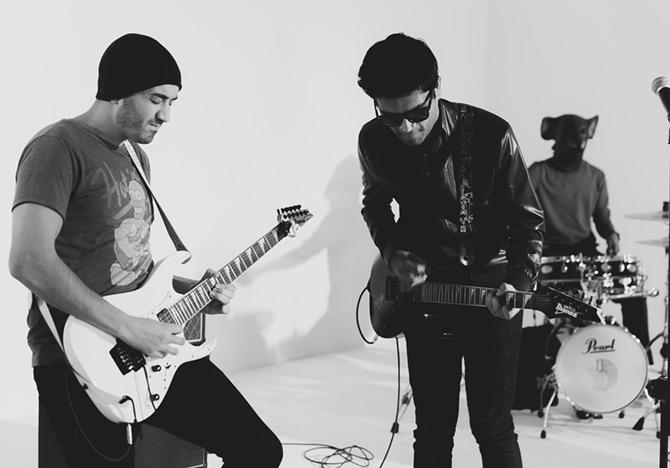 IMAGE: Carl Frenais, right, with a member of the band.
The one Bon Jovi track you would like to give your own twist to.
The first song I ever sang was Bed Of Roses, so I'd love to try and make it my own.
In this age of digital music and iTunes, do you own any CDs? Which ones would be the most treasured?
The Beatles album Sgt Pepper's Lonely Hearts Club Band. My favorite album of all time. I also own a Best of Bon Jovi album that I hold onto for dear life. I do use iTunes for the newer stuff.
You can tell a lot about someone from their music taste. Which are your top 5 musicians/bands?
The Beatles, Michael Jackson, the Dave Mathews Band, Bon Jovi and John Mayer.
Our initial chat was really early in the morning. You don't find many musicians waking up at 5 am.
I guess it's the late night gigs. Once you're off stage you relive the whole thing in your dreams on a larger scale. Musicians in general are night people.
The shades seem to be a signature. Any significance or just a fan of 'shades' from That Thing You Do?
I hate my eyes. It looks out of place on my face. Like the Creator was in a hurry to finish up and put on the wrong eyes. Just kidding. It's more of a cloak of coolness. I wear it and the inner rock star comes out.
You have done a HeForShe campaign. It might be apt for India. Any plans of extending it to India?
India has already adopted HeForShe through organisations like MARD. I would love to extend my help to them in any way I can. The campaign here in the UAE, focused more on equality than on violence against women. We held a campaign at the Al Ghurair centre, Dubai, and the response was great. It was about introducing the campaign and making men aware of it.
We also did create a song for the campaign called Fight For Your Queen that became the official campaign song. It was quite an experience and we hope we could do more to spread the message.