Twenty-year-old Sheetal Jain is the daughter of a bar dancer and grew up in Mumbai's red light district.
But she isn't letting that define her identity.
As you read this, Sheetal is in Washington DC pursuing a course in drumming.
This is her story.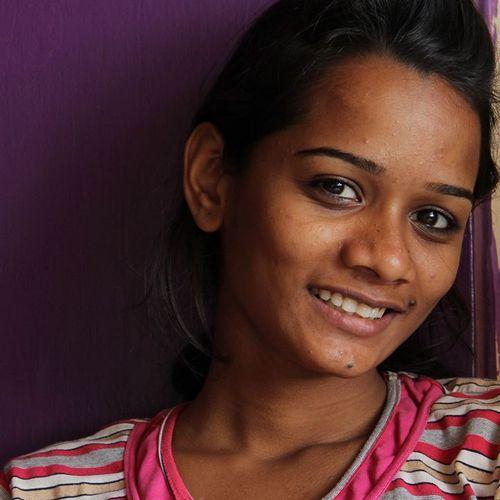 Sheetal Jain is pursuing a course in drumming at the Levine School of Music in the US
Photograph Courtesy: Kranti
---
Goddess Durga has arrived in Kamathipura.
She has been mounted on a handcart, the kind vegetable vendors use to sell their wares and is being held in place by a woman on either side.
A group of young boys leads the small procession with large drums and cymbals, announcing the goddess' arrival.
The kids are having a blast, dancing to the beats.
The young boys are enjoying the attention, even posing for photographs!
The women propping up the goddess remain grim. Theirs is the least envious job.
The irony of worshipping a goddess of strength and power in a place where women are most exploited is probably lost out on the two ladies. Even if it isn't, their faces don't reveal it.
Kamathipura is Mumbai's oldest red-light district located in Grant Road in south Mumbai.
Empty handcarts are scattered around, men laze about in the middle of the day, trash piles up.
Much of Kamathipura has undergone a sea change over the last decade.
Brothels have made way for metal and tailoring workshops and it is not unusual to find women 'from decent households' getting out of a taxi to head to a tailor's shop.
The sun goes down and the scene changes.
Businesses shut for the day and the sex workers begin lining up.
By all accounts business has slowed down because builders are said to be swooping in and several sex workers are being pushed out.
Most of them are moving back to the villages and towns they came from.
Most of those who remain must find a place to take their customers to. Sometimes it is a shed that accommodates only a bed. At other times it is a local taxi.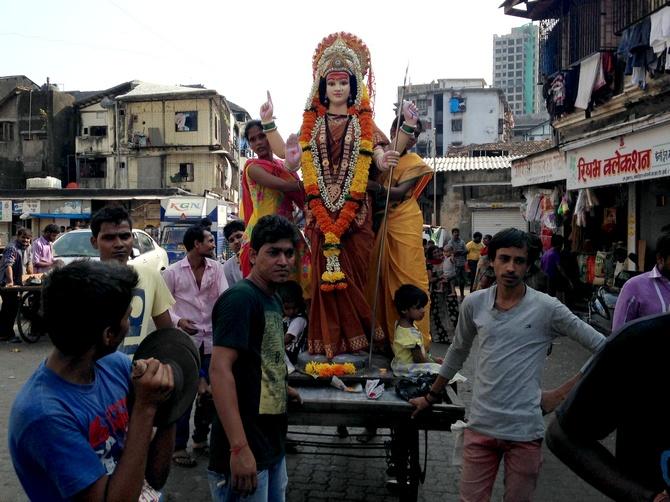 Each of the 15 lanes of Kamathipura has its own pandal for Navratri. Everyone worships the goddess of feminine energy and power.
Photograph: Abhishek Mande Bhot
---
Sheetal Jain's earliest memories were of women soliciting customers and taxis lining up outside her house.
Today, that lane houses a metal workshop, a shoemaking workshop and an open space where large bundles of cloth lie piled up. A few houses in the lane look like private residences, the kinds that double up as brothels.
In between the houses are overflowing sewers; blocking almost the entire lane is a huge pandal, awaiting the arrival of the goddess.
Sheetal Jain does not live here, though her mother maintains a property that has been rented out.
Today, Sheetal is miles away from where she started out. Washington DC, to be precise, where she is taking a course in drumming at the Levine School of Music for a year.
Sheetal has been part of Kranti, a non-governmental organisation that works towards the rehabilitation of girls from Mumbai's red-light area.
Only last year New York's Bard College accepted one of their girls, Shweta Katti on scholarship.
(You can read Shweta's inspirational story here)
When she landed in New York's JFK airport, Sheetal was lost.
Sure she had all the instructions printed on a sheet of paper but if you've ever travelled out of the country alone for the first time you probably know what a shock it can be.
"Everything was so, so different," Sheetal says in Hindi over the phone from New York where she will stay for a few days before travelling to DC.
"The people looked different. They spoke differently. I was really scared!
"And there were so many gora log!
"I suddenly felt homesick. I missed everyone at Kranti. I was alone."
***
When Sheetal Jain came to Kranti, she was reserved and scared.
"She'd come from an NGO where, when they discovered she had a boyfriend, they locked her up," Robin Chaurasiya, who runs Kranti, says.
Kranti has a reputation in Kamathipura and the NGO circuit for being 'too liberal' with their girls.
It is seen as the NGO that permits them to wear shorts, does not stop them from having boyfriends and does not approve of moral policing.
Of course, there are boundaries but when the folks at the NGO say they raise the kids as one would raise one's own, they mean it.
The fact that Shweta and Sheetal are in a country as expensive as the US is testimony to that.
There are many who don't approve of such ideas. Which is why, in June this year, they found themselves being evicted from the apartment they'd rented. They were too liberal for the middle class housing society.
Sheetal Jain had heard of Kranti. She wanted to join it for the very reasons that the other NGOs disapproved of it.
If there was a chance at redemption, she knew it would be at Kranti.
So she got herself 'checked out' of the previous NGO that hadn't taken kindly to her having a romantic relationship and went home.
After some thought, she asked Kranti to take her in.
At the time Sheetal Jain was 17.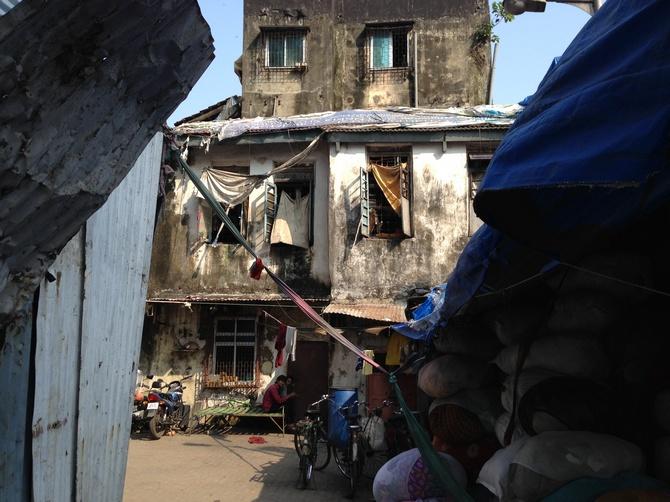 Kamathipura, Mumbai's oldest red light district is now being taken over by other businesses.
Photograph: Abhishek Mande Bhot
---
Her counsellor at Kranti, Dr Saloni Sawnani, remembers Sheetal as being "very unsure of herself."
"She was insecure, lacked self confidence and felt very inadequate. Everyone comes here with some baggage," Sawnani says. "But Sheetal had more."
Sheetal Jain's mother was a bar dancer. Every other night, she would return with a different man. One of those men became her partner and Sheetal's stepfather.
"There were times when he touched me in ways I was not sure was appropriate," Sheetal says over the phone in Hindi. "But I was too young. And he said it was all right."
The first few times Sheetal wasn't even sure what was going on. "I was very little. It was only later, as I grew older, I realised that the way he 'loved' me in public was very different from how he treated me in private."
According to Sawnani, suppression of her fear caused by years of severe sexual abuse led to psychosomatic disorders.
"She would have lingering pain in her legs and shoulders and recurring nightmares. Over time, with therapy, she came to peace with what has happened to her. And the traumatic symptoms reduced."
Today, Sheetal is open about her past. She has spoken, on several platforms, about being sexually abused, including at One Billion Rising, the global campaign to end violence against women and promote gender equality.
"Most of us (abuse victims) blame ourselves. It was only at Kranti, at the various therapy sessions and workshops, that I realised it wasn't my fault. And that I had to move on."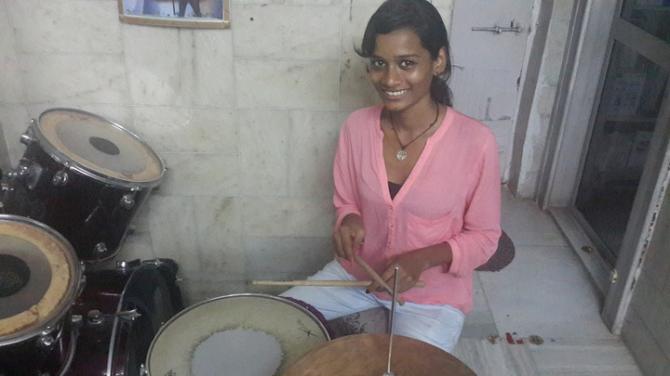 Sheetal had only seen drums when local bands would perform Bollywood numbers at the Ganesh festival
Photograph courtesy: Kranti
---
As part of Kranti, Sheetal has travelled the country attending workshops, giving lectures and sharing her learnings.
Over the last year, since Shweta Katti's departure, she has become the face of Kranti.
"I suppose Shweta's going away also helped Sheetal to come into her own," says Robin.
"Earlier, Shweta was the most vocal of our girls. Sheetal has stepped into that void, which has also boosted her self-confidence."
But, says to Sawnani, the most important change in Sheetal's personality was seen only as recently as a few months ago.
"She finally started gaining confidence to say no," she says.
"She was recently in Himachal Pradesh attending a workshop and staying with a local family.
"The man of the family was making her uncomfortable.
"Earlier, she would have ignored it, stuck with the women of the household and not confront him.
"This time around, she refused to take the nonsense."
Unsurprisingly, around the same time, she also revealed to her mother what her partner did to her.
"That man had moved on from their lives and so, even though the abuse had stopped, her mother hadn't known what had happened," Sawnani says.
"We thought she would reject the idea and blame Sheetal. Instead, she asked Sheetal why she didn't tell her earlier."
This, according to Sawnani, has been a huge milestone in the otherwise strained relationship between mother and daughter.
Sheetal blames her mother for not saving up enough and for not being a good mother.
"Because of her job (as a bar dancer), her mother received a lot of gifts," Robin says. "She never bothered to save so almost all of it is gone."
Even though Sheetal may not have the kind of confidence in her mother as she has in Robin, Sawnani says they have reached a point where they can be cordial.
"That is a huge step."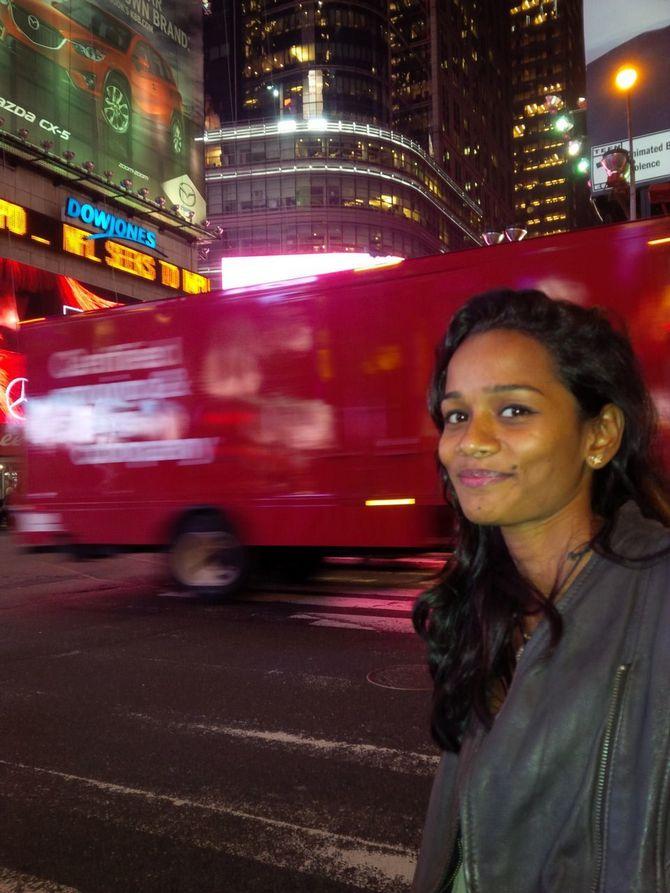 Sheetal Jain was lost at New York's JFK airport. She has since taken rather well to the country :-).
She is seen here at Times Square.
Photograph Courtesy: Sheetal Jain
---
Sheetal's mother has no idea of the enormity of her daughter's achievement.
She does not know where or what the US is and she was quite surprised to know that women could play the drums because she's only seen men on the drums in dance bars.
The drum set became a part of Sheetal's life when she came to Kranti. She'd seen one during the annual Ganesh Chaturthi celebrations and wanted to try her hand at it but did not have access to a set... until now.
Robin remembers Sheetal practicing out of tune for hours.
Sheetal has never been a bright student. She's appeared for her Class 10 exam unsuccessfully.
"But that doesn't mean she isn't intelligent," Robin says.
Having seen the spark in her -- and after her initial training was done -- Robin tried to get Sheetal admitted into a music school in Mumbai without much success.
"Most music schools look for Class 10 or Class 12 graduates," she says. "And it wasn't going to be easy for her, more so because she has only attended two or three years of school."
In between struggling to find a home for Kranti -- hundreds of house owners turned them down because of their social background -- and with Robin's help, Sheetal began writing out her applications to various educational institutions.
Two opportunities presented themselves -- Udaipur's Swaraj University that specialises in alternative teaching and Levine Music School, a non-profit community music centre in Washington DC.
After some thought, Sheetal opted for the latter.
"She was really keen on pursuing drumming," Robin says. "And Levine said that it was alright if she didn't speak good English."
Meanwhile, American University (also based in Washington DC) learnt about her visit and agreed to teach her English for free.
"When they heard Sheetal's story, they were very keen to include her as part of their course. They waived off her tuition fees.
"There, Sheetal will meet people from different cultures, not unlike (the movie) English Vinglish.
"All of this is bound to broaden her horizons.
"Frankly, I was surprised to see the response I got. Because that was not what I got from other quarters," Robin says.
Some of the responses to Sheetal's fundraising (after people read her story in the local newspapers) have been downright nasty
One caller even questioned the veracity of Sheetal's story, Robin says.
Why, they all want to know, do they have to spend close to Rs 12 lakh on a course in drumming.
"The way I see it," Robin says, "This journey will be an important learning experience for her. If she returns enriched, that is a big achievement."
To those who've been questioning their motives, Robin makes a point she'd made earlier too, when they sent Shweta Katti to the US: If someone from a privileged background can, why can't she?
---
You can donate directly to the Levine School of Music here (please write 'Sheetal Jain' in comments)
Or you could draw cheques in the name of Sheetal Jain and courier them to:
Thomson Reuters Foundation, C/O Urvashi Devidayal
3rd Floor, Piramal Towers, B Wing
Penninsula Corporate Park, Lower Parel
Mumbai 400013