In the second of a special series on second generation Indian Americans giving back to India, Shaun Jayachandran tells Arthur J Pais how he is using basketball to get the young in India to build their educational skills and career goals.
Read Part One here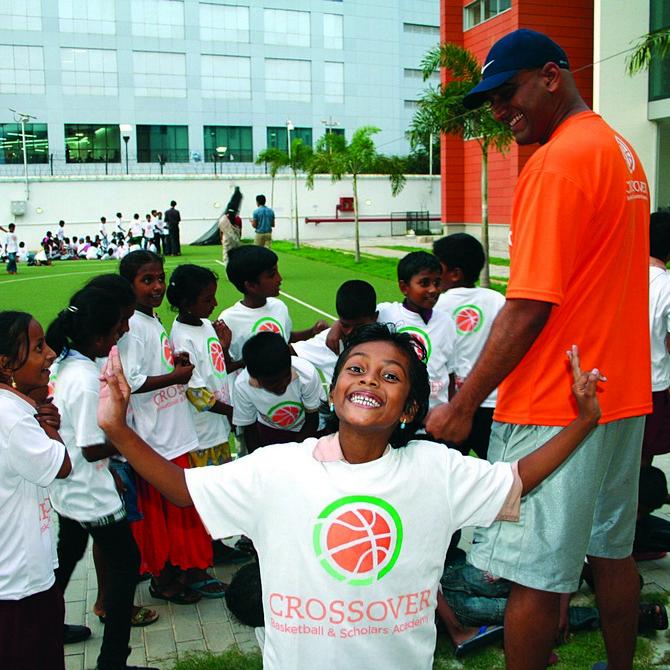 Shaun Jayachandran (R) with students who come to Crossover Basketball
I had heard from my father who migrated with my mother from Chennai to Calgary in Canada over four decades ago that thousands of students in major cities alone dropped out of school for lack of good education and motivation.
Given my sports passion and experience as a basketball coach, I thought why not start something in India?
For years, I had struggled with this dual identity while growing up in Calgary, and then in America where we have made a home for over a decade.
I knew at the end of the day I was an American, but just the way I want to give back something to America and Canada, I also wanted to give something to India as a tribute to my parents and what they have received from India.
I live and work in Boston where I am a high school science teacher, a coach, and involved in diversity efforts at the school.
I'm passionate about 21st century global education, basketball, science, start-ups, non-profits, gluten-free foods, connecting with people, hockey (Go Flames!), and finding ways to help children and students reach their potential.
I founded Crossover Basketball and Scholars Academy in 2010 using basketball as a vehicle to communicate and open doors.
When we began this programme to get the young in India to play basketball and build their educational skills and career goals, we got about 100 students.
Last year, over 450 students in and around Chennai joined this programme that offers hoops for hope.
Most of the students who get this free coaching are 9 to 16 year olds and come from marginalised segments of Indian society.
They find the programme empowering and are spreading the word about it. We are not teaching just basketball.
Our aim is to get the students to be achievers not only in sports, but also in their studies.
Through this academy, which works on a modest annual budget of about $45,000, students acquire work ethic, team spirit, appreciate the importance of hard work and time management.
From my perspective, those qualities are as important as anything you learn in a classroom.
We have had about a dozen volunteers so far, and many of them have been my students at one point or other.
Some of them are studying at Ivy League colleges.
They also helped me raise funds for Crossover Basketball.
A big supporter is Ed Gillespie, who is running for Senate in Virginia.
I had coached his son, who is 23, and who has also volunteered and spent several weeks in India.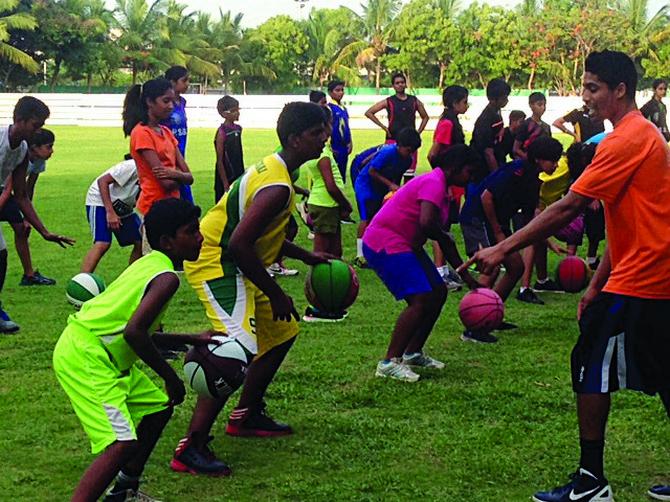 Most students who receive this coaching are between 9 and 16 year old and come from marginalised segments of Indian society.
The Indian-American community is slowly getting to hear of this programme and I would not be surprised to see Indian donors and volunteers multiply over the next few years.
You do something for the right reasons and hope to achieve something.
The idea is not just to develop exceptional basketball players of good academic standing, but to bring about change and build future leaders of tomorrow.
The academy is about learning camaraderie and letting the kids know they are not alone in their pursuit.