10 things you should know about the new -- and first Indian-origin -- editor-in-chief of Vanity Fair.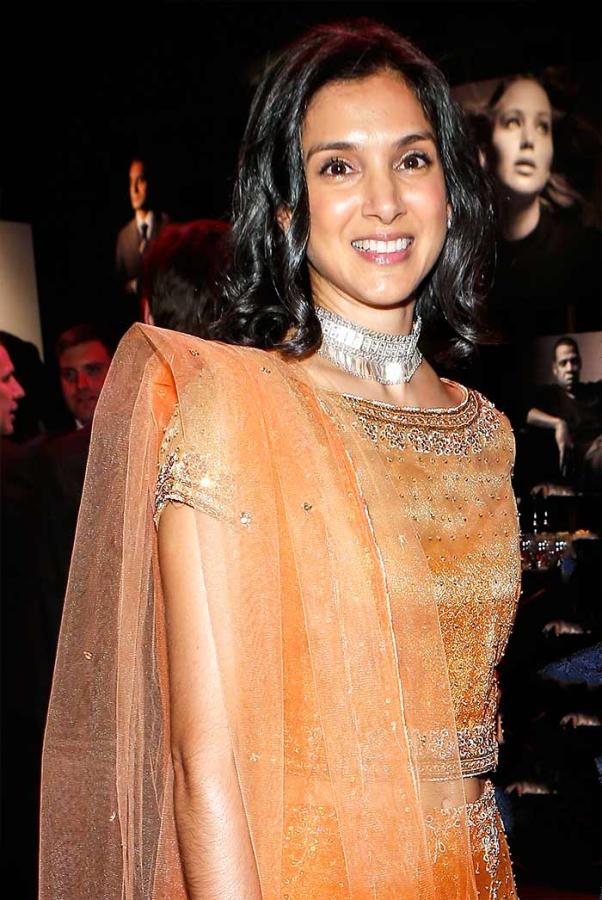 Radhika Jones will take over as the editor-in-chief of Vanity Fair on December 11.
She is the first person of colour to become EIC at the magazine, which is more than a century old.
Photograph: Jemal Countess/Getty Images.
When Graydon Carter steps down as the editor-in-chief (EIC) of Vanity Fair (VF) next month, he will leave behind a successful 25-year legacy.
In a historic decision, Condé Nast, the company that owns Vanity Fair, has chosen Radhika Jones to succeed him. Jones is not only the magazine's first ever Indian-origin EIC, but also the first person of colour to be named VF's EIC since the magazine was founded in 1913.
'Jones will oversee all content development, production and consumer experiences for Vanity Fair's digital, social, video, print and experiential platforms,'Condé Nast announced this week. 'Jones will lead Vanity Fair through its 24th annual Oscar Party in March, the fifth annual New Establishment Summit, the brand's 105th anniversary and the continued digital expansion of The Hive, the title's newest brand launch.'
Her appointment takes effect on December 11.
Jones told the media, 'There is nothing else out there quite like Vanity Fair. It doesn't just reflect our culture -- it drives our understanding of it. It can mix high and low, wit and gravitas, powerful narrative and irresistible photography. It has a legacy of influential reporting, unmatchable style and, above all, dedication to its readers. I am honored to succeed Graydon Carter as editor and excited to get to work.'
Scroll down to meet Radhika Jones.
1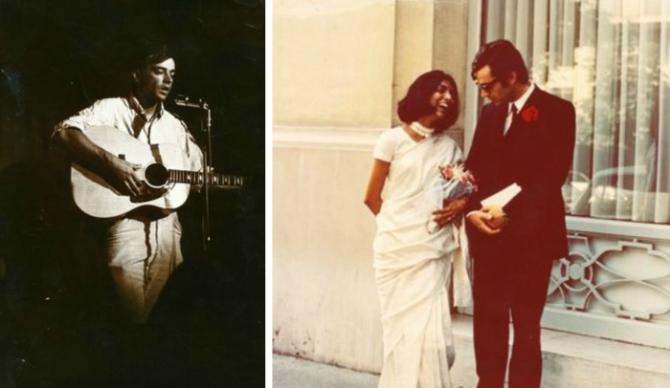 (Left) Musician Robert L Jones, Radhika's father.
(Right) Rabert Jones with and Radhika's mother, who hails from Mumbai, eloped in Paris.
Photograph: Courtesy @radhikajones/Twitter.
Radhika Jones was born in New York City, she grew up in Cincinnati and Connecticut.
Radhika's father Robert L Jones (an American folk musician) met her mother (a Mumbaikar who had come to Europe to study languages and stayed on) in Paris in 1970 and they decided to elope.
According to The New York Times, 'When he [her father] decided he wanted to travel less, she [Radhika] sold T-shirts and worked the box office at the many events, including the Newport Jazz and Folk Festivals, he helped produce.'
As a child, Radhika and her siblings -- a brother and a sister -- regularly visited her mother's family in Mumbai.
Radhika's sister Nalini Jones is an author (What You Call Winter).
Radhika now lives in Brooklyn with her husband and son.
2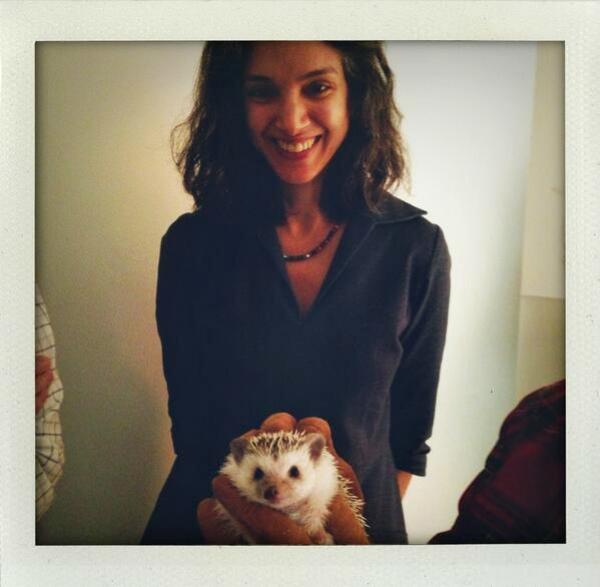 Among other things, Radhika speaks Russian, although she admits she is a bit rusty.
Photograph: Courtesy @radhikajones/Twitter.
Radhika Jones has a BA from Harvard University and holds a PhD in English and Comparative Literature from Columbia, where she has also taught courses in writing and literature.
She began her career in Moscow as the arts editor of The Moscow Times.
She was the managing editor of The Paris Review before moving to Time magazine.
3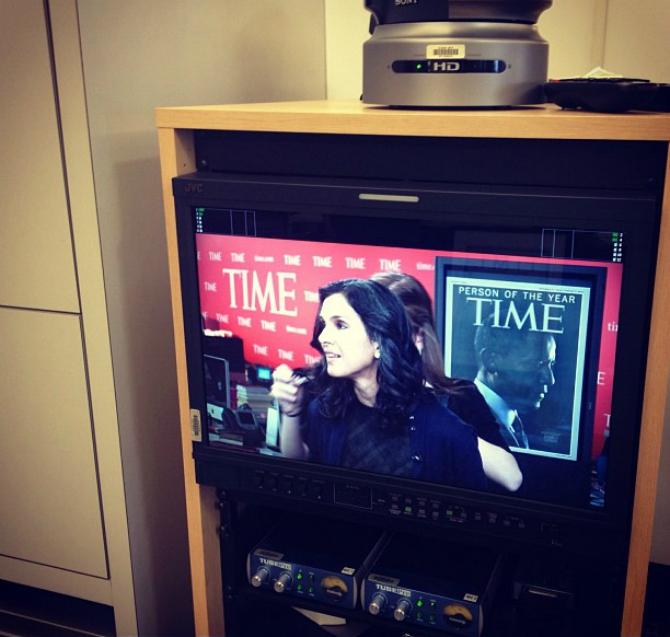 Radhika was the head of the annual Time 100 Gala for seven years.
Photograph: Courtesy @lizomakeup/Instagram.
Jones started at Time in 2008 as arts editor. She spent eight years there 'rapidly rising through the ranks to become deputy managing editor in 2013,' Condé Nast said.
'In that role,' the company added 'Jones led the editorial and aesthetic direction of the weekly magazine... and helped Time navigate the transition to a digital and social brand.'
She oversaw the Time's most high-profile news and entertainment franchises: the Person of the Year and the Time 100.
4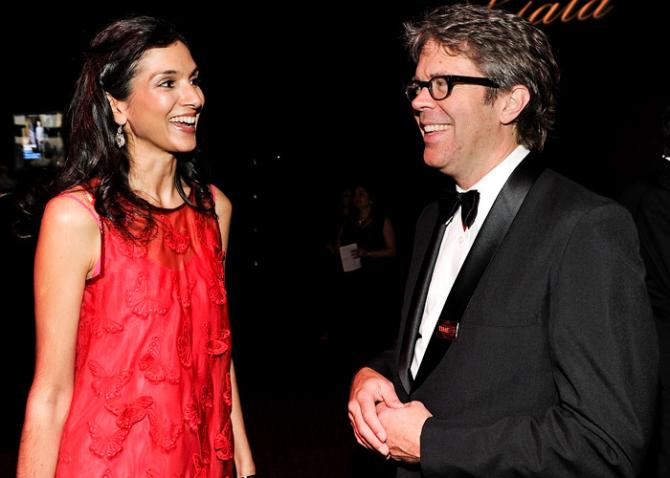 Radhika with celebrated author Jonathan Franzen.
Photograph: Larry Busacca/Getty Images.
Radhika Jones joined The New York Times in 2016 as the editorial director of the books department
NYT executive editor Dean Baquet told the media, 'She is one of the broadest editors around. She knows books, art and politics. And she is a wonderful colleague. It was a smart hire.'
5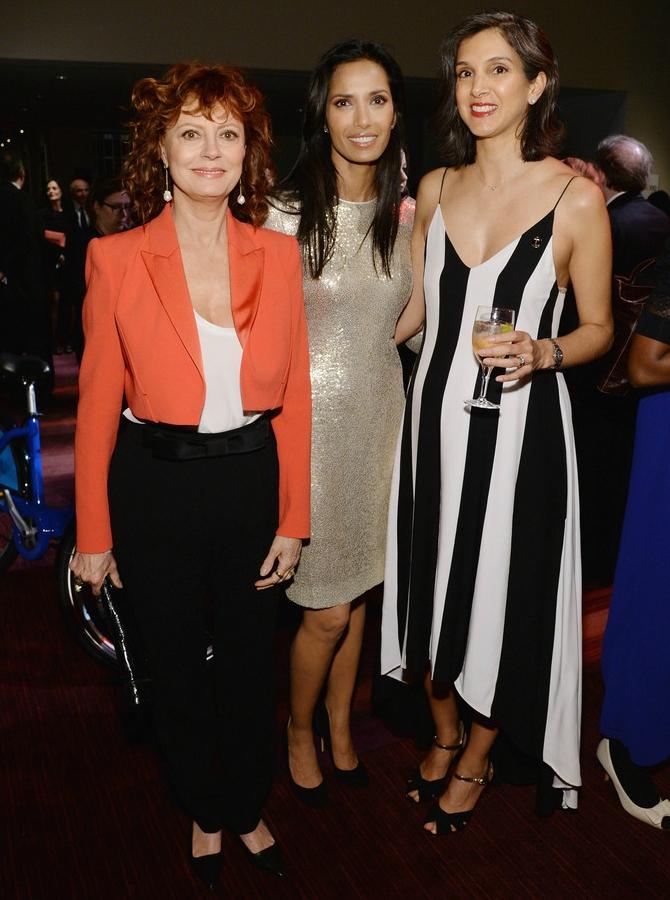 (From left) Radhika with model-actress-author Padma Lakshmi and actress Susan Sarandon.
As editor-in-chief, Radhika will preside over the annual Vanity Fair Oscar party.
Photograph: Larry Busacca/Getty Images.
Radhika Jones will be the sixth editor-in-chief since the founding of VF in 1913.
Anna Wintour, artistic director of Condé Nast and editor-in-chief of Vogue, told the media, 'In Radhika, we are so proud to have a fearless and brilliant editor whose intelligence and curiosity will define the future of Vanity Fair.'
The NYT noted, 'It is a remarkable transfer of power at a magazine long defined by Mr Carter's sensibility -- a stew of Anglophilia, liberal politics, old-style Hollywood glamour and a sense of mischief.
'Unlike Mr Carter... who went on to become an establishment fixture and gatekeeper, Ms Jones is hardly the gallivanting celebrity editor many media observers assumed would end up as his successor.
'Whip-smart and unassuming, with meticulous handwriting and an erstwhile fondness for Tetris, Ms Jones seems suited to a new era -- of transformation but also of restraint -- at Vanity Fair and Condé Nast.'
6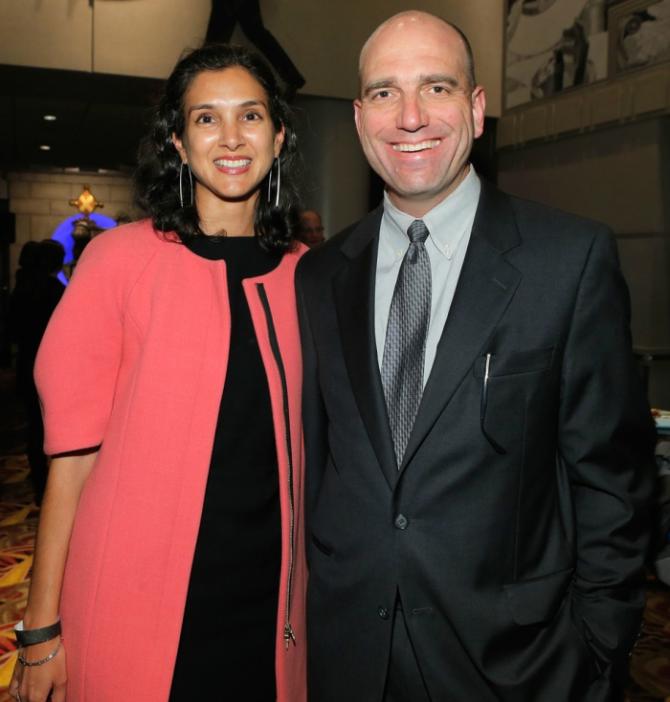 Radhika with journalist David Von Drehle.
Photograph: Jemal Countess/Getty Images.
When an NYT report listed Carter's replacements options after his resignation, there were eight names. The list did not include Radhika Jones.
Eventually, Condé Nast chose her over candidates like Adam Moss of New York magazine, Janice Min of Us Weekly and The Hollywood Reporter, Jess Cagle of People and Entertainment Weekly, and NYT columnist & Andrew Ross Sorkin.
According to the New York Post, Radhika has found a huge supporter in The New Yorker's editor-in-chief David Remnick, 'who championed her and brought her to the attention of Anna Wintour' and Condé Nast CEO Bob Sauerberg.
7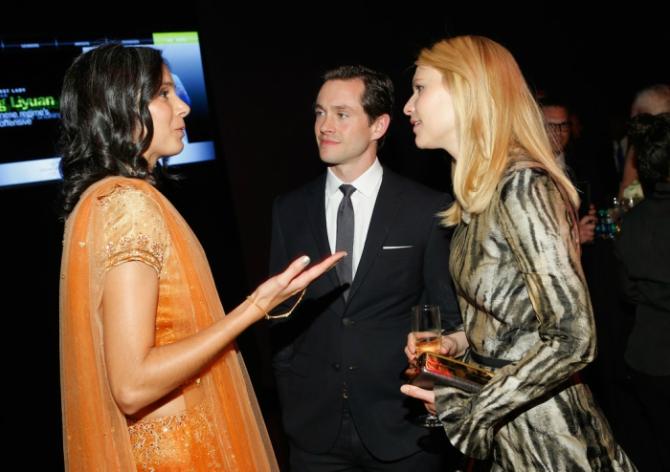 (From right) Homeland star Claire Danes and her husband, actor Hugh Dancy, chat with Radhika.
Photograph: Jemal Countess/Getty Images.
Asked what her favorite parts of Vanity Fair were, Radhika Jones told the magazine, 'I'll say a nerdy one first: the Star Wars portfolios.
'I love photography in general, and I love spectacular portrait photography and photojournalism, and I think that's such a great strength of this magazine.
'Basically, what I'm saying is, everything.
'But I also love really deeply reported long-form narrative. And profiles. I'm a big believer in the ability to tell stories through people.'
8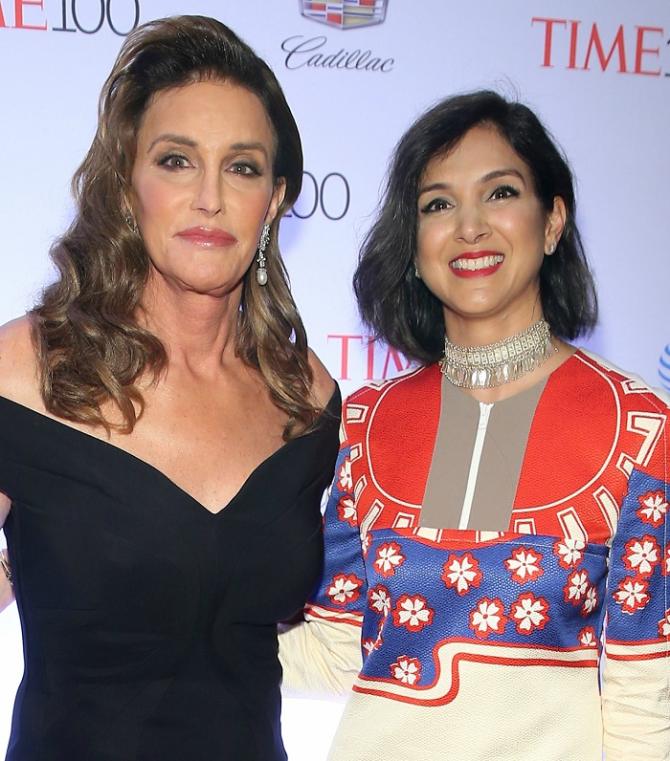 Radhika Jones with Caitlyn Jenner.
Photograph: Jemal Countess/Getty Images.
VF is known for putting everyone from the Pope to Olympic champion-turned-transgender-reality-TV-star Caitlyn Jenner on its cover.
Asked about her wishlist, Radhika Jones told VF, 'I'm gonna make a private list and put it in a drawer, and in a year, we can take it out and look at it.'
9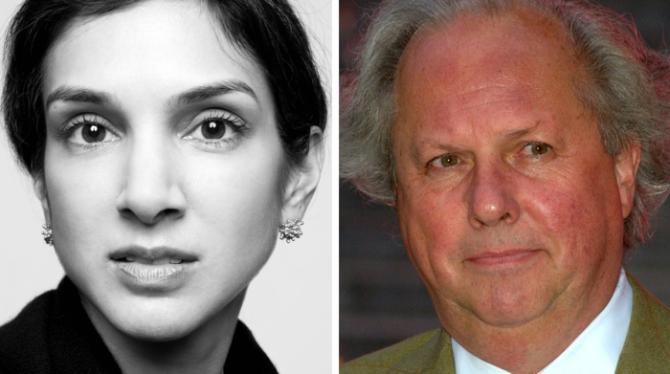 The New York Post said, 'Radhika Jones was said to be commanding a salary of only $500,000 [also reported by The Guardian], compared to Graydon Carter's reported $2 million.'
Photograph: Courtesy Condé Nast and Wikimedia Commons.
According to the New York Post, 'Jones will be tasked with delivering big cost savings to Condé Nast, which is in the midst of firing up to 75 people as part of a corporate edict to slash $100 million from expenses.'
10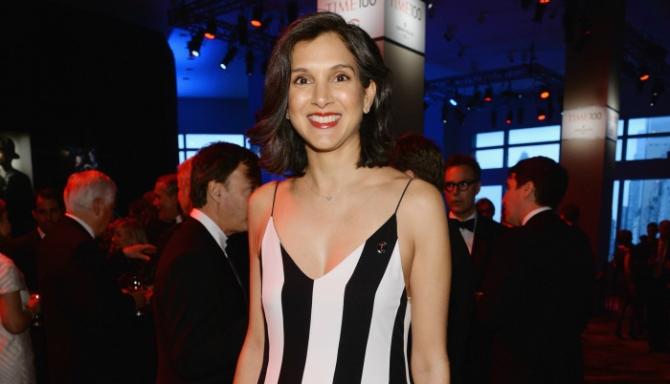 Radhika is the second woman to become the editor-in-chief of Vanity Fair. The first was the legendary Tina Brown.
Photograph: Larry Busacca/Getty Images.
Radhika Jones told VF that the one thing she would like people to know about her is: 'I'm an omnivore, culturally speaking, and story-wise too. I'm always ready to be interested in something. That's my default position.'