The entrepreneur, actor, producer is awarded the Cecil B deMille Award at the 75th Golden Globes for her outstanding contribution in the field of entertainment.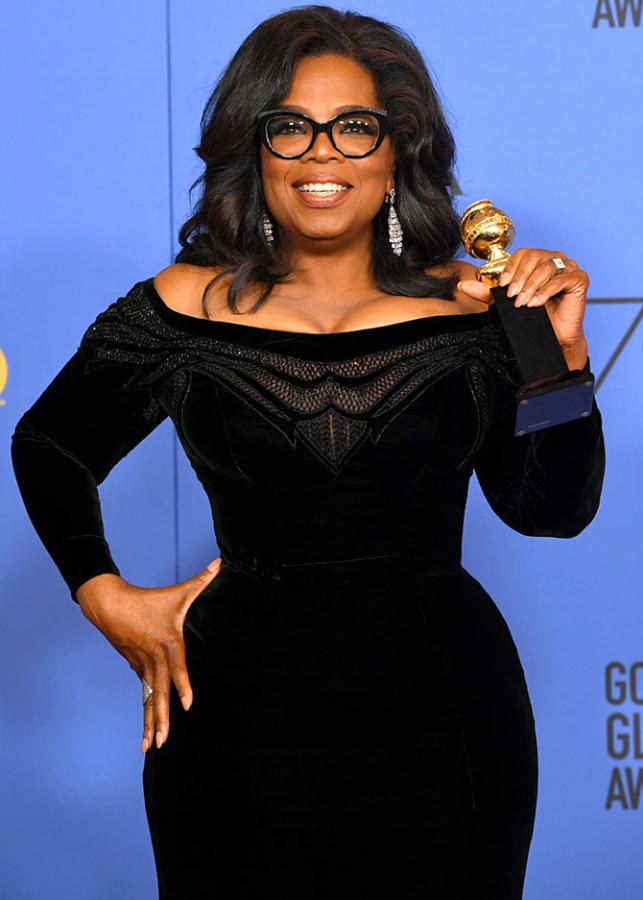 Oprah Winfrey poses with the Cecil B deMille Award at the 75th Annual Golden Globe Awards held at the Beverly Hilton Hotel on January 7, 2018.

Photograph: Kevork Djansezian/Getty Images
To say that Oprah Winfrey is a life in inspiration would be an understatement.
For someone who was born into a poor family and faced struggles early on in life, Oprah has survived many battles and lived to tell a tale of success.
From the Obamas to Priyanka Chopra, through her life and career, Oprah has inspired millions and may continue to do so.
As she receives the Cecile B DeMille award at the Golden Globes this year, for her "outstanding contribution in the field of entertainment," we applaud her rare talent, grit and confidence.
Meher Tatna, president of the Hollywood Foreign Press Association's (HFPA) described Oprah as a "global media leader, philanthropist, producer, and actress."
"She has created an unparalleled connection with people around the world, making her one of the most respected and admired figures today. For generations, Oprah has celebrated strong female characters on and off screen, and has been a role model for women and young girls for decades. Holding titles such as chairman, CEO, and founder, Oprah is one of the most influential women of our time, and this honor is well deserved especially in this 75th anniversary year of the Golden Globe Awards."
Through the Oprah Winfrey show, for 25 years, she's raised issues and celebrated people that the world once cared less.
Besides hosting the show, she is also the force behind OWN: Oprah Winfrey Network, Harpo Films and is the founder of O, The Oprah Magazine.
Presenting just some of the instances when she proved to the world, there's none like her.
She spoke about rape
Long before campaigns like #MeToo broke the ice, Oprah urged people to share stories of assault.
In 1986, Oprah, on her own show, spoke about how she was sexually abused at 9.
"He took me to an ice cream shop -- blood still running down my leg -- and bought me ice cream," she told David Letterman in one of her interviews.
She made the above confession to an audience of 3,000 at the Ball State University in Muncie, Indiana.
"I was raped at 9 years old by a cousin, then again by another family member, and another family member. I took to my bed and cried for three days. I felt devastated. Wounded. Betrayed. How could this person do this to me? I imagined that every person on the street was going to point their finger at me and scream, 'Pregnant at 14, you wicked girl … expelled!' And I soon realised that having the secret out was liberating. What I learned for sure was that holding the shame was the greatest burden of all."
She encouraged same sex marriage
America may have recently come to terms to accepting same sex marriage. But Oprah extended her support to homosexuality way back in 1991.
She hosted a talk show discussing whether same sex marriage should be made legal in America.
On the show, she not only introduced two women who had done that, but also encouraged a pastor to perform a marriage between two men.
In 1995, she hosted Olympic gold medallist Greg Louganis who confessed his sexuality and being HIV positive. "I don't think I am gay. I know I am gay," he'd said.
She spoke about her own sexuality
When people questioned Oprah's relationship with her close friend Gayle King, she gave them a piece of her mind.
"I understand why people think we're gay", Winfrey said in the August 2006 issue of O magazine.
"There isn't a definition in our culture for this kind of bond between women. So I get why people have to label it -- how can you be this close without it being sexual?"
"I've told nearly everything there is to tell. All my stuff is out there. People think I'd be so ashamed of being gay that I wouldn't admit it? Oh, please."
She faced racism
In one of her interactions with Entertainment Tonight, she hinted about being a victim of racism at a store in Zurich in 2013.
"I go into a store and say to the woman, 'Excuse me, may I see that bag over your head?' and she says to me 'No, it's too expensive.'"
Winfrey says she asked again to see the bag -- a $38,000 crocodile skin number by Tom Ford -- and the woman refused, saying, "No no no, you don't want to see that one, you want to see this one, because that one will cost too much and you will not be able to afford that."
The saleswoman, Oprah says, told her: 'I don't want to to hurt your feelings,'
To which Oprah responded: "Ok thank you so much, you're probably right, I can't afford it and walked out of the store."
She confessed about her weight
Oprah may look all bold and confident but there are days, she says, when she feels like any of us.
"I feel the same way everybody else feels when you get up in the morning and you go to put on something and it doesn't fit," she confessed in 2008.
Oprah weighed over 200 pounds and was embarrassed to make public appearances. "All this year, I've been hiding my body because I didn't want you to see it," she shared.
But she resolved to fight, hired a trainer and lost 40 pounds. She even flaunted her toned tummy on the magazine cover.
"It doesn't mean anything if you can't fit into your clothes," she says. "It means the fat won. It means you didn't win."
Do we still need more reasons to love her? Oprah, we salute you!
Photograph: Ben Gabbe/Getty Images